Read more about this program on the institution's website
Program Description
Education sits in an ever-changing social, political and cultural context. This dynamic programme allows you to explore the different settings where learning takes place and the processes that underpin it.
You'll explore education in different contexts, as well as the impact of government policy on educational practice. You'll learn how schools and classrooms work and how core curriculum subjects are learned and taught.
Placements in your second and third years of study will allow you to gain first-hand practical experience of classrooms or other education settings, while diverse optional modules will allow you to focus on the topics that excite you the most – from science, mathematics and language education to behaviour management.
You'll study among active researchers at the forefront of their fields. It's a great opportunity to gain in-depth knowledge and a wide range of skills for careers within and beyond the education sector.
Course content
Throughout your studies, you'll build an understanding of key approaches and perspectives in education, drawing on a wide range of disciplines to explore the ways learning is shaped by its social and cultural context, the factors that influence learning processes and issues in educational research and practice.
In the second year, you'll also investigate the influence of politics and economics on education policy, and how educational practices vary around the world. Optional modules will allow you to focus on topics such as inclusive education or teaching and learning in core curriculum subjects, and you'll also undertake the first of your two placements, applying your knowledge to real-life situations.
In your final year, you'll focus on your own research project – an opportunity to work with your supervisor to examine a topic of your choice in greater depth. Your second placement will also allow you to gain practical experience and build your understanding of practice within the education sector. To complete the year, you will choose from further optional modules on topics such as assessment techniques or support for children with additional needs.
Course structure
Modules
Year 1
Compulsory modules
Introduction to Study in Education
Diverse Contexts of Learning
Psychological approaches to Education
Learning about learning: Processes, complexities and theoretical perspectives
Contemporary Issues and Debates in Education - Level 1
Optional modules (selection of typical options shown below)
Second Language Acquisition and Learning
Language, Learners and Society
What is a Child: Social Construction of Childhood
Play and Learning
Children and Education: historical and contemporary perspectives
Building a Career from Education Studies
Discovery modules
You can study up to 20 credits of discovery modules.
Year 2
Compulsory modules
International Perspectives of Pedagogy and Practice
Approaches to Research: Theory and Practice
Students into Education 1
Educational Policy and Politics
Optional modules (selection of typical options shown below)
The Practice of English Language Teaching
Psychological Approaches to Understanding and Supporting Children's Learning
Science Education: Issues and Challenges
Managing Classroom Behaviour
Inclusive Education
Literacies and Learning
Discovery modules
You can study up to 20 credits of discovery modules.
Year 3
Compulsory modules
Final Year Project in Education
Students Into Education 2
Optional modules (selection of typical options shown below)
Globalisation, Identity and English Language Education
Children's Literature in Education
Language Learning Technology and Materials
Supporting Learning in Children with Additional Needs
Growing up in the Digital Age
Mathematics Education
Understanding and Communicating Science
Assessing Children's Learning
Discovery modules
You can study up to 20 credits of discovery modules.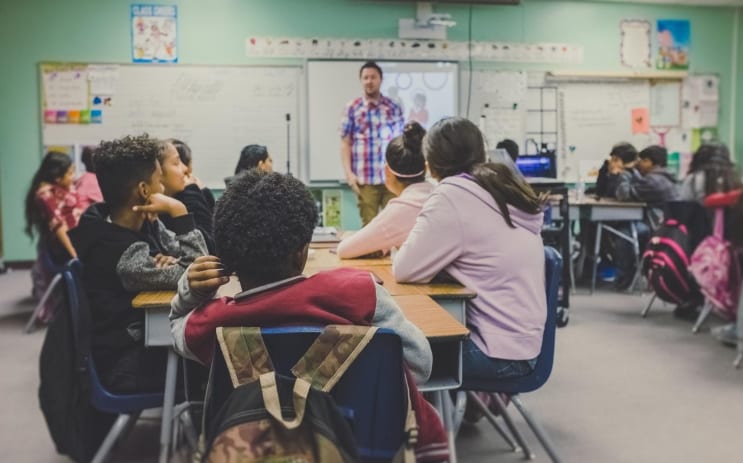 NeONBRAND / Unsplash
Broadening your academic horizons
At Leeds we want you to benefit from the depth and breadth of the University's expertise, to prepare you for success in an ever-changing and challenging world. This course gives you the opportunity to broaden your learning by studying discovery modules.
Learning and teaching
We use a range of teaching and learning methods, including lectures supported by workshops and tutorials that allow you to focus on and discuss topics in greater depth. You'll also learn through fieldwork, and use a wide range of online learning resources and discussions to develop and express your ideas.
We support you in developing your academic writing for your assessments and help you to develop your communication skills and confidence for your placements. As a University of Leeds student, you will also have access to our Skills@Library service.
Independent study is also an important part of this degree, allowing you to improve your critical thinking and research skills, develop your own interests and prepare for assessments.
Assessment
Assessment methods will vary depending on the modules you choose. They are likely to include essays, reports, poster and/or verbal presentations, media projects, fieldwork reports, group work, exams, literature reviews and research.
Entry requirements
A-level: ABB
In general, we expect applicants to have two 'traditional' academic subjects at A-level.
When an applicant is taking the Extended Project Qualification (EPQ) this can be considered alongside A Levels and may attract an alternative offer in addition to the standard offer. If you are taking A Levels, this would be BBB at A-Level and grade A in the EPQ.
Other course specific tests:
Applicants are also required to have a satisfactory Enhanced Disclosure from the Disclosure and Barring Service (DBS) (or equivalent). Students who are accepted onto the programme are required to adhere to the University Disciplinary Regulations during their studies. Failure to do so may lead to exclusion from the programme.
Alternative entry
We're committed to identifying the best possible applicants, regardless of personal circumstances or background.
Access to Leeds is an alternative admissions scheme which accepts applications from individuals who might be from low-income households, in the first generation of their immediate family to apply to higher education, or have had their studies disrupted.
International foundation year
If you have the ability to study for a degree but don't have the qualifications to enter directly to level one, you might consider studying a foundation year. We have formal links with the following foundation year programmes:
University of Leeds International Foundation Year (IFY)
Northern Consortium of UK Universities (NCUK)
Study Group Leeds International Study Centre (LISC)
If you are applying from an alternative foundation year provider, please contact our admissions team to find out if your qualification is suitable for entry to our courses.
English language requirements
IELTS 6.5 overall, with no less than 6.0 in any component.
Fees
See our website for the latest fee information.
Tuition fees for 2020 entry
For the UK and non-UK EU full-time students starting in 2020, the fee for 2020/21 will be £9,250.
The fee may increase in future years of your course in line with inflation, and as permitted by law. Fees for the UK and non-UK EU undergraduate students are decided by Government and may vary if policy changes.
The UK government has confirmed that non-UK EU students starting in the 2020/21 academic year will have home fee status and be eligible for UK government student loans for the duration of their course. The UK government has not confirmed the situation for future years, so keep checking our website for updates.
Career Opportunities
This degree will equip you with in-depth knowledge as well as a variety of transferable skills in areas such as communication, research, analysis and presentations.
You will be well prepared to progress to a primary teacher training programme or work in related fields such as educational psychology, publishing, child welfare or school administration and management.
Our graduates go on to secure a wide range of career destinations across the education sector and beyond. Among many career options, you may choose a role as a teacher, lecturer, researcher, specialist tutor, education consultant or teaching assistant.
Study abroad
On this course, you have the opportunity to apply to spend time abroad, usually as an extra academic year. We have over 300 University partners worldwide and popular destinations for our students include Europe, the USA, Canada, Australia, New Zealand, Singapore, Hong Kong, South Africa and Latin America.
Work placements
Practical work experience can help you decide on your career and improve your employability. On this course, you have the option to apply to take a placement year module with organisations across the public, private and voluntary sectors in the UK, or overseas.
Last updated Feb 2020
About the School

Our wide range of research-informed courses encompass undergraduate, taught postgraduate and research degree programmes, as well as online and professional development courses.
Our wide range of research-informed courses encompass undergraduate, taught postgraduate and research degree programmes, as well as online and professional development courses.
Read less