Program Description
The Department of Dance at The College at Brockport comprises artists, scholars, and educators who train dancers on the graduate and undergraduate level for a wide variety of careers in the arts as choreographers, performers, teachers, scholars, and leaders in the dance field. The students in the department's highly selective degree programs excel not only in the studio and on stage, but also as critical thinkers, writers, and teachers.
The department has some of the best dance facilities in the country, including its own fully equipped proscenium dance theater, a large-space studio theater, five studios, a body-conditioning lab, health pool, costume and scene shops, and computerized music and design studios. Faculty and professional staff are nationally and internationally recognized in their areas of expertise and are leaders in professional organizations such as CORD, NASD and NDEO.
Undergraduates with a strong foundation of dance training are invited to participate in the program by auditioning to enroll as dance majors or minors in the BA or BS programs and are eligible to apply to the BFA program in the second semester. Additionally, the department offers three graduate degrees and serves a large number of students through courses that fulfill General Education requirements.
What You'll Learn
A Bachelor of Fine Arts in Dance is an immersive studio experience that prepares you to be a versatile dance artist. Our program cultivates conservatory-like rigor in a liberal arts environment. We connect you to the professional world through opportunities to study with Brockport's renowned faculty and visiting artists from New York City.
This program helps you define your unique voice within our diverse dance community. Brockport dancers are choreographers, performers, critical thinkers, and writers. They are assertive with their education, self-reflective, and motivated to propel the field forward with professional careers in dance.
Curriculum
At Brockport, you are trained to become a dancer, an artist, and a thinker.
Take contemporary modern and ballet in one of five large studios.
Perform in two dedicated dance theatres.
Explore dance theory in small class seminars.
Study anatomy in our conditioning lab with Pilates equipment.
Learn practical skills backstage and in the costume shop.
Admission Requirements
Becoming a dance major is a two-part process:
Audition for the program
Apply to the College
We host auditions in October, February, and April for freshmen and transfer students. You do not need to apply to the college before your audition.
Performance & Choreographic Opportunities Abound
You will have ample opportunities to dance and grow as a choreographer and performer.
Faculty and visiting artists give you the chance to perform in their repertory. Student favorites include DANSCORE and Sankofa, the African Dance and Drum ensemble.
With six student-choreographed shows per year, you'll have a chance to perform and present your work. Student choreographers work with faculty advisors and in-house lighting and costume designers. These professional-level experiences prepare you for a career in dance.
Career Outlook
Faculty helps you identify your strengths and diverse interests. You'll learn career skills while developing vibrant relationships with active professionals. Our alumni have built careers as:
Professional dancers
Choreographers
Teachers
Physical therapists
Dance writers
Arts administrators
Last updated Mar 2019
About the School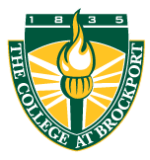 Brockport is a selective, nationally recognized and accredited public institution. We are the engaged SUNY campus and one of the most engaged college campuses in the country.
Brockport is a selective, nationally recognized and accredited public institution. We are the engaged SUNY campus and one of the most engaged college campuses in the country.
Read less