BA in Contemporary Performance Practice
Home ›
BA ›
BA in Contemporary Performance Practice
Program Description
BA in Contemporary Performance Practice
Our students tell us that studying CPP at the Conservatoire is like nothing you could ever imagine. It's total immersion in a challenging programme with the central philosophy that human beings make art in order to understand better the world in which they live. It's for aspiring performance makers who wish to develop their skills as innovative and socially engaged performers, directors, teachers, and cultural leaders, who can realize their aspirations to create and shape the future of new work. In one sense, this could be the programme for you if you are passionate about creating performance, but you're unsure of what you'd specifically like to do in the field. You will be able to explore the realization of ideas through the disciplines of performance, education, installation, movement, research, and documentation. We will help you to develop your performance skills in our world-class facilities, working with our staff, visiting practitioners, directors, and lecturers, with regular opportunities to take part in specialist workshops and masterclasses. You will push yourself and push boundaries, creating new works with image, action, sound, and text. You will leave the Royal Conservatoire as an independent and entrepreneurial self-managing ' eco-centric' artist with an awareness of the aesthetic, intellectual, social, emotional, political, and ecological considerations of a holistic and sustainable art practice.
Course Outline
Year One
In the first year, the focus is autobiographical – you learn about yourself and what you are bringing to space as a performer. This year is about 'The Self-centric Artist' and is called ' Digging From Where You Stand'. You are encouraged to examine your pre-conceived ideas, habits, and learned beliefs and you make all of your own work yourself. Year Two
In your second year, you begin to explore how to apply your art practice in social and participatory contexts including community and educational contexts. You will take part in a residency in a community with whom you will make an original piece of performance work. This stage of the programme focusses on the development of 'The Sociocentric Artist' and engaging with other people. Year Three
In the third year, the emphasis is on research and self-generated work. You'll learn how to generate text for performance, supported through individual mentoring by a performance tutor. The focus this year is on 'The Researching Artist'. You will research and write a dissertation exploring an idea relevant to your own performance practice and undertake a placement. Year Four
The focus in the final year is on 'The Ecocentric Artist: Living a Sustainable Practice' and throughout this year you are working towards developing a sustainable arts practice that will support your transition into the world of work. You will now have the opportunity to select projects specializing in directing, performance, solo performance, arts in participatory contexts, arts in a criminal justice setting, education, site-specific work, or a work-based secondment. CPP Choice Modules offered to include Arts and Medicine and Somatic Practices.
Entry Requirements
Scottish Highers – 3 passes (grade C or above)
A Levels – 2 passes
International Baccalaureate – minimum score of 24 with 3 subjects at Higher Level
For entry to the BA (Hons) Contemporary Performance Practice Programme, it is necessary to obtain English or Drama at Higher, Advanced Higher or Advanced Level. We offer a flexible approach to students taking Highers over more than one academic year and/or who achieve their qualifications in more than one sitting. Entrance to the Conservatoire is based on talent, potential, and ability, therefore consideration will be given to relevant experience which is deemed to compensate for any traditional education. We accept a wide range of qualification, including international qualifications.
English Language
The language of study is English. Applicants whose first language is not English will be required to provide evidence of proficiency in English. We accept the International English Language Testing System (IELTS).
Last updated Feb 2018
About the School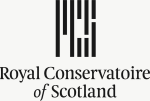 The Royal Conservatoire is Scotland's national centre of professional vocational training in performance arts. Our location is the heart of Glasgow; our orientation is the contemporary international s ... Read More
The Royal Conservatoire is Scotland's national centre of professional vocational training in performance arts. Our location is the heart of Glasgow; our orientation is the contemporary international scene. We are leading the way as one of Europe's top conservatoires, offering a rare breadth of artistic disciplines.
Read less