Program Description
"Today design is the most important conductor of information, and a designer is a master of instant meaning, outrunning a long word with a quick picture" — Alexandra Kuznetsova, academic head of the undergraduate programmes of the HSE Art and Design School.
About
Communication design is the visual language of our time. Brand identity, package, advertisement, infographics, websites and applications use this language. Mastering this language is crucial to solve complex professional problems and apprehend the most vital ideas and concepts. The HSE Art and Design School has created an elaborate teaching system to prepare such professionals. Our approach is based on practical studies: from the first day of education, the students are being involved in day-to-day realities of the industry.
Specializations
At the beginning of the second year students of the profile «Communication Design», can choose one of three specializations.
Branding
Students go through all the stages of creating a qualitative modern brand — beginning from the preliminary research and ending with the development of all elements of corporate style and work results presentation.
Multipage publications
Students design printed issues of various formats — books, magazines, calendars, booklets, and brochures developing not only structural but also comprehensive concepts of the publications.
Motion design
Students of this specialization get the entire complex of competencies dealing with communication and multimedia design.
Entry Exams
Required score
55 in the Russian language
60 in the Creative competition
The creative competition includes:
Interview
Creative project
Details about exams
Russian language
If your knowledge of the Russian language is not sufficient to pass the exam there is a special HSE course for in the international enrollees. HSE's Preparatory Year trains international students with little or no knowledge of Russian before they pass the exam. Over 10 months of intensive study, students improve their basic language skills (reading, listening, speaking, and writing), study in a chosen academic field (humanities, economics, or engineering), and adapt to the new educational environment. Upon completing Preparatory Year, students are expected to possess intermediate-level language skills (CEFR level B1, TRKI level 1) and be ready to pass the Russian language exam at HSE and other Russian universities.
Creative Competition
The creative competition includes interview and creative project.
Interview
The interview is conducted individually and involves an interactive dialogue between members of the selection committee and the enrollee. To successfully complete an interview, you should be ready to name at least two authors / artifacts / style tendencies / artistic trend characteristics of the following periods in the history of art and culture, and be able to give them a brief description: Antiquity, Early Middle Ages, High Middle Ages, XIV century, XV century, XVI century, XVII century, XVIII century, XIX century, XX century.
Creative project
A creative project is a series of works (from 6 to 12) united by one theme, connected by a single concept and a single stylistic decision.
The themes of the projects are chosen by the enrollee and must reveal her / his creative potential and level of artistic thinking. HSE ART AND DESIGN SCHOOL offers possible but not mandatory topics. If applicants choose a different theme for their project, then, provided the principle of seriality, the commission will consider such a project on an equal basis with all.
Before starting work on the project, applicants are invited to choose a topic. For example a country, city, school, museum, gallery, exhibition, book, theatre, club, concert, factory, airport, public organization, shop, clothing brand, cafe, etc.
On this topic you must complete a project, for example:
A series of posters;
A series of covers — for CD/book/magazine;
A series of font compositions;
Branding;
A series of packages;
Infographics;
Outdoor advertising.
Timeframe for submissions of applications
International students can apply for undergraduate programmes for the next academic year starting from October 29. Our admission boards evaluate applications for state-funded places (government scholarships), as well as fee-paying places.
Application for academic year 2019/2020 is open until August 20, 2019.
How to join
Submit an Application Form
Set Up Your User ID and Password
International applicants may get access to their accounts after they apply for a User ID and a password using the link. Once you have submitted a form, an e-mail will be sent to the address you indicated during registration with your User ID and password. Please make sure уou have provided the correct e-mail address. Your User ID/password application will be considered within 72 hours (including weekends and public holidays).
Fill in the Form
You can use your User ID and password to enter your account. Don't forget to read through the form fields to be filled in (required fields are marked with an asterisk).
Once you have submitted your application, you will not be able to access it again. Only an application's supporting materials can be updated. Please do not resend your application.
All of your supporting files must be in .pdf or .jpeg format. Their size should not exceed 15MB.
After your application materials have been attached, please click 'SUBMIT'. You will receive an email confirming the receipt of your application within 24 hours.
Application Evaluation
Once you have selected a programme, you can sign up for exams. If none of the exam dates on the list is suitable for you, you may choose any of the available dates. You will have an option to change it, as the schedule is regularly updated.
If you plan to take an on-site entrance exam in your home country (as per the schedule for exams held outside of the Russian Federation), your results will be included in your Foreign Applicant's Personal Account within 2 weeks following the end of the examination period in your home country.
You can also access your account to find out whether or not you are recommended for admission to a fee-paying place, as well as whether or not you are eligible for a discount based on your entrance exam results.
Online entrance exams are conducted using HSE's own information resources and the Examus service. An e-mail with your ID and a password for obtaining access to the online system will be sent to the e-mail address indicated in your registration.
We recommend making sure that your computer meets the requirements of the Examus system:
Windows 7, Windows 8, Windows 8.1, Windows 10 or Mac OS (version 10.9 or higher);
Google Chrome web browser (the latest version as at the date of exam);
a built-in or external webcam;
Internet connection of 1 Mbps or faster.
Your exam results will appear in the Foreign Applicant's Personal Account after the completion of the exam process within a week.
Once your application has been reviewed by the examination committee, the status in your account will be updated as follows:
Recommended for admission to a state-funded place;
Recommended for admission to a fee-paying place;
Rejected.
A final decision on admission to state-funded places shall be published on the 'For International Applicants' page in your personal account, once all respective applications have been approved by the HSE Student Selection Committee.
Prepare Your Documents
If you are successfully accepted to HSE, you have to start preparing your documents for your visit to Russia.
Arrival and Enrolment
Before Arrival Instructions
Before you arrive in Moscow HSE campus, please make sure to:
Prepare all documents listed and upload them to the Enrolment Consent section in your personal account.
Legalize your academic credentials (degree/high school certificates/diplomas).
The specific legalization procedure will depend on the country where your diploma was issued. Please refer to this page for a full list of countries and relevant legalization requirements. Each country may have its own legalization terms and conditions.
3. Make your academic credentials (degree/high school certificates/diplomas) recognized in Russia.
Once you have received the original of your degree/high school certificate and obtained its notarized translation into Russian (if applicable), please submit an application for the recognition of your academic credentials via your personal account on the HSE website. If you have any questions regarding recognition, please contact us at recognition@hse.ru.
IMPORTANT! Recognition procedure is mandatory for all foreign citizens applying to HSE and is offered free of charge. If you have a Russian high school/degree certificate issued by a Russian academic institution, you are still required to submit an application for recognition of academic credentials.
4. Apply for a Russian visa.
If you have been admitted as a state-funded student (tuition waiver), your visa reference will be issued by the Ministry of Education and Science of the Russian Federation (MES), once HSE staff uploads all documents listed to the MES information system. The list of visa reference numbers will be published in your personal account in the Visa section. Normally visa references should be available in early August.
If you have been admitted to HSE as a fee-paying student, please submit an application to obtain a visa invitation via your personal account (Visa section). More details are available in your personal account.
Please note that citizens of the following counties do not need a student visa to study at Russian educational institutions: Azerbaijan, Abkhazia, South Ossetia, Belarus, Kazakhstan, Kyrgyzstan, Moldova, Tajikistan, Ukraine, Armenia, and Uzbekistan.
If you are a citizen of Belarus, Armenia, Kyrgyzstan or Ukraine, you may use your national (internal) passport when crossing the Russian border. If you are a citizen of any other country, you must obtain a travel passport to enter Russia.
Russian nationals arriving in Russia must also show an ID (Russian travel passport for Russian citizens residing abroad). To enrol in HSE, you must also have your national (internal) passport readily available, even if you are residing abroad. Please make sure to make your plans in advance, since it may take up to 2 months to issue a national passport in Russia (if you don't have a permanent registration and only have a temporary one).
5. Enrolment procedures for foreign applicants.
To officially enrol in HSE and secure a place at an HSE dormitory, please visit us at the following address starting from August 20, 2019:
Room 330, 3rd floor, 11 Myasnitskaya Ulitsa.
Make sure you have the following documents with you:
Your passport + its copy + notarized translation of your passport into Russian (if applicable);
Original high school/degree certificate/diploma + its copy + a notarized translation of your high school/degree certificate/diploma into Russian (if applicable);
Migration card issued upon entry to Russia (at the airport or another border checkpoint) or a copy of your Russian visa;

IMPORTANT! In the migration card, please make sure to underline Education («учеба») as your purpose of visit.

4 photographs (on matt or glossy paper), size: 3×4cm;
Original of your medical certificate (must be dated no later than March 2019), and negative HIV test results. Please note that a medical certificate is valid for 6 months, and an HIV certificate is valid for 3 months.
Your voluntary health insurance policy (if available). You can purchase an insurance policy from any insurance company of your choice or obtain one at our office. For your convenience from August 20 to August 31, representatives of 3 Russian insurance companies will be working on 11 Myasnitskaya Ulitsa.
Enrolment procedure includes the following steps
Submitting documents for enrolment to HSE.
Preparing documents to obtain a migration registration.
Please note that foreign students must register at their actual residence address:
If you are staying at an HSE dormitory, please contact the dormitory staff to get registered via a local migration office;
If you are staying at a rented apartment, please contact your landlord/landlady to get registered via a local migration office.
Please visit our office for more details regarding the registration of students who are staying at rented apartments.
IMPORTANT! Citizens of the following countries may stay in the Russian Federation without registration for a fixed period of time only:
Citizens of Ukraine — 90 days;
Citizens of Belarus, Kazakhstan and Armenia — 30 days;
Citizens of Tajikistan — 15 days.
3. Dormitory check-in.
Dormitory places will be allocated via the applicants' personal accounts. You will get access to the Dormitory section in your personal account, once you've completed the Enrolment Consent and Recognition of Foreign Education and (or) Qualifications sections but no earlier than August 10. Therefore, by the time you visit us to submit your documents starting from August 20, a place at the dormitory will have already been assigned to you.
Resources
Design lab
HSE Design Lab — bureau where talented senior students work teaming up with experienced art directors. The Laboratory integrates commercial projects in the areas of branding, book publishing, animation, museum design, digital design. Due to the harmonious combination of an analytical approach, in-depth knowledge, practical competence and constant study of the most modern approaches and design tools, the Laboratory successfully works with both large customers and young startups.
HSE ART Gallery
The display area and experimental territory have been opened in 2018. The gallery is to become a platform for the teamwork of students and modern art professionals. We aspire to give the floor to a new generation of artists and throw together successful cultural institutions, famous artists and curators, the students who are just beginning to search their own ways, and sophisticated audience in search for something new.
Fashion workshop
Four clothing engineering shops work in the HSE Art and Design School to implement creative ideas. They are equipped with advanced gear. Household and production sewing machines, overlock machines, coverlocks, and ironing and steaming equipment are at the students' disposal. To develop complex forms and constructions flexible dummies are used and cutting tables and mirrors, storage racks, brackets and other appliances necessary for students' efficient work are installed.
Prepress and digital print
The HSE PrepressLab performs a whole cycle of prepress operations. The laboratory personnel includes professionals with many years of experience in book production and magazine printing. The laboratory carries out open consultations for bachelors and magisters as well as extended education students. The lab equipment makes it possible to calibrate printing and projection equipment. Optional calibrating of notebook computer screens is available for students. The laboratory makes it possible to print images of the highest quality, including certified proofs for print shops with possible control of colour nuances by special viewing.
Porcelain workshop
In the porcelain workshop, students can watch the casting process as well as try themselves as porcelain ware makers under the guidance of an experienced master or work independently with ready-made forms. The workshop offers an opportunity to practice the full cycle of manufacturing a porcelain product — from sculpture plasticine modelling to pouring of porcelain, baking and painting. The workshop is equipped with a furnace, driers, plaster pattern machine as well as paints, glazes, and pigments. In addition, training forms and models are also present.
Screen printing workshop
In the silk-screening workshop, the students under the guidance of professional typographers study the whole stage of printing technology beginning from the preparation of image and prepress on various types of carriers up to drying of the objects produced and gain knowledge on methods of printing, storing layout, and presentation of graphic works. Using silkscreen printing allows designers to significantly extend the range of their professional methods and skills and find a new sphere of expression.
Photo studios
There are two photo studios in the HSE ART AND DESIGN SCHOOL. They are available not only for those who study photography: any student who needs making photos may register and get both modern photo equipment and studio employees expert assistance. The studios' suit for all types of photography: portrait photography, product shoots, fashion photography, and art projects photography.
Art and design history
Academic discipline «Art and design history and theory» includes lectures on the history of arts, architecture, design, photography, cinema, theatre, etc. The exact set of courses depends on the students' specializations. Besides, we regularly arrange public lectures where top-ranked designers, artists, photographers, and fashion professionals speak in front of the audience. These events are attended not only by HSE Art and Design School students — we are always happy to see there our enrollees, professional designers and modern art aficionados.
Art practice
Artistic skills are not obligatory for the applicants of the HSE Art and Design School, however, it is necessary for every designer to practice them. Art practice is a series of educational disciplines that imply enhancing students' creative abilities. Depending on the profile chosen the students are engaged in art practice in various formats: study basic principles of drawing, illustration, and painting, sketching and photo sketching. They draw comics, paint pictures in oils and acryl, and create pieces of art and installations.
Jewellery design workshop
Bachelor's profile «Jewelry art and object design in fashion» was launched only in 2018, however, any HSE Art and Design School student may venture into jewellery choosing the respective elective course. In the jewellery workshop, the students master both the most ancient and most advanced techniques. These are simple form casting, moulding, 3D design, vacuum casting, electrochemical processing of metals, titanium vacuum deposition, etc.
Design technologies
The HSE Art and Design School adheres to a project-based approach to education. From the first lesson, students start drafting their original project under the guidance of the group curator (an academic group numbers up to 24 persons). One of the key courses is «design technologies». The «design technologies» supply students with all the basic tools needed for a complex work on any project. Depending on the chosen profiles these tools include various elements: software for graphic design, animation, 3D models, motion design, and web products. In the HSE Art and Design School, there are 25 IT rooms and 20 training clusters which are equipped with over 500 Mac computers and licensed software PCs. Computer rooms are used not only for lectures and lessons but also for the independent work of the students.
Library
The HSE Art and Design School library grants open access to the most recent publications on design, art, fashion, and media industry for all the students.
Future Career
Art director
Graphic designer
Motion designer
Media designer
Package designer
Web designer
Font designer
Branding specialist
Infographics specialist
About HSE
35100 students
7000 professors and researchers
234 educational programmes
HSE Art and Design School is a subdivision of the Higher School of Economics National Research University, one of the leading universities in Russia, a participant of the majority of authoritative international educational ratings (QS, ARWU, Times Higher Education, U.S. News Best Global Universities Subject). It's not only a huge scientific laboratory, but a representative expert platform as well: the HSE personnel are actively involved in the key expert discussions, they are members of many collegiate and consultative bodies and are opinion leaders of the most important issues in the sphere of education, social policy, healthcare, demography, labour market, transport, public administration, and technological development.
Last updated Sep 2019
About the School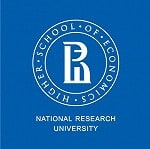 Consistently ranked as one of Russia's top three universities, the Higher School of Economics (HSE University) sets itself apart by its internationally-minded, research-driven approach to higher educa ... Read More
Consistently ranked as one of Russia's top three universities, the Higher School of Economics (HSE University) sets itself apart by its internationally-minded, research-driven approach to higher education. Based in the vibrant center of Moscow, with campuses in St. Petersburg, Nizhny Novgorod and Perm, HSE offers outstanding academics at all levels and includes more than 25 English-taught Master's programmes and 8 English-taught Bachelor's degree programmes.
Read less