Program Description
Rome offers students the ideal location for majoring in Classical Studies. The Ancient Roman world is still present in the city's monuments, artwork, and inscriptions, in its rich museum collections, and in the profound influence of the classical tradition on its contemporary architecture.
Students majoring in classical studies have the exceptional opportunity to complement their study of classical language and written sources with on-site, first-hand experience of ancient art and material culture in Rome and throughout Italy. Major Roman library holdings greatly facilitate and enhance research in all areas of classical studies, including such specialized disciplines as numismatics, ancient medicine, science, engineering, and industry.
While this major emphasizes the study of ancient Roman culture and society, the range of courses is designed to provide a solid foundation in classical civilization as a whole, from Greek and Roman literature to ancient history, philosophy, religion, mythology, archaeology, art, and architecture. Through their choice of major electives, students can focus in more depth on one or more of the areas of Greco-Roman culture that interest them the most.
The interdisciplinary study of the Classical World teaches students to think analytically about the foundations of Western Civilization, it also prepares them to think critically about their own contemporary world, and to seek innovative solutions to future challenges.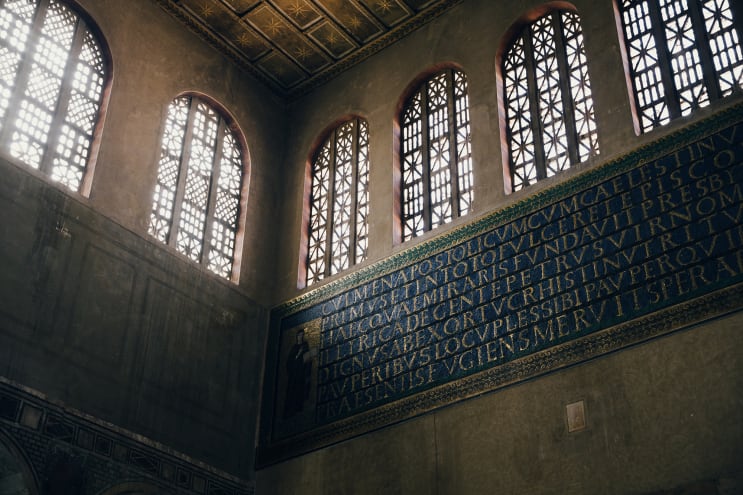 Learning Outcomes for the Classical Studies Major
LOS 1: Identify, analyze and interpret major historical, cultural, philological and artistic developments of the ancient Mediterranean World.
LOS 2: Analyze text, language, and material culture as primary sources, and contextualize these historically, socially, and culturally.
LOS 3: Discern how developments in ancient Mediterranean art, language, literature, and thinking are shaped by dynamic social and cultural interactions and appreciate the impact of context and audience on historical interpretation of these factors.
LOS 4: Apply methods, theories and techniques appropriate to the field, context and medium.
LOS 5: Apply knowledge, insights, and perspectives drawn from multiple Classical Studies disciplines and source types to new contexts.
Requirements for the degree
A. The Proficiency Requirements of the University in English, Mathematics, and Foreign Language.
B. The General Distribution Requirements of the University in English, Mathematics and Science, Social Sciences, Humanities, and Fine Arts. (Many of the Humanities and Fine Arts requirements will be satisfied by the core curriculum courses below.)
C. Additional Requirements LAT 101 Elementary Latin I and LAT 102 Elementary Latin II, or LAT 103 Intensive Elementary Latin
D. Core Curriculum
ARCH 101 Introduction to Archaeology
LAT 282 Directed Readings in Latin
PH 210 Ancient Philosophy
CL/HS 221 History of Ancient Greece
CL/HS 231 History of Ancient Rome and Italy
CL 278 Literature and Society in Ancient Rome
CL/RH 372 Classical Rhetoric
AH 220 Classical Greek Art and Architecture
AH 290 Ancient Rome and its Monuments or AH 223 Roman Imperial Art and Architecture
CL 260 Classical Mythology or CL/RL 288 Ancient Religion
HM 460 Research and Writing in the Humanities
CL 480 Senior Thesis
The University requires an overall minimum grade point average of 2.00 in all courses taken at the University with no more than two grades lower than C- in core courses required for the major.
E. Major Electives
Students must take five electives to be chosen from CL (Classical Studies) courses that are not part of the core or from any 100­‐300 level GRK (Greek), or any 200 or 300 level AH (Art History), ARCH (Archaeology), HS (History), LAT (Latin), PH (Philosophy), or RL (Religious Studies) courses focusing on the Ancient period not listed in the core, or EN 278.
F. General Electives sufficient to give a total of 120 credits.
Last updated Oct 2020
About the School
John Cabot University, founded in 1972, is an American liberal arts university offering undergraduate degrees to English-speaking students from all over the world. You will study in the heart of Rome, ... Read More
John Cabot University, founded in 1972, is an American liberal arts university offering undergraduate degrees to English-speaking students from all over the world. You will study in the heart of Rome, surrounded by culture, history, art, business, and politics.
Read less