Read more about this program on the school's website
Program Description
If you have a talent for numbers and a desire to work in business, a career as an actuary may be for you. Consistently rated as one of the best jobs in America, an actuary uses mathematical models and analytic skills to assess financial security and quantify risk. Wartburg's rigorous program—grounded in economics, finance, and mathematics—prepares students for a successful career in the world of risk management.
Housed in the Department of Mathematics, Computer Science & Physics, the actuarial science program prepares students to pass the initial certification exams before they graduate. More than that, Wartburg students also graduate equipped with the communication skills needed to become leaders in the field and the public face of the company they represent. In addition to classroom work, our students gain real-world experience at internships in a variety of fields, allowing them to better explore their interests and attain successful careers in a growing industry.

Quick Facts
Actuary was listed as the fourth-best job, with a median salary of $93,680, in 2012-13, according to the Bureau of Labor Statistics.
Your degree also will prepare you for a career as a mathematician or statistician, the No. 1 and No. 3 best jobs, respectively.
The profession is expected to grow by 26 percent by 2022, compared to an 11 percent average for all occupations.
Most actuaries live and work in the Northeast (Manhattan is a financial capital) and in the Midwest, where many large corporations are headquartered.
Actuaries work in the insurance industry, for private corporations, government, or as independent consultants. The choice is yours.

Common Learning Outcomes
Wartburg College is a learning community built upon an integrative curriculum, a rich variety of learning-focused co-curricular activities, and intentional opportunities for reflection and discussion.
These outcome statements define the expectations of a Wartburg education and provide the benchmarks against which the College holds itself accountable.
Broad and Integrative Knowledge: Students will demonstrate a breadth of knowledge and the ability to make connections across a range of disciplines.
Deep and Distinctive Knowledge: Students will demonstrate a depth of knowledge and the ability to use and apply the distinctive methods and forms of inquiry within the disciplinary area of the academic major.
Collaboration: Students will work effectively in collaboration with others, being respectful and civil toward others.
Ethics and Engagement: Students will articulate the ways in which faith and ethics inform their decisions, actions, and engagement as community members.
Communication: Students will communicate effectively and appropriately in writing and speaking.
Cultural Competence: Students will demonstrate the ability to appropriately, respectfully, and effectively communicate and work with people of diverse backgrounds and perspectives.

Requirements
19 course credits:
AC 121 Principles of Accounting I
BA 325 Business Communication or
EN 325 Business Communication
BA 334 Business Finance
BA 365 Principles of Insurance
BA 480 Financial Modeling
CS 110 Introduction to Information Systems
CS 120 Introduction to Computers and Programming
EC 117 Principles of Macroeconomics
EC 118 Principles of Microeconomics
EC 342 Financial Markets and Modern Money
EC 401 Econometrics
MA 250 Applied Calculus
MA 251 Foundational Differential Calculus
MA 252 Foundational Integral Calculus
MA 255 Multivariable Calculus
MA 301 Linear Algebra
MA 313 Mathematical Probability and Statistics
MA 314 Statistical Applications
MA 316 Actuarial Mathematics
One course credit from:
BA 460 Senior Seminar in Business
EC 461 Senior Thesis I and
EC 462 Senior Thesis II
MA 461 Perspectives in Mathematics
Last updated Oct 2020
About the School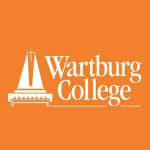 The liberal arts education you will receive at Wartburg allows you to not only gain the skills required from your chosen field of study, but also the critical thinking skills required to explore the e ... Read More
The liberal arts education you will receive at Wartburg allows you to not only gain the skills required from your chosen field of study, but also the critical thinking skills required to explore the ethics of decision-making and community engagement, effective communication, cultural competence, and collaboration.
Read less