Read more about this program on the school's website
Program Description
Product Design at Berlin International – a program with creative leeway
Are you interested in taking a creative study program in the field of Product Design allowing for plenty of leeways to suit your individual needs? Studying with us, you will develop your very own personal creative profile. The professors and excellent team of expert lecturers at Berlin International will closely guide you in this process throughout the Product Design study program and will consult you with their expertise. Let us support you in determining your individual strengths and thus empower you to successfully work as a professional product designer in the future.
Program facts
Duration: 3 years / 6 semesters
Points: 180 ECTS
Language: English
Degree: Bachelor of Arts (B.A.)
Location: Berlin-Charlottenburg
Start: October
Fee: 660€ monthly
Your career opportunities in the field of Product Design
Speaking of the future: What skill set will a professional product designer need when graduating? What challenges will we be facing? In this program, you will learn everything about the challenges on the job market for professional designers. The custom-tailored program will give you the necessary tools and a deep understanding of the challenges and possibilities in the future of product design – allowing you to stay competitive in the market. After graduating from the BA program in Product Design at Berlin International, you will benefit from wide-ranging job and development opportunities. Lay a solid foundation for your career.
Content of the Product Design study program
Together we will explore technical advances and innovations in the field of artificial intelligence and human-machine-interactions, sustainable product design, 3D printing and CNC machining, innovative materials, user-centric design processes and many more. In practical and interdisciplinary project activities, we will analyze current trends, developments and the impact on contemporary product design.
English-speaking study program
Our friendly, inclusive and personal environment allows us to directly respond to the individual needs and demands of the students. The Bachelor program in Product Design is completely taught in English.
Outlook on Product Design study program
Become a product designer now with the BA study program in Product Design. Studying in the heart of Berlin provides permanent inspiration in a creative environment. An internationally experienced team of lecturers and professors encourages you to unfold your individual talents and develop your designer personality.
Within the Bachelor study program in Product Design, you will explore experimental and applied product design, the influence of digital technology in product design and the requirements of international markets and users. Together we visit manufacturing companies, design studios, international exhibitions, and fairs, meet leading designers and include Berlin's vibrant contemporary culture in your study practice. Interdisciplinary projects allow you to collaborate with fellow students from diverse international backgrounds. Our current student population encompasses 48 different countries.
Study Product Design at Berlin International and start a successful career
Lay the foundation for a successful career as a product designer. Graduates of the Product Design study program can work as a product designer in different industrial fields as an employee or freelance designer or as a staff member in a design studio.
A typical job description depends on the design subject: Conceptual work, visualization, design engineering, physical interface designer, material designer, design research etc. Generally, product designers are part of larger development teams in co-creative design processes. Their status within these teams ranges from junior designer to creative director to mediator and communicator in with responsibility for staff. Your work will definitely have an impact on economic, political, social, cultural and personal life.
Some of your future perspectives in product design:
furniture industry
mobility and transport industry
fair, exhibition and shop design
public design
electric tools and machines
digital products and components
design strategy
lifestyle, sports and leisure products
further study and research
Solid training with the accredited Product Design study program
The Product Design program at Berlin International has been accredited and evaluated as a quality program with transparent structures, regulations and qualification targets. Our Product Design Bachelor program thus has proven to conform to the highest quality standards set by the European Higher Education Act. The Product Design program was accredited by the state-recognized agency ACQUIN.
How do I apply for the Product Design BA study program?
The application process for studying Product Design at Berlin International is very easy. You can easily and safely share your personal information through our online application platform. After receiving a confirmation email with a link, you can upload a copy of your documents:
copy of passport or identity card
a copy of your school-leaving certificate (German (Fach-)Abitur) or equivalent
copy of English Language Test
a portfolio with a max. of 10 works
Last updated Jan 2020
About the School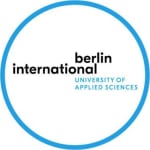 Berlin International University of Applied Sciences is a state-recognized and non-profit German university of applied sciences located in the center of Berlin. We are determined to offer a challenging ... Read More
Berlin International University of Applied Sciences is a state-recognized and non-profit German university of applied sciences located in the center of Berlin. We are determined to offer a challenging, innovative and practice-oriented education that advances the academic, cultural and linguistic potential of our students and prepares them for international careers in a globalized world.
Read less