Program Description
This BA Honours degree course has been designed to respond to the demand for BA programmes that prepare graduates for employment by providing you with the skill sets required by employers in the screen industries. Our primary focus is on professional practice and preparation for employment.
The course offers a far higher amount of practical teaching than standard degree courses in filmmaking. Students learn to work collaboratively towards professional standards through the course model that sees lecture, seminar and workshop training followed by the practical application of learning on set.
In the final phase of the course students demonstrate the culmination of their learning through major graduation film projects that then receive a Gala Screening in Central London at the Curzon, Soho.
Full-time degree course
2 years
Currently taking applications for February 2016
Limited places available
Accredited by the University of Gloucestershire
BA(Hons) Practical Filmmaking This course focuses on professional practice and training for career within the film and television industry.
With a highly practical approach to filmmaking, film business and production management, students are provided with a solid skill base from which to build their individual career.
This course has been designed to provide you with a solid foundation in all aspects of contemporary filmmaking and assist you in building a successful career within the industry. Our entire team consists of industry professionals, who are highly experienced and most importantly of all, passionate about sharing their knowledge with you.
Throughout your time with us you will not only hear, but experience for yourselves, that filmmaking is essentially a collaborative process and one that requires absolute determination. It's true and therefore the programme's goal is to create an environment in which your creativity is nurtured, your network is expanded and your own passion for filmmaking is ignited.
Course Highlights
This course is delivered as an intensive programme over two years.
The course involves a high level of practical filmmaking elements, supported by modules on film history, genre and theory.
The course involves a higher than normal proportion of scheduled contact hours - 40% - to reflect the higher level of practical, professional skills taught on the programme.
The course is taught in smaller class sizes and specialist seminar groups.
Our tutors are industry professionals, this allows students to receive training to industry standard from people who have up to date knowledge of their respective field.
Students are encouraged to engage with social, cultural and political issues through a unique study of the impact of documentary filmmaking, supported by the Bertha Foundation and DocHouse.
Students learn to shoot on the school's own film equipment and receive further special training days from Panavision and ARRI.
All students learn to approach filmmaking from the perspective of the director, producer and writer, enriching their understanding of the collaborative art of the creative process.
Free access to equipment and facilities outside of class time.
Develop skills to work effectively in key crew roles in all aspects of film production.
Be trained in the use of Adobe products such as Adobe Premiere Pro.
Develop a professional approach to film budgeting and scheduling using industry standard software such as Movie Magic Budgeting and Scheduling.
The two-year BA
It is important to be aware that whilst most UK BA courses last for three years, we compress the course into two in order to keep tuition fees to a minimum. This means that the course is highly intensive and requires full commitment throughout the whole two-year period. Our students are always busy with assignments and graduation films and the course runs from early September until September the year after next, unlike most academic programmes where students sit their final exams in the Spring.
Last updated Jan 2018
About the School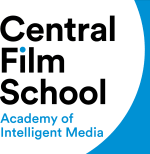 Central Film School delivers relevant, practical training in filmmaking and screenwriting in a supportive, collaborative and creative filmmaking environment. Small and friendly, the school provides co ... Read More
Central Film School delivers relevant, practical training in filmmaking and screenwriting in a supportive, collaborative and creative filmmaking environment. Small and friendly, the school provides continuous access to tutors and one of the highest student-to-equipment ratios of any school in the UK.
Read less