Program Description
Overview
This degree will open up a whole world of career and consultancy opportunities. Graduates are working in areas including computer, sports goods, gym equipment, watch design, automotive design, and packaging. Some graduates set up their own businesses or go into marketing, model making, graphics, computer games design, design management and teaching.
This programme includes exciting and diverse projects like toys, domestic products, transport, fitness equipment and lighting. Access to excellent workshops, modeling facilities, and software, will enable students to present their work to a professional standard.
Core skills are introduced through structured and practical design projects, involving idea generation, drawing and rendering, model making and computer work. Further modules include Concept Generation, Ergonomics, and Usability, Materials and Manufacture and Aesthetics. The programme progresses to cover more advanced CAD projects and the role of Rapid Prototyping.
When the opportunity arises students may work on collaborative projects with students and staff from Transport Design, Advertising and Brand Management and other programmes.
In Year 3, you will complete a major design project in an area of personal interest. This flexibility gives students the means to indulge in truly original thinking and be innovative. Students may also exhibit their designs to the general public and potential employers at the end of year show.
Entry Requirements
Route 1: Entry to Year 1
Successful completion of STPM with 2 full passes or equivalent with minimum CGPA of 2.0 and completion of SPM or equivalent; or
Successful completion of A-Level with at least a pass in 2 subjects and successful completion of O-Level or equivalent; or
Recognised Matriculation or foundation with CGPA 2.0; or
A qualification that APIIT accepts as equivalent to the above.
And
A Portfolio of Art & Design work which can include:
Sketch work and finished drawings.
Photographs of models or other 3D works Art, illustration, photography etc.
Examples of your computer skills
Please bring in sketch ideas for a "new personal communication device".
Route 2: Entry to year 2
Successful completion of the relevant APIIT Diploma, or
Successful completion of study in another recognised institution with academic credits equivalent to the first year of an honours degree in relevant subjects
All students must demonstrate that they have met the equivalent of IELTS 6.0 either through formal English language assessment or through success in prior study at "A" level or equivalent in English
Programme outline
Topics you will experience include:
Year 1
Core Skills I
Core Skills II
Course Introduction I
Course Introduction II
Digital Design Project
Industrial Design: History and Context
Industrial Design: Style & Substance
Trends and Visual Thinking
Introduction to Graphic Design
Year 2
Creativity & Innovation
Design Concepts I
Design Concepts II
Design Realisation I
Design Realisation II
Ergonomics & Design I
Ergonomics & Design II
Lighting Concepts
Creative Practice
Digital Clay
Internship
Year 3
Design Futures for Product and Transport Design
Design Project Context
External Brief for Product Design
Professional Project 1
Professional Project 2
Professional Project 2 II
In addition to the above, all students are required to successfully complete General Studies modules as stipulated by the Malaysian Qualifications Agency, as well as fulfill credit requirements for Co-Curricular Activities.
Graduate Employment
Our exciting Product Design programme will equip you with all the skills necessary to work in both consultancies and manufacturing companies, whether they be a consumer product or automotive. Graduates from this Staffordshire University programme work worldwide designing everything from cars to game peripherals, gym equipment to furniture, and toys to lighting! Other graduates are working in the related fields of marketing, computer games design, model making, graphic design, and teaching.
During the programme, we carefully introduce you to the key attributes of entrepreneurship, enterprise, and employability. This gives you a real insight into what is required in industry and gives you important networking opportunities. Alongside this, live projects and visiting lecturers further reinforce this.
In the final year, during our Design Futures project, you will improve your self-promotion skills, refine your portfolio and have a mock interview with an industry recruitment consultant. This will make you interview-ready and prepare you well for the challenges ahead. Further to this we also support you after graduation, with job-seeking support. We want you to succeed, and encourage graduates to visit and use our social networking sites for peer support.
Last updated Jul 2018
About the School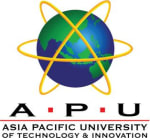 The Asia Pacific Institute of Information Technology offers a range of programmes which are designed to produce highly employable graduates, by providing our students with an internationally benchmark ... Read More
The Asia Pacific Institute of Information Technology offers a range of programmes which are designed to produce highly employable graduates, by providing our students with an internationally benchmarked academic experience closely aligned to industry requirements. As an integral member of the APIIT Education Group – comprising the Asia Pacific University of Technology & Innovation (APU), the Asia Pacific Smart School and the Asia Pacific International School - APIIT has achieved an enviable record of having produced more than 20,000 highly employable graduates through a sound approach of transforming and nurturing school leavers into qualified and highly competitive professionals.
Read less