BA (Hons) in English Studies for the Professions
Home ›
BA ›
BA (Hons) in English Studies for the Professions
Program Description
What is English Studies for the Professions?
Increases your career opportunities as you become a proficient and confident English user
Develops your ability to communicate professionally across media and contexts
Satisfies your curiosity about languages and cultures
Builds your strengths in both subject knowledge and practical skill
Programme aims
Our programme aims to nurture graduates who will have:
a firm grounding in language studies which can be critically and creatively applied in a variety of business and management contexts, especially in multilingual settings;
the ability to exercise judgment and develop an intellectual curiosity to work both independently and as part of a team;
the potential to become future leaders and entrepreneurs excelling in communication for professional purposes;
a high level of professional communicative competence in English;
an understanding of intercultural communication in multilingual settings that enhances their global outlook and cultural appreciation; and
the ability to apply their strong communication skills to solve real-world problems effectively in local and global multilingual professional/business settings.
Programme characteristics
The programme promotes the all-round development of students' potentials to the fullest extent for the English language profession.
Along with a major in English Studies, students can also take a minor in another discipline offered by the University.
A variety of teaching and learning methods are adopted, including language and computer laboratory work, online English language databases, role-plays, simulations, talks by guest speakers, and workplace visits and placements.
Students explore the global and cultural dimensions of the subjects studied and further develop themselves professionally through participating in summer programmes abroad and credit-earning student exchange programmes overseas.
The emphasis placed by the programme on self-directed learning, project-based learning, and group work helps to develop students' sense of entrepreneurship, leadership, and teamwork.
Students will acquire a set of essential skills, such as research and study skills, analytical and problem-solving skills, language and communication skills, self-reflection, peer evaluation, and teamwork, to facilitate their life-long learning journey.
Recognition by the Education Bureau of Hong Kong
The programme is recognised by the Education Bureau and its Standing Committee on Language Education and Research as an English Language Major Degree Programme which meets the Hong Kong Government's Language Proficiency Requirement. Registered BDLCC students are eligible to apply for the Scholarship for Prospective English Teachers offered by the Education Bureau.
Career prospects
Graduates of the Department of English are successful in their careers and excel in various industries and professions in Hong Kong. Fresh graduates of this programme find employment in media and journalism, retail, human resources, public relations, marketing, and advertising, publishing, education, and the civil service, where a high level of competence in English and professional communication is needed.
According to the university's 2016 graduate employment survey, the average starting salary of our graduates is the highest among all degree programmes offered by the Faculty of Humanities.
The 4-Year Curriculum
University Core (GE) Curriculum [30 credits]
Language and Requirements
Freshmen Seminar
Leadership and Intra-Personal Development
Service-Learning Requirement
Cluster Areas Requirement
Healthy Lifestyle (non-credit bearing)
Discipline-specific Subjects for BA in English Studies for the Professions [75 credits + 3 training credits]
Common Subjects for all BDLCC Students [15 credits]
Introduction to Language
Introduction to Bilingual Studies
Introduction to English Speaking Cultures
Anthropology and Language
Aspects of Chinese Culture
Compulsory Major Subjects [45 credits]
Advanced Language Proficiency
English for Academic Communication
English for Advanced Academic Writing
English for Management
Academic and Technical Chinese Writing
The Nature of English
Analysis of English Pronunciation
English Lexis and Semantics
Analysis of English Grammar
English in Context
Research Methods for Language Studies
English Discourse in the Professions
English for Technical and Web-based Writing
Corpus-driven Language Learning
Language and Intercultural Communication for the Professions
English as a Global Lingua Franca
Capstone Project for Language Studies
Practical Training
Work-Integrated Education (WIE)
Elective Subjects [15 credits]
Professional Communication
English for the Media
Fundamentals of Organizational Communication
Content Design for Social Media
Creative Writing in New Media
Fundamentals of Media Communication
Aspects of European Public Discourse
Aspects of European Film
Introduction to European Visual Art
The Language of Advertising
Introduction to the History of Europe: a Trade Perspective
Effective Communication for Public Relations
English for Science and Technology
Understanding English Legal Texts
Multimodal Analysis of Advertisements
Meaning in Professional Interaction
New Media and Professional Communication
Quantitative Literacy for Language Professionals
Applied English Language Studies
Approaches to Professional Language Training
Literature in English: An Introduction
English for Specific Purposes: Translation
Teaching English as a Service Learning Experience
Empowering Teenagers through Teaching Workplace English
Language Policy and Planning: Local and Global Perspectives
Advanced English Grammar
English Rhetoric for Effective Communication
Language Acquisition and Psycholinguistics
Literature in English: An Advanced Course
Designing Courses for TESOL
Critical Language and Cultural Studies
Language and Gender
Clinical Linguistics
Global Languages
Elementary Spanish I
Elementary Spanish II
Elementary Portuguese I
Elementary Portuguese II
Elementary French I
Elementary French II
Elementary German I
Elementary German II
Intermediate Spanish I
Intermediate Spanish II
Free Electives / Minor [18 credits]
Free elective subjects from any PolyU academic departments, including the Department of English; OR
A Minor from a PolyU academic department
Your Study Options
The programme allows you to pursue one of the following three study options:
BA (Hons) in English Studies for the Professions (BAESP) as a single degree programme in English Studies (4 years; 123 credits + 3 WIE training credits)
BA (Hons) in English Studies for the Professions (BAESP) under the Major/Minor option with English as the Major and a Minor from another discipline (4 years; 123 credits + 3 WIE training credits)
BAESP and BA (Hons) in Chinese and Bilingual Studies as Double Majors (4 years; 156 credits + 3 WIE training credits) [the extra 6 credits will be taken on a self-financed basis]
Entrance Requirements
Local Applicants
For applicants admitting through the Joint University Programmes Admissions System (JUPAS), the minimum entrance requirement are the same as those of PolyU's:
Level 3 or above in English Language and Chinese Language;
Level 2 or above in Mathematics and Liberal Studies; and
Level 3 or above in two elective subjects.
The following subjects will be given the highest weighting in the calculation of admission scores:
Chinese Language
English Language
International Applicants
Please click here to view the entrance requirements for international applicants.
Last updated Jan 2019
About the School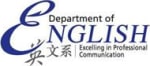 In the Department of English, our primary mission is to provide applied English language studies for the professions, and we aim to be recognised internationally as a leading provider of undergraduate ... Read More
In the Department of English, our primary mission is to provide applied English language studies for the professions, and we aim to be recognised internationally as a leading provider of undergraduate and postgraduate studies focusing on professional communication.
Read less