BA (Hons) in Advertising & Brand Management
Home ›
BA ›
BA (Hons) in Advertising & Brand Management
Program Description
Overview
Our 360° approach to creative and strategic advertising and brand management develops professionals with a broad set of skills, developing your employability opportunities. Our creative studio environment mirrors an agency environment, creating flexible working zones and project spaces with industry standard software.
Our dynamic, ideas-led advertising programme will equip you with the skills and understanding to develop a career in the creative industries. Whether you want to work with a creative team, be a copywriter, account planner or brand manager, you will gain vital hands-on experience that is highly attractive to future employers.
The programme team has industry experience and our associate tutors are current creative directors and agency practitioners. We place creative thinking and ideas at the center of our 360° approach to advertising study via digital and traditional advertising platforms, explore social media, viral marketing, and ambient advertising.
Industry placements and agency visits will add to your development. You'll learn how to create advertising campaigns by studying key areas of creative thinking, strategy, and be planning as well as idea generation, integrated communications, art direction and copywriting.
Entry Requirements
Route 1: Entry to Year 1
Successful completion of STPM with 2 full passes or equivalent with minimum CGPA of 2.0 and completion of SPM or equivalent; or
Successful completion of A-Level with at least a pass in 2 subjects and successful completion of O-Level or equivalent; or
Recognised Matriculation or foundation with CGPA 2.0 at SPM Level; or
A qualification that APIIT accepts as equivalent to the above.
And
A portfolio may include:
Sketchbooks.
Photographs of models.
Artwork.
Computer skills.
Research.
Ideas books, etc., and
Three examples of advertisements that you have found in magazines or newspapers that you like and find interesting – these will be discussed at the interview.
Route 2: Entry to year 2
Successful completion of the relevant APIIT Diploma, or
Successful completion of the study in another recognized institution with academic credits equivalent to the first year of an honors degree in relevant subjects
All students must demonstrate that they have met the equivalent of IELTS 6.0 either through formal English language assessment or through success in a prior study at "A" level or equivalent in English.
Programme outline
Topics you will experience include:
Year 1
Client Brief Concept I
Client Brief Concept II
Course Introduction I
Course Introduction II
Informing the Masses
Introduction to Graphics Design
Marketing Fundamentals
Trends and Visual Thinking
An Introduction to Media Practices
Year 2
Advertising and Packaging
Brand Implementation I
Brand Implementation II
Digital and Experiential
Account and Media Planning
Professional Practice
Copywriting and Creative Direction
Creative Practice
Creativity & Innovation
Internship
Year 3
Future Thinking I
Future Thinking II
Major Project I
Major Project II
Major Project III
Advertising and Brand Management Research Report I
Advertising and Brand Management Research Report II
Design Futures for ABM
In addition to the above, all students are required to successfully complete General Studies modules as stipulated by the Malaysian Qualifications Agency, as well as fulfill credit requirements for Co-Curricular Activities.
Graduate Employment
Because of our 360-degree creative and strategic approach to advertising our graduates are industry ready. Across all levels and modules, we aim to provide our graduates with a critical awareness through inquiry-based learning, subject knowledge, and skills acquisition. Throughout the three years of the degree, our students develop their understanding through reflective practice and problem-solving and are increasingly encouraged and enabled to take ownership and responsibility for their own learning, both as individuals and as team members, where the ability to interact with confidence, communicate effectively and work with peers and colleagues is paramount.
Employers value the professional skills and work ethic demonstrated by our students, especially the opportunities throughout the programme for engagement with agencies in live briefs, client pitches, and internships, a cornerstone of the learning experience we offer here. Our enterprising and creative graduates are innovative thinkers who creatively seek solutions based on the experience, skills, and knowledge developed in Advertising and Brand Management.
Last updated Jul 2018
About the School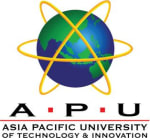 The Asia Pacific Institute of Information Technology offers a range of programmes which are designed to produce highly employable graduates, by providing our students with an internationally benchmark ... Read More
The Asia Pacific Institute of Information Technology offers a range of programmes which are designed to produce highly employable graduates, by providing our students with an internationally benchmarked academic experience closely aligned to industry requirements. As an integral member of the APIIT Education Group – comprising the Asia Pacific University of Technology & Innovation (APU), the Asia Pacific Smart School and the Asia Pacific International School - APIIT has achieved an enviable record of having produced more than 20,000 highly employable graduates through a sound approach of transforming and nurturing school leavers into qualified and highly competitive professionals.
Read less