Program Description
Course overview
Do you have a passion for designing and making? For colour? For experimenting with materials? Our BA (Hons) Textile Design degree will inspire you to indulge in your desire to design and make individual textiles for art, architecture, fashion, interiors, lifestyle and luxury.
As part of the School of Crafts and Design, our course focuses on the skills and design of making textiles. We teach traditional skills through a combination of experimental craft techniques, bringing new life and modern relevance to traditional textile craft. You will be introduced to a variety of handprinted and handwoven processes, including time-honoured techniques such as hand dyeing, ikat, indigo, rust, and resist. Creative workshops will be delivered by highly skilled academics and technicians. Our programme includes visiting contemporary designer-makers offering specialist workshops i.e. paper-making, pleating, felt-making, mark-making, drawing, material exploration, construction/mixed media. With dedicated studios and personal space, you'll have access to a range of textile equipment, yarn and cloth dyeing labs, chemical mixing rooms and specialist finishing areas.
You'll work on live collaborations, projects and exhibitions, and year two students undertake work placements both in the UK and abroad. Between years two and three, we have an optional Study Abroad year with selected partners in Europe, America and Asia.
Our team of academics and visiting lecturers are all experienced practitioners and researchers working in the industry on commissions and exhibitions. We have our own UCA Farnham Textile Collection, which provides our students with an enviable on-site archive of historical and contemporary material objects to study. Also located on our campus is the internationally renowned Crafts Study Centre, UCA's purpose-built museum, research centre and gallery dedicated to crafts.
Graduate professions include designing textiles for interiors, fashion and couture, costume and accessories, developing materials and technical textiles, manufacturing textile products, colourists, trend forecasters, curators, textile conservation, textile merchandisers and stylists.
We prepare our students to enter industry professions and our graduates have gained employment within prominent companies such as Burberry, Paul Smith, Jaeger, Colefax and Fowler, Zoffany, David Linley. We've also built a reputation for entrepreneurship as many of our graduates set up in business. We have a long list of alumni who set up as designer-makers and textile artists and many of our graduates work in education as academics and researchers.
Course details
Year 1
In the first year, you'll learn new design and technical skills which enable you to create original textiles from scratch. Practical skills include a series of workshops and inductions in drawing and mark-making, colour origination, materials, processes, techniques in print/surface and weave/constructed. Sustainable practice will be introduced and continued throughout each stage of the course. Complemented by contextual studies units introducing you to the theory side of art, crafts and design.
Textile Practice Process 1
You'll also be introduced to fundamental skills and knowledge that provides the subject learning foundation to inform your design and making process. You'll be introduced to the act of making as a key skill and means of experimental research through the exploration of materials and processes.
Contextual Studies 1
Through a series of illustrated lectures and seminars, the unit will explore a range of theoretical and practice-based positions in order to demonstrate the rich diversity of existing approaches to crafts and design and to consider specific aesthetic decisions in relation to their contexts.
Textile Practice Process 2
The purpose of this unit is to extend existing and develop new material knowledge and process skills, covering research, idea generation, conceptualisation, iterative exploration, design development, documentation, evaluation, resolution and communication through your individual responses to project briefs.
Textile Practice Process 3
Consolidating competency in the range of skills previously developed, and acquiring new skills that support increasingly confident and accomplished responses to more complex project briefs, is the aim of this unit in preparation for your second year of study. You'll extend your understanding of the subject context for your work and begin to explore a relevant textile focus.
Year 2
In your second year, you'll continue to develop your practical and design skills through further exploration. You'll start to discover your style and establish your own creative vocabulary and individual design identity. To stretch your concepts and enhance your skills and professional development, you'll have the opportunity to take part in industry live competitions, a work placement and a study abroad year.
Textile Practice Exploration 1
The purpose of this unit is for you to start developing and exploring your individual design identity and interest. This is undertaken through engagement with conceptually-led textile project brief(s) including where possible, live projects, collaborations, competitions and placement to link with industry.
Contextual Studies 2
Objects and environments are fundamental to our understanding of the world. The purpose of this unit is to introduce a range of contexts demonstrating the importance of meaning, and the ways this meaning can be used to create and express value within crafts and design practices. The things we make and use have 'lives' - they are conceived, designed and produced through chosen materials and processes before being mediated in public and often experienced and consumed privately.
Textile Practice Exploration 2
You'll extend and further develop individual design identity and interest through briefs which incorporate all stages of the design process from beginning to resolution and include live projects, collaborations, competitions and placement where possible. You are encouraged to actively explore contrasts of approach to test your individual identity and project outcome/s.
Textile Practice Exploration 3
You'll be encouraged to develop and refine your individual practice approaches to research, designing and making and refining your outcome as you begin to identify potential areas of interest for further pursuit in third year study.
International Year (Optional)
Students in the School of Crafts and Design have the unique opportunity within UCA to add an additional year of study at an overseas institution (either at a higher education establishment or workplace).
International Year
This optional year is designed to broaden your educational experience and deepen your understanding of cultural diversity, enabling you to study within a different cultural context and gain fresh perspectives.
Studying abroad can be a life-changing experience. Living in another country, you'll experience new places, people, cultures and possibilities. You'll develop initiative, independence, motivation and, depending on where you go, working knowledge of another language – all qualities employers are looking for. You will return to complete your degree with all the benefits of the International Year experience behind you.
Year 3
In your final year, we will support you to self-direct your own research. You'll develop, edit and curate a substantial body of textile work for your portfolio while establishing an individual practice towards your future career/profession. You will finish the year by managing and participating in a public exhibition.
Textile Practice Portfolio
Our Professional Practice unit primes you in readiness for constructive engagement with your future prospects upon graduation. You'll have a series of informative talks, seminars and lectures delivered from careers and industry specialists and professional practitioners. This unit helps to facilitate the transition from student to an early-stage professional practitioner or your career destination. You'll be required to curate a bespoke, purposeful and future-facing portfolio that reflects your individual interest towards your future career/profession.
Textile Practice Position 1
The purpose of this unit is for you to commence framing an individual textile practice position, via one of two routes – research/exploratory prototyping, or testing research to resolution.
Contextual Studies 3
You'll conceive, develop and construct a personally meaningful portfolio of contextual research. This research will inform, augment and reflect upon your practice, will critically engage with a range of contextual and theoretical frameworks and will serve to support the positioning of your practice in relation to past, present and possible future endeavours.
Textile Practice Position 2
You'll initiate your own individual final major project for your portfolio and Graduate Show and an optional public exhibition (New Designers).
Fees and additional course costs
Tuition fees
The course fees per year for 2020 entry are:
UK and EU students - £9,250
International students - £16,250 (standard fee)
International students - £15,600 (full early payment fee)
Additional course costs
In addition to the tuition fees please see the additional course costs for 2020 entry.
These fees are correct for the stated academic year only. Costs may increase each year during a student's period of continued registration on course in line with inflation (subject to any maximum regulated tuition fee limit). Any adjustment for continuing students will be at or below the RPI-X forecast rate.
Facilities
As well as dedicated studio spaces we have - three, 9m long screen-printing tables; individual dyeing labs; materials exploration area; Indigo vat and rust dyeing space; chemical mixing rooms and finishing areas with industrial steamers, baking cabinet and heat presses; computerised and George Wood Dobby looms, Countermarch and table looms; industrial cone and skein winders and frames for finishing woven textiles; well-stocked cloth and yarn shops; access to specialist facilities across the School of Craft and Design.
Course connections
On this course, you'll be exposed to a world of opportunities
Industry links
We have strong industry connections with many leading names in the sector – our students have undertaken work placements and/or secured rewarding careers with, for example:
Ben Sherman Design
Courtaulds Textiles
Colefax and Fowler
David Linley
Debenhams Design Department
Dedar
Esquel Apparel Ltd
Ivo Prints
Jaeger
John Lewis Design Studio
Ratti Spa Design Studio Italy
Sandersons UK Designer Fabric and Wallpaper
Sacho Hesslein Museum
Savoir Beds, Mayfair
Zoffany Fabrics
Royal Opera House
Textile and Fashion Museum
Zandra Rhodes
Mirjam Rouden
Paul Smith
Margo Selby Designers
Christopher Farr Design Studio
Keeler Gordan Design Studio
LK Bennett Design Studio
Westcott Design Studio
V&A Museum
The Contemporary Arts Gallery, London.
Careers
Our Textile Design degree offers you a springboard into a diverse range of career paths. Recent graduates have secured roles as:
Print designers
Fabric technologists
Public art practitioners
Weave interior fabric designers
Fabric and accessories coordinators
Designer-makers
Textile designers and stylists
Textile conservators and curators
Art educators and teachers
Fashion buyers and retailers
Arts administrators
Gallery directors.
Staff and technical
Your course will be led by Programme Director Sharon Ting, with the assistance of:
Senior Lecturer 0.4 in print Diana Harrison.
Senior Lecturer 0.6 in weave Louise Anderson.
Further study
You may also like to consider further study at postgraduate level.
Entry requirements
UK entry requirements
Along with your portfolio, the standard entry requirements* for this course are:
One of the following:
112 new UCAS tariff points
Pass at Foundation Diploma in Art & Design (Level 3 or 4)
Distinction, Merit, Merit at BTEC Extended Diploma
Merit at UAL Extended Diploma
112 new UCAS tariff points from an accredited Access to Higher Education Diploma in an appropriate subject
27-30 total points in the International Baccalaureate Diploma with at least 15 IB points at Higher Level.
And four GCSE passes at grade A*-C and/or grade 4-9 including English (or Functional Skills English/Key Skills Communication Level 2).
Other relevant and equivalent Level 3 UK and international qualifications are considered on an individual basis, and we encourage students from diverse educational backgrounds to apply.
*We occasionally make offers which are lower than the standard entry criteria, to students who have faced difficulties that have affected their performance and who were expected to achieve higher results. We consider the strength of our applicants' portfolios, as well as their grades - in these cases, a strong portfolio is especially important.
International entry requirements
To view the equivalent entry requirements for your country please check our website.
Your portfolio
For this course, we will require you to attend an Applicant Day and bring your portfolio for assessment. We'd like to see a carefully selected portfolio of up to 15 sheets. This should include visual studies, analytical drawing, colour and work in a variety of media, along with sketchbooks, lecture notes and at least one essay. Further information on how to compile a portfolio and the specific requirements for examples of work to be included will be provided on the Applicant Portal after you apply.
Last updated Mar 2020
About the School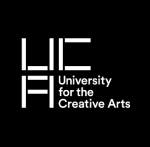 Oscar-winning filmmakers, world-renowned fashion designers, television presenters, celebrity jewellers and Turner Prize nominees are just some of the high-profile graduates from the University for the ... Read More
Oscar-winning filmmakers, world-renowned fashion designers, television presenters, celebrity jewellers and Turner Prize nominees are just some of the high-profile graduates from the University for the Creative Arts. As a specialist creative arts university, we have created a unique community for our students, where like-minded people can share in the creative process and inspire one another. Collaboration between courses is encouraged, with fine artists studying with budding filmmakers and fashion designers working alongside architects. In this way, our students benefit from exposure to a range of disciplines. Choosing to study with us will give you the freedom to discover your own personal style through a winning combination of industry-focused courses, state-of-the-art facilities, and inspirational expert staff.
Read less