BA (Hons) Television and Media Production
Home ›
BA ›
BA (Hons) Television and Media Production
Program Description
Course overview
Learn all the broad skills you'll need to become a versatile player in the media industry on our BA (Hons) Television & Media Production course at UCA Farnham.
Whether it's working in front of or behind studio cameras, directing drama, documentary or comedy, reading the news for television, or editing work you've written and filmed, this course has an emphasis on engaging storytelling, the emergence of a strong visual language and focuses on growing your expertise in concept development.
Working across television. radio, and online studio production in our extensive facilities, you'll develop the advanced production techniques needed to produce informed pieces for fiction, documentary and journalistic purposes.
You'll develop skills in writing and visual storytelling, and collaborate with other students to develop creative projects. You'll also work on a number of live briefs, giving you the chance to experience a realistic simulation of a working studio atmosphere.
The content creation and media production skills you learn on the course will be underpinned by media and cultural theories that engage with the modern world and the developments of future media.
You'll understand how to disseminate your content across multiple platforms for television, radio, internet, mobile applications, social media and emerging media.
You'll also develop your research skills in identifying sources for stories, learn and employ interview techniques to elicit engaging interviews and explore writing skills that will span a range of television forms and practices.
Course details
Year 1
Finding and Writing Stories
Whether you want to be a programme maker or a journalist you will need to understand how to identify and find interesting stories that people will engage with. We introduce you to working with sound, producing podcasts and radio programmes in our radio studios equipped with current industry-standard software.
Real Stories
You will develop further your research skills in identifying stories and interviewees in order to record, write and edit a video package to disseminate across several media. Possessing these skills will enable you to take part in making television programmes or in telling longer, more complex stories further on in your degree.
Getting it out there!
Content producers, whether it is for mainstream television, internet productions or professional newsrooms, are increasingly adopting a 'digital first' approach to publication, meaning that they consider their web content and presence before concerning themselves with the printed page or TV or radio output. This unit aims to give you a head-start in terms of developing, producing and managing content for the digital environment.
Narratives
This unit enables you to undertake an individual three-minute narrative project that you devise, research, produce, direct and post-produce yourself for a specific audience. The project can be in any genre, e.g. factual, fiction, drama-documentary, or experimental, but must be a piece of moving image work which has a clear narrative arc and is made on location.
Media Futures
This unit provides you with a historical overview of the development of television, journalism and other media. We will not only trace the development of different forms of media but also look into different formats, audiences and their behaviours. A particular focus will be made on new and emergent media technologies and how they are changing professional media production practices and audience behaviours.
Year 2
In your second year, you will have the opportunity to work in the multi-camera television studio to make a scene from a TV soap or comedy sitcom. You will also work in groups to make a fiction or drama documentary production on location.
Studio Production
The use of the 'studio' environment in mainstream television production has been a staple of the industry – 'mass-producing' content within a controlled environment in an economic and managed way. It is important that as a content creator and producer you understand the function of and the way that a television studio works – how does a multi-camera team operate? How do you cut a 'live' programme? How does a studio director work? What does a floor manager do? Are there conventions that the environment dictates? How can this model of production inform the future developments of the independent online studio and its content?
Location Production
This unit introduces you to the processes and protocols that you will need for making a production on location. Working in groups in production roles you will develop an original fiction script or concept for a short film or comedy-drama series for a specific audience. You will contribute to the development, pre-production, production and post-production of the project and will need to engage with re-purposing the finished film for distribution across different media platforms. You will be asked to develop a social media strategy to disseminate your finished work with the aim of generating 'hits' and developing an online audience.
Story (Elective)
The Story unit offers you the opportunity to explore storytelling for the screen, including structure, characterization, narration, dialogue, and formatting, and the opportunity to put these elements into practice by writing and developing your own short film or screenplay.
Or
Production Specialisms (Elective)
You will undertake a personal research project looking at and critically evaluating the work of a particular director, producer, camera operator or editor and how their careers have evolved. You will produce a short piece of practical work that reflects and demonstrates a range of techniques and skills that you have researched, for example, you might choose to recreate a scene from a film of a chosen director or cinematographer, or experiment with editing techniques.
TV, Media and Society
This unit will introduce you to a range of cultural and social theories that have informed and shaped the production, consumption and studies of media content, including television, journalism, films, music, literature and radio. You'll also learn how to use theoretical concepts to analyse and critique media texts and the impacts they have on society from different perspectives.
Study Abroad (Optional)
This optional unit will allow you to spend a period of time in an overseas educational institution.
Year 3
Final Project: Research & Concept
In Final Project: Research and Concept you may elect to either work in a group or as an individual to research an area of interest and to develop a concept for a television or internet programme or series. You'll each pitch an outline idea to your peers and tutors before gaining a green light to develop the concept further.
Dissertation
The Dissertation consists of a substantial period of sustained, individually negotiated research on a subject that is likely to be related to the contextual and/or theoretical concerns of your discipline or chosen area of practice, towards the provision of structured written argument.
Professional Planning: TV and Media Production
Professional Planning supports you in preparing you to find work as a television or media professional and will give you an understanding of how to negotiate the working environment. You will research job opportunities, update your CV and develop or enhance your online presence and further understand the requirements for working as a freelancer, such as tax returns and accounting. You will also be introduced to and practice interview skills.
Final Project: Realisation
You'll undertake a substantial and sustained body of work through the realisation of the project that you researched and developed in the Final Project: Research and Concept. If you're working in a group, you'll undertake a production role of your choosing and contribute to the realisation of the project. If you undertake an individual project, you'll realise the project, depending on its parameters, as agreed with your tutors.
Study abroad
This course offers the opportunity to study abroad for part of your second year.
Fees and additional course costs
Tuition fees
The course fees per year for 2020 entry are:
UK and EU students - £9,250
International students - £16,250 (standard fee)
International students - £15,600 (full early payment fee)
Additional course costs
In addition to the tuition fees please see the additional course costs for 2020 entry.
These fees are correct for the stated academic year only. Costs may increase each year during a student's period of continued registration on course in line with inflation (subject to any maximum regulated tuition fee limit). Any adjustment for continuing students will be at or below the RPI-X forecast rate.
Facilities
Facilities for this course include a tapeless three-camera TV studio networked to our broadcast newsroom using industry Autocue production software. Two radio studios (one analogue and one digital) and dedicated journalism Mac and PC suites equipped with InDesign, Photoshop, Premiere Pro, Audition and Scoop. Dedicated journalism studios and IT suites. There is also an excellent campus library with an up-to-date stock of books and journals.
What our students say
"I definitely enjoy the hands-on aspects of the course, like creating the comedy sketch or our own eight-minute documentary. I really enjoy the freedom - we can do our own thing and take charge, giving us a more realistic sense of what the industry is like."
Lauren Bean, BA (Hons) Television & Media Production
Course connections
On this course, you'll be exposed to a world of opportunities
Industry links
Staff teaching on this course have worked at the BBC, ITV and independent local radio, bringing with them a wealth of industry experience, and in recent years we've added to this with guest speakers from BBC TV and radio, ITV Meridian, Delayed Gratification, podcasters Answer Me This and The Europeans, plus visits from television directors and comedians.
We've undertaken trips to ITN, BT Sports and BBC Radio Surrey, and our students have undertaken work placements at a number of media and production companies including the makers of BBC Watchdog, BBC Radio One Xtra, BBC local radio, ITV Meridian News, Vics, 90minutes and other independents.
Careers
Training in television and media production will provide you with a wide set of transferrable skills which are applicable in a range of diverse and exciting careers in the industry.
Students who graduate from this course will leave with a breadth of skills to take with them into their career. We support students with career workshops to help them learn about finding their place within the industry and the steps they can take to achieve their long-term ambitions.
Further study
Your training in this course will prepare you for a wide range of postgraduate courses. We will help you find the correct course for you and support you in your application should further study be for you.
Entry requirements
UK entry requirements
Along with your portfolio, the standard entry requirements* for this course are:
One of the following:
112 new UCAS tariff points
Pass at Foundation Diploma in Art & Design (Level 3 or 4)
Distinction, Merit, Merit at BTEC Extended Diploma
Merit at UAL Extended Diploma
112 new UCAS tariff points from an accredited Access to Higher Education Diploma in an appropriate subject
27-30 total points in the International Baccalaureate Diploma with at least 15 IB points at Higher Level.
And four GCSE passes at grade A*-C and/or grade 4-9 including English (or Functional Skills English/Key Skills Communication Level 2).
Other relevant and equivalent Level 3 UK and international qualifications are considered on an individual basis, and we encourage students from diverse educational backgrounds to apply.
*We occasionally make offers which are lower than the standard entry criteria, to students who have faced difficulties that have affected their performance and who were expected to achieve higher results. We consider the strength of our applicants' portfolios, as well as their grades - in these cases, a strong portfolio is especially important.
International entry requirements
To view the equivalent entry requirements for your country please check our website.
Your portfolio
For this course, we will require you to attend an Applicant Day and bring your visual or written portfolio for assessment. Further information on how to compile a portfolio and the specific requirements for examples of work to be included will be provided on the Applicant Portal.
Last updated May 2020
About the School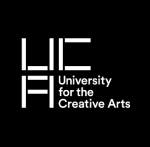 Oscar-winning filmmakers, world-renowned fashion designers, television presenters, celebrity jewellers and Turner Prize nominees are just some of the high-profile graduates from the University for the ... Read More
Oscar-winning filmmakers, world-renowned fashion designers, television presenters, celebrity jewellers and Turner Prize nominees are just some of the high-profile graduates from the University for the Creative Arts. As a specialist creative arts university, we have created a unique community for our students, where like-minded people can share in the creative process and inspire one another. Collaboration between courses is encouraged, with fine artists studying with budding filmmakers and fashion designers working alongside architects. In this way, our students benefit from exposure to a range of disciplines. Choosing to study with us will give you the freedom to discover your own personal style through a winning combination of industry-focused courses, state-of-the-art facilities, and inspirational expert staff.
Read less