BA (Hons) Photography (UCA Rochester)
Home ›
BA ›
BA (Hons) Photography (UCA Rochester)
Program Description
Course overview
Our BA (Hons) Photography course at UCA Rochester provides a dynamic and challenging curriculum, alongside industry-standard facilities and equipment. We provide a diverse environment within which to study and foster an ethos of creativity and experimentation.
You'll be encouraged to explore a number of different genres and approaches, giving you a breadth of skill and knowledge, which you can apply to a number of different careers within the industry.
Throughout your time on the course, you'll study a wide range of photographic techniques and concepts, and your technical teaching will include studio photography, digital processing, working with large and medium format cameras and darkroom practice.
Our cutting-edge professional photography facilities include studios, digital workshop suites, colour and black and white film processing and darkrooms, and industry-leading equipment available for loan throughout the academic year.
Course details
Year 1
Environment
You'll examine the relation of photography to the environment, with a particular emphasis on space. Internal and external, urban and rural environments are an important feature of our cultural, social and political experience. This unit provides the opportunity to explore these ideas through the genres of documentary, architecture, landscape and street photography.
Identity
You'll explore the ways in which identity is expressed in photography. Identity is never a 'given' in a photograph, it's always a matter of construction and negotiation, and in this unit, you'll learn about how this works.
Image-Making
After a basic introduction to a range of different methodologies, exploring the notions of the singular image, tableau, series and/or montage, you'll decide on the mode of production of your work. Your project can be realised in the studio, with the option to undertake set-builds; or on location, as appropriate to your concept. This will be a visual project with outputs such as a book, exhibition, installation, moving image, magazine, zine or online publication.
Individual Project
This concludes the first year and encourages you to reflect upon your progress so far, to consolidate your successes and begin to make work not defined by a set brief, but driven by personal research and exploration.
Year 2
Photo-Object
The Photo-Object unit encourages you to consider the relationship between photography and objects. This basic premise will be explored through a series of workshops focusing on the composition, lighting and layering of objects, within both studio and external settings. Working alongside these sessions will be a series of related lectures.
Moving Image
Working individually or as a team, you will develop a film concept and style, while also establishing a timeline to organise the production of your video throughout the unit. You'll be expected to situate your work within wider industrial, social and cultural developments. Alongside your practical work, you'll be supported with a series of lectures, seminars, workshops and visual practice tutorials.
Storytelling
You'll produce a substantial body of work reflecting upon your learning, creativity and individuality. You'll be encouraged to experiment, challenge your image making skills and produce a series of work that forms a coherent narrative. The story, and how you tell it, is up to you but should be considered and reflect upon your research into historical and contemporary practice in visual culture.
Exposure: Positioning Practice
This unit serves to consolidate your learning throughout year two and focuses attention on where your practice and career are heading in the short and long term. It is designed to synthesise understanding of your practice with regard to the dissemination of work, possible directions you might take in year three, and consideration of where you might want to work within the creative industries.
Study Abroad (optional)
Is an optional unit that will allow you to spend a period of time in an overseas educational institution.
Year 3
Major Project
This requires you to make a significant body of work, drawing on the skills and knowledge you've acquired on the course. Essentially, your independently led project requires sustained critical development, strong conceptual ideas, risk-taking, aesthetic judgement, and sophisticated communication with a detailed understanding of context.
Exposure
The Exposure unit is intended to help you progress your photographic practice along with your communication and professional skills, and has two distinct elements. The first is to produce a photographic body of work along with associated contextual input with a professional-client. Secondly, you will produce a professional dossier including your career plan, personal branding, evidence to accompany your input into the year three exhibitions and a photographic portfolio.
Independent Research
This written unit comprises a substantial period of sustained, individually negotiated research on a subject likely to be related to the contextual and/or theoretical concerns of your chosen area of study (which may include specific disciplinary concern and/or wider cultural practice).
Study abroad
This course offers the opportunity to study abroad for part of your second year.
Fees and additional course costs
Tuition fees
The course fees per year for 2020 entry are:
UK and EU students - £9,250
International students - £16,250 (standard fee)
International students - £15,600 (full early payment fee)
Additional course costs
In addition to the tuition fees please see the additional course costs for 2020 entry.
These fees are correct for the stated academic year only. Costs may increase each year during a student's period of continued registration on course in line with inflation (subject to any maximum regulated tuition fee limit). Any adjustment for continuing students will be at or below the RPI-X forecast rate.
Facilities
There are two large photographic studios with digital work stations, Broncolor and Profoto lighting; access to a range of digital & analogue cameras including Hasselblad, Canon & Fujifilm GFX, colour and black and white darkrooms & film processing, and a dedicated digital area with specialist software for photo editing and large format photographic printers.
Course connections
On this course, you'll be exposed to a world of opportunities
Industry links
Through industry-facing project briefs, strong links with practitioners at multiple levels, portfolio reviews, visiting lecturers, and annual exhibitions, students are introduced to a range of voices and experiences within the world of fashion photography, photography and moving image.
We also hold weekly lectures with well-known names within the industry. Past lecturers have included:
Rut Blees Luxemburg
Sophie Rickett
Stephen Gill
Eva Stenram
John Stezaker
Simon Roberts
Esther Teichmann
Olivia Pomp
Roy Mehta
Shirley Read
David Vintiner
Cameron Griffiths
Katja Mayer
Karl Ohiri
Kathleen McGown
Rosie Whitney-Fish
Holly Lansdell
Claudia Singer
Lewis Bush
Tia Treherne
Frederike Helwig
Catherine Viellevoije
Sasha Hitchcock
Peter Dench
Cheryl Newman
Oliver Gapper
Anne Pinxt-Braybon
Nigel Grimmer
Junko Mikuriya
Vivek Vadoliya
Christopher Coekin
Tiffany Jones
Nils Rikard Osterlund
Rosemary Martin
Ophelia Wynne
Giacomo Brunelli.
Careers
Whilst the course has strong industry-facing elements, it also provides keen philosophical and conceptual teachings that enable our graduates to work equally well as:
Fashion/Fine Art/Editorial/Advertising photographers
Retouchers
Art Directors
Graphic Designers
Writers
Theorists
Academics
Art Buyers
Researchers.
Staff and sessionals
Your course will be led by Programme Director Matthew Andrew, with support from:
Ed Thompson - senior lecturer and Year 1 leader
Jason Dee - senior lecturer and Year 2 leader
Ellen Nolan - senior lecturer and Year 3 leader
Dr Francis Summers - senior lecturer in contextual studies
Neesha Champaneria - lecturer
Sally Waterman - sessional lecturer
Alice Butler - sessional lecturer.
Further study
You may also like to consider further study at postgraduate level.
Entry requirements
UK entry requirements
Along with your portfolio, the standard entry requirements* for this course are:
One of the following:
112 new UCAS tariff points (equivalent to 280 old UCAS tariff points)
Pass at Foundation Diploma in Art & Design (Level 3 or 4)
Distinction, Merit, Merit at BTEC Extended Diploma
Merit at UAL Extended Diploma
112 new UCAS tariff points from an accredited Access to Higher Education Diploma in an appropriate subject
27-30 total points in the International Baccalaureate Diploma with at least 15 IB points at Higher Level.
And four GCSE passes at grade A*-C and/or grade 4-9 including English (or Functional Skills English/Key Skills Communication Level 2).
Other relevant and equivalent Level 3 UK and international qualifications are considered on an individual basis, and we encourage students from diverse educational backgrounds to apply.
*We occasionally make offers which are lower than the standard entry criteria, to students who have faced difficulties that have affected their performance and who were expected to achieve higher results. We consider the strength of our applicants' portfolios, as well as their grades - in these cases, a strong portfolio is especially important.
International entry requirements
To view the equivalent entry requirements for your country please check our website.
Your portfolio
For this course, we will require you to attend an Applicant Day and bring your portfolio for assessment. You'll need to present a visual portfolio, one or two selected sketchbooks and/or supporting material, and two samples of written work (ideally essays). We'd prefer to look at visual work in a printed format, and are happy to see this complemented with digital work. We don't expect polished portfolios, but we are looking to see that you've put some thought and effort into the making of your images and into the organisation and presentation of your portfolio. Further information on how to compile a portfolio and the specific requirements for examples of work to be included will be provided on the Applicant Portal after you apply.
Last updated Mar 2020
About the School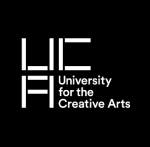 Oscar-winning filmmakers, world-renowned fashion designers, television presenters, celebrity jewellers and Turner Prize nominees are just some of the high-profile graduates from the University for the ... Read More
Oscar-winning filmmakers, world-renowned fashion designers, television presenters, celebrity jewellers and Turner Prize nominees are just some of the high-profile graduates from the University for the Creative Arts. As a specialist creative arts university, we have created a unique community for our students, where like-minded people can share in the creative process and inspire one another. Collaboration between courses is encouraged, with fine artists studying with budding filmmakers and fashion designers working alongside architects. In this way, our students benefit from exposure to a range of disciplines. Choosing to study with us will give you the freedom to discover your own personal style through a winning combination of industry-focused courses, state-of-the-art facilities, and inspirational expert staff.
Read less