Program Description
Course overview
On our BA (Hons) Photography course in Farnham, you'll become skilled in the act of photography and in the art of photography. The images you can produce and the impact those images have on our experience of the world is key to this course.
This course has a long history, stretching back more than 70 years, and as such has produced a long line of graduates forging successful careers in everything from editorial and advertising to fine art to gallery and project management, and documentary making.
As a member of our community of internationally renowned practising artists and photographers, you'll have access to a wide range of both digital and analogue facilities, including black and white/colour darkrooms and film processing, digital processing and editing suites, photographic studios, various digital and film cameras, lenses and lighting equipment and book production facilities. You will also be encouraged radically to consider image-making while developing a critical awareness and voice which will define your approach to the subject into the future.
We'll challenge you to rethink your preconceived views on photography, experiment with new methods and ways of thinking, and produce images for different industries and audiences.
You'll be taught and guided throughout by some of the world's finest photography academics, and with our support you'll gain increasing autonomy over your work as the course progresses, enabling you to lean on teachers for critical support and collaboration as you establish and develop your own photographic style.
We have a wealth national and international industry connections, and we also regularly arrange visits to, and lectures from, a wide range of institutions including the National Media Museum, Brighton Photo Fringe, The Photographers' Gallery London, Photoworks Magazine, as well as Berg, Blackwell, Focalpress, Routledge and other publishers.
Course details
Year 1
Constructed Image
You'll explore picture-making and the notion of what a constructed image is. You'll gain the skills needed to create your own constructed images, as well as studio production, darkroom and digital modes of picture-making and image manipulation.
Photography in Context
This unit will explore photography's ability to create meaning.
Documentary Practices
In this unit, you will research and experiment with a variety of documentary practices to explore social, political and environmental ideas.
Narrative
Photographs are regularly praised for their ability to explain or tell a story. In this unit, you'll experiment with a range of narrative strategies to tell your own stories, while questioning photography's ability to speak, and whether or not a photograph's meaning can ever be fixed.
Year 2
Photographic Communities
Just as the photograph's meaning is determined by its audience, how you position your practice defines its identity and this unit explores how you position your practice through your career. You'll explore notions of practice-based community and photographic networks, helping you develop the professional skills you'll need after graduation.
Critical Approaches
Considering the larger cultural and philosophical implications of photographs and their meaning, you'll learn not only the core themes but also the boundaries of your discipline. You'll examine key aspects of a range of photographic practices and theory, in relation to their historical origins.
Vision and Knowledge
You'll reflect on and respond to photographic practices which claim to function objectively – and push a narrative that "seeing is believing" – from documentary and scientific practices to medical and military.
Experimental Practice
You will explore a range of processes, treatments and applications to push the boundaries of photography, and test the relationships between subject matter, treatment and audience.
Study Abroad (optional)
This optional unit is designed to broaden your educational experience and deepen your understanding of cultural diversity. It will enable you to study within a different cultural context and gain fresh perspectives.
Year 3
Independent Practice
This is an opportunity to establish foundations for your final major project. You'll research and develop your ideas through further experimentation to produce a body of work that distinguishes your photographic practice.
Resolution
The Resolution unit represents the culmination of your studies and should involve the independent and sustained research, development, production and presentation of your final major project. This project can define your degree experience and your lifelong photographic practice; it is very much a launchpad for your future calling.
Dissertation
This unit consists of a substantial period of sustained, individually negotiated research on a subject that is likely to be related to the contextual and/ or theoretical concerns of your discipline or chosen area of practice, towards the provision of structured written argument.
Study abroad
This course offers the opportunity to study abroad for part of your second year.
Fees and additional course costs
Tuition fees
The course fees per year for 2020 entry are:
UK and EU students - £9,250
International students - £16,250 (standard fee)
International students - £15,600 (full early payment fee)
Additional course costs
In addition to the tuition fees please see the additional course costs for 2020 entry.
These fees are correct for the stated academic year only. Costs may increase each year during a student's period of continued registration on course in line with inflation (subject to any maximum regulated tuition fee limit). Any adjustment for continuing students will be at or below the RPI-X forecast rate.
Facilities
Photographic studios plus access to hiring cameras, tripods and lighting equipment from the media stores. Colour and black and white darkrooms for traditional printing from small, medium and large-format negatives. Photography studios and digital area with medium and large format printers and digital scanners. On-campus media store with a good supply of 16mm, super 16mm, digital HD video cameras and high-end sound recording equipment to hire.
Course connections
On this course, you'll be exposed to a world of opportunities
Industry links
As a long-established photography course, our renowned teaching team bring with them high-profile industry connections, both nationally and internationally. We regularly arrange visits to, and lecturers from, a wide range of companies and institutions, such as:
Autograph
Impressions Gallery
National Media Museum
Berg, Blackwell, Focalpress, Routledge and other publishers
bookRoom
Brighton Photo Biennial and Brighton Photo Fringe
National Institute of Design, India
The Photographers' Gallery, London
Photography & Culture journal
Photoworks magazine
Source: The Photographic Review.
As well as a course team including a number of practising professionals, we're connected with the Association of Photographers, a national body that works to give student members a headstart as photographic practitioners.
Careers
Skilled and creatively gifted photographers are needed across an enormous range of industries, and many of our graduates have secured professional roles in a variety of fields, including:
Fashion
Editorial
Advertising
Fine Art
Documentary-making
Curatorial posts
Gallery/ project management
Writing
Teaching
Lecturing
Technical support.
Alumni of this course include Paul Seawright, Gareth McConnell, Eileen Perrier, Andrew Bruce, Jane Bown, Stephen Bull and Anna Fox.
Further study
You may also like to consider further study at postgraduate level.
Entry requirements
UK entry requirements
Along with your portfolio, the standard entry requirements* for this course are:
One of the following:
112 new UCAS tariff points
Pass at Foundation Diploma in Art & Design (Level 3 or 4)
Distinction, Merit, Merit at BTEC Extended Diploma
Merit at UAL Extended Diploma
112 new UCAS tariff points from an accredited Access to Higher Education Diploma in an appropriate subject
27-30 total points in the International Baccalaureate Diploma with at least 15 IB points at Higher Level.
And four GCSE passes at grade A*-C and/or grade 4-9 including English (or Functional Skills English/Key Skills Communication Level 2).
Other relevant and equivalent Level 3 UK and international qualifications are considered on an individual basis, and we encourage students from diverse educational backgrounds to apply.
*We occasionally make offers which are lower than the standard entry criteria, to students who have faced difficulties that have affected their performance and who were expected to achieve higher results. We consider the strength of our applicants' portfolios, as well as their grades - in these cases, a strong portfolio is especially important.
International entry requirements
To view the equivalent entry requirements for your country please check our website.
Your portfolio
For this course, we'll ask you to attend an Applicant Day and bring a portfolio of images and sketches that demonstrate your research. No written portfolio is required for this course, although we do encourage you to bring some academic writing or image analysis. Further information on how to compile a portfolio and the specific requirements for examples of work to be included will be provided on the Applicant Portal after you've applied.
Last updated Mar 2020
About the School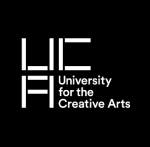 Oscar-winning filmmakers, world-renowned fashion designers, television presenters, celebrity jewellers and Turner Prize nominees are just some of the high-profile graduates from the University for the ... Read More
Oscar-winning filmmakers, world-renowned fashion designers, television presenters, celebrity jewellers and Turner Prize nominees are just some of the high-profile graduates from the University for the Creative Arts. As a specialist creative arts university, we have created a unique community for our students, where like-minded people can share in the creative process and inspire one another. Collaboration between courses is encouraged, with fine artists studying with budding filmmakers and fashion designers working alongside architects. In this way, our students benefit from exposure to a range of disciplines. Choosing to study with us will give you the freedom to discover your own personal style through a winning combination of industry-focused courses, state-of-the-art facilities, and inspirational expert staff.
Read less