Read more about this program on the school's website
Program Description
Key information
Degree: International Communications Studies with Chinese BA (Hons)
Types of study: Full-time
Duration: Three or four years depending on entry qualifications
Start date: September 2020
For the 2+2 programmes, you will spend the last two years on our UK campus. For the 4+0 programmes, you will spend your entire degree programmes in Ningbo China with 'study abroad' opportunities.
©University of Nottingham Ningbo China
Course overview
The programme provides you with an opportunity to study a wide range of subjects, including contemporary mass media, journalism, new digital communications, the history of European and American societies, communications theory, the psychology of communications, arts and communications and cultural studies.
In addition, the study of Chinese (Mandarin) from beginners' to advanced level will form a core element in years two to four.
Students will also have an opportunity to enrich their studies by taking modules offered by International Studies and International Business.
Special features
International Communications degrees explore the complex world of communications, media and culture. You will study different forms of visual and linguistic communication, new technologies, politics, popular and high culture, and news media.
Learn with expert staff who conduct internationally acclaimed research
Engage with objects, images and media of the past and understand how they influence us in the present
Develop critical tools to see and understand the world differently
Course structure
Year One (Preliminary Year)
The first year comprises a special programme of English for Academic Purposes designed by staff from the highly experienced Centre of English Language Learning (CELE) at the University of Nottingham. This is carefully integrated with the content programmes offered by each academic division so as to prepare students fully for years two to four of the degree. Three of the content modules on year one are specifically related to the study of communications: Introduction to Information and Technology; Media and Texts: Society; Introduction to Analytical Thought; and Media and Texts: Culture.
Year Two (Qualifying Year)
In this first year of specialist study, extensive twenty-credit modules are structured around a student-centred learning approach to learning with extensive reading set alongside practical exercises intended to familiarise students with contemporary communications theory and practice. These modules will also give you an opportunity to practice the study skills needed for more independent research later on in your degree.
Year Three (Part I)
During this year, you will build on the skills and knowledge you have acquired so far by applying them to a more in-depth study of issues relating to contemporary international communications in a variety of optional modules. Optional topics include global media and communication, cultural analysis, political communications, and etc..
You will also have the opportunity to participate in an exchange or study abroad programme for one or both semesters of their third year.
Year Four (Part II)
In this year you can choose from a number of optional modules. Besides taught modules, the focus of your study in this final year is an individual dissertation project. This is on a topic of your own choice and consists of guided research spread over the whole academic year. You will also complete your Mandarin studies.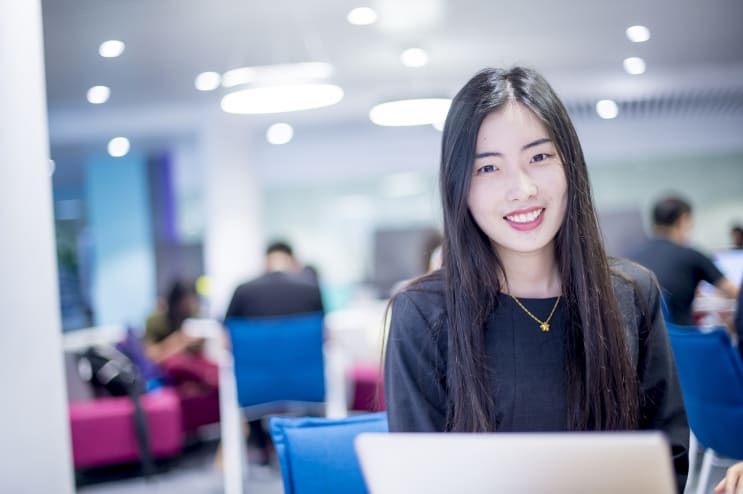 ©University of Nottingham Ningbo China
Careers and further study
Understanding how to communicate, learn, express yourself and do business on global digital media platforms with people from all over the world is at the core of our teaching programmes. The skills and knowledge will lead you to a wide variety of industries including:
Media
Public relations
Marketing
TV station
Advertisement
Our students prove to be highly articulate and develop good writing, presentation, teamwork, negotiation, research and documentation skills.
Of the 116 undergraduates who graduated from the School of International Communications in 2016, 72% sought further study. These graduates were admitted to top 100 ranked institutions in the UK, Australia, China (Hong Kong) and the US. Destinations included University College of London and Imperial College London in the UK, the University of Hong Kong in China (Hong Kong), the University of Melbourne in Australia, and New York University in the US.
Additionally, second (or third) language acquisition as part of their undergraduate degree enabled our graduates to pursue further study in Spain, France and Japan.
Scholarships, sponsorships and bursaries
To encourage academic excellence, we offer a comprehensive and expanding range of full and partial scholarships.
Historically nearly 30% of our undergraduate students were awarded scholarships for their entry. Once enrolled, current students are eligible for additional merit and/or performance-based scholarships and awards, which covers approximately 32.5% of our whole student body.
Entry requirements
Depending on your academic and English language qualifications, you may be eligible for a traditional three-year degree programme, or a four-year programme with a preliminary year enabling you to gain the subject-specific knowledge and skills required to embark on degree-level studies.
Please find the entry requirement relevant to your country of origin on our website. If your country is not listed, please email global@nottingham.edu.cn.
If you are a mainland Chinese student, your Gaokao score should be in the first division as a minimum requirement, and your English test score should be no less than 115/150. For more details, please check the Chinese version prospectus.
English language requirements
If your first language is not English or your entry qualification was not obtained in the English medium (from an approved institution) you are required to provide evidence of your proficiency in English. Minimum requirements:
IELTS 6.5 (no less than 6.0 in writing) – eligible for the three-year programme;
IELTS 5.5 (no less than 5.0 in writing) – eligible for the four-year programme;
PTE Academic 62 (minimum 55) – eligible for the three-year programme;
PTE Academic 55 (minimum 51) – eligible for the four-year programme.
Alternative requirements
You should be at least 18 years of age on admission to the University. The date of "admission" is defined as the first day of September in the relevant academic year. This requirement may be waived on an individual basis if your parents or guardians give their written agreement in advance to additional safeguards and requirements.
Last updated Sep 2020
About the School
The University of Nottingham Ningbo China (UNNC) was the first Sino-foreign university to open its doors in China. Established in 2004, with the full approval of the Chinese Ministry of Education, we ... Read More
The University of Nottingham Ningbo China (UNNC) was the first Sino-foreign university to open its doors in China. Established in 2004, with the full approval of the Chinese Ministry of Education, we are run by the University of Nottingham in partnership with Zhejiang Wanli Education Group, a key player in the education sector in China.
Read less