BA (Hons) Fashion Promotion & Imaging
Home ›
BA ›
BA (Hons) Fashion Promotion & Imaging
Program Description
Course overview
If you're a dynamic, bold thinker who is committed to understanding the fast-paced and ever-changing fashion industry, then our BA (Hons) Fashion Promotion & Imaging course combines essential practical and experiential skills to launch you into your creative career.
The course reflects this vibrant sector with a very fluid course. You'll spend your year learning a broad overview of all aspects of the discipline, taking a diagnostic approach, before selecting one of three pathway choices in order to specialise within it. You'll choose whether to specialise in styling and photography, visual communications and promotions.
You'll learn the practice of fashion promotion and image creation in a wider cultural context while exploring the connection between specialisms and fashion theory. The skills you'll develop are highly transferable and directly fit into many different areas of the industry.
You'll graduate with a thorough understanding of the business of fashion, the role promotion and imaging has within the sector, and strong skills in self-promotion, networking, technology and communication.
Our dedicated academic staff are active fashion practitioners within this sector and act as nurturing and supportive guides – treating students as fashion professionals from the outset, sharing their own work, group collaboration and critiques.
Course details
Year one
Fashion Promotion
You'll be introduced to the wide contexts relating to fashion promotion. The unit begins with a critical engagement with the subject 'fashion' in all its forms. Fashion is all around - in retail outlets, brands, magazines, on the internet, within lifestyle advertising and in cultural practices such as art, film, music and dance. Through a series of lectures and group discussions, you'll be introduced to the key concepts of fashion as a vehicle of cultural communication.
Fashion Styling and Photography
This unit is designed to provide you with a period of introductions of knowledge of fashion styling and photography, which will be appropriate to a selected pathway. Industry software will be taught through a series of workshops and demonstrations. You will have the opportunity to experiment with new and traditional media, as well as using image and text within your practice.
Fashion Visual Communication
This unit is designed to provide you with a period of introductions of knowledge of fashion imaging appropriate to a selected pathway. Towards the end of the academic year, you will be asked to submit your project and a written rationale for your choice of study pathway at stage two. You will also be asked to provide a cogent argument explaining why you feel that your study needs will be best met in a particular pathway. You will also be asked to assess your strengths, and give an oral account of the knowledge and skills you have gained in year one.
Fashion Promotion: Theory
This unit establishes the theoretical context of historic and contemporary fashion knowledge, vital for developing a contextual understanding of your studio work and specialism.
Year two
Fashion Promotion Specialist Pathway
Following your choice of pathways in your first year, you'll specialise in one of three pathway streams, developing individual focus and skills.
Fashion Styling and Photography: as well as developing your understanding of the professional and technical aspects of fashion photography and styling, you'll explore and analyse how images use visual codes to convey distinct narratives.
Fashion Visual Communication: in this pathway stream, you'll develop your skills of visualisation and image generation using the hand-drawn mark and digital software to communicate fashion concepts and narratives through text, static and moving image.
Fashion Promotion: this pathway stream emphasises developing the knowledge of marketing trend prediction, public relations and advertising.
Live Industry Practice
Working within a live project brief, you'll explore a collaborative brief which sits with your pathway specialism. You'll be working within a studio environment to negotiate the nature of your brief with your tutors. You'll apply for a role within the group in order to facilitate professional collaboration.
Work Placement OR Professional Practice – Case Study
You'll complete a placement and on completion, you will present an evaluation of your learning. While on placement, you'll be required to write a weekly journal in the form of a live blog, outlining your weekly tasks and what you've learned from your experience. Our students continue to work at a number of high-profile companies including JW Anderson, Karla Otto, Prada, Vogue and Dazed. As an alternative to the work placement, you will complete and present a case study to reflect on your chosen pathway. You will also reflect upon a work placement that you would like to achieve and what action points you will do to get this placement. This will also be explored in your personal development plan.
Image and Identity
The first part of this unit involves a critical presentation and evaluation with referencing; while part two is dissertation planning, where you'll prepare for the expectations of the dissertation and or critical reflection units in your final year.
Study Abroad (optional)
This optional unit allows you to spend a period of time in an overseas educational institution.
Year three
Concept Development
You'll research and develop ideas and subject interests in response to a prescribed brief, and through the design of a self-directed project. The unit will give you the time to produce a significant body of work, built on your extensive research and experimentation, innovation and fashion awareness.
Final Major Project
Following on from the ideas and rationales you produced in Concept Development, you will produce your Final Major Project. This unit provides a significant opportunity to confirm and exhibit your abilities in the form of a portfolio and/or final exhibition to an external audience.
Dissertation Or Combined Dissertation/Critical Reflection
For your dissertation, You'll undertake a substantial period of sustained, individually negotiated research on a subject related to the contextual and/or theoretical concerns of your discipline or chosen area of practice, towards the provision of structured written argument.
If you choose the combined dissertation/critical reflection unit it comprises two periods of sustained, individually negotiated research on subjects which are likely to be related to the contextual and/ or theoretical concerns of your chosen areas of practice, towards the provision of structured argument.
Study abroad
This course offers the opportunity to study abroad for part of your second year.
Fees and additional course costs
Tuition fees
The course fees per year for 2020 entry are:
UK and EU students - £9,250
International students - £16,250 (standard fee)
International students - £15,600 (full early payment fee)
Additional course costs
In addition to the tuition fees please see the additional course costs for 2020 entry.
These fees are correct for the stated academic year only. Costs may increase each year during a student's period of continued registration on course in line with inflation (subject to any maximum regulated tuition fee limit). Any adjustment for continuing students will be at or below the RPI-X forecast rate.
Facilities
Fashion Promotion & Imaging students have a dedicated course studio and study space, access to campus printmaking workshops with dedicated technical support, campus photographic studios with lighting rigs, green screen lighting set up and digital media suites equipped with Macs and PCs, programmed with specialist design software. Students also have access to screen printing and bookbinding facilities, together with wood workshops for set building.
Course connections
On this course, you'll be exposed to a world of opportunities
Industry links
This course is highly regarded in the fashion world, and we have forged many strong industry connections, including:
Nike
Swarovski
CROWTHER/PLANT
Good Ordering
Lazy Oaf
Patternity
K-Swiss
LSN Global
BERTHOLD
The Future Laboratory
BBH
WGSN
A.P
Paul Smith.
Visiting professionals
We host a number of visiting lecturers, including:
Laura Vent – art director
Susannah Jones - PR expert
Nick Maroudias - photographer
Cian McConn – artist
Mark Wells – designer
Louise Naunton Morgan – artist
Mark Thomson – art director
Chris Colville-Walker – art director
Jason Hughes – fashion editor
Anna Lomax - set designer
Sophie Stephens - illustrator
Willem Jaspert – photographer
Carolina Daher – art director
Jacqui Ma – trends researcher
Ruth Marshall-Johnson – trends researcher
Simone Konu – stylist
Katja Mayer - photographer
Ivana Bobic – director
Greta Ilieva – photographer.
Careers
Our graduates have secured many rewarding career positions throughout the fashion industry, for example as:
Fashion editor
Showroom manager
Art director
PA to artistic director
Press officer
Set designer
Artist
Editorial assistant
Trend researcher
Producer
Prop assistant
Researcher
Illustrator
Filmmaker
Film editor
Graphic designer
Our graduates have progressed these roles at the following companies, to name but a few:
ASOS
Celine
Paul Smith
GQ Style
Margaret Howell
L'Oreal
Benefit
Asprey
Aromatherapy Associates
Farfetch
Porter
Oki-Ni
Burberry
Chanel
Dazed & Confused
Artistry
A.P
Alexander McQueen
Fashion East
Juergen Teller
Katie Shillingford
Benjamin Bruno
Storm Models
The British Fashion Council.
Further study
You may also like to consider further study at postgraduate level.
Entry requirements
UK entry requirements
Along with your portfolio, the standard entry requirements* for this course are:
One of the following:
112 new UCAS tariff points
Pass at Foundation Diploma in Art & Design (Level 3 or 4)
Distinction, Merit, Merit at BTEC Extended Diploma
Merit at UAL Extended Diploma
112 new UCAS tariff points from an accredited Access to Higher Education Diploma in an appropriate subject
27-30 total points in the International Baccalaureate Diploma with at least 15 IB points at Higher Level.
And four GCSE passes at grade A*-C and/or grade 4-9 including English (or Functional Skills English/Key Skills Communication Level 2).
Other relevant and equivalent Level 3 UK and international qualifications are considered on an individual basis, and we encourage students from diverse educational backgrounds to apply.
*We occasionally make offers which are lower than the standard entry criteria, to students who have faced difficulties that have affected their performance and who were expected to achieve higher results. We consider the strength of our applicants' portfolios, as well as their grades - in these cases, a strong portfolio is especially important.
International entry requirements
To view the equivalent entry requirements for your country please check our website.
Your portfolio
For this course, we will require you to attend an Applicant Day and bring your portfolio for assessment. Your portfolio should exhibit yourself and your ability to develop a project or idea, as well as evidence of a range of relevant skills. It should include examples of your ideas about fashion promotion that demonstrate experimentation with different media, such as photography, illustration, mood boards, styling or film. We're especially looking for evidence of visual research in the form of sketchbooks to show your ideas and processes to get to a final outcome. We'd also like to see evidence of your written work in essays or reports in your subjects. We're very interested in your opinions of fashion promotion alongside your interests in music, film, art and lifestyle. Further information will be provided on the Applicant Portal after you apply.
Last updated Mar 2020
About the School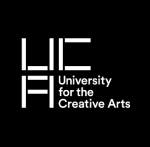 Oscar-winning filmmakers, world-renowned fashion designers, television presenters, celebrity jewellers and Turner Prize nominees are just some of the high-profile graduates from the University for the ... Read More
Oscar-winning filmmakers, world-renowned fashion designers, television presenters, celebrity jewellers and Turner Prize nominees are just some of the high-profile graduates from the University for the Creative Arts. As a specialist creative arts university, we have created a unique community for our students, where like-minded people can share in the creative process and inspire one another. Collaboration between courses is encouraged, with fine artists studying with budding filmmakers and fashion designers working alongside architects. In this way, our students benefit from exposure to a range of disciplines. Choosing to study with us will give you the freedom to discover your own personal style through a winning combination of industry-focused courses, state-of-the-art facilities, and inspirational expert staff.
Read less