BA (Hons) Fashion Media and Promotion
Home ›
BA ›
Media ›
BA (Hons) Fashion Media and Promotion
Program Description
Course overview
Our BA (Hons) Fashion Media & Promotion course develops innovative and versatile communicators and idea-generators who go on to work in all areas of fashion, from the catwalk to customer-facing roles.
This is no "one size fits all" course – study with us and you'll cover everything from fashion styling, film and photography, design and curation, creative writing for digital and print platforms and market-related social strategies to promote brands through innovative concepts and solutions.
We nurture and develop your understanding of how the fast-paced and ever-changing fashion industry works, how you fit into it and how you can develop your specialist skills for a wide range of creative career paths within the industry.
Our range of experienced and enthusiastic tutors and technicians – all of whom are active in the fashion and media industries – will provide you with a thorough understanding of how fashion works and how to promote concepts.
You'll work with leading fashion media and retail companies on live projects, have the chance to join study visits to major international fashion capitals, undertake work placements, study abroad and, finally exhibit your work at the London Degree Show and Graduate Fashion Week.
As you graduate, you'll have a wealth of experience and a high-quality portfolio showcasing all the skills you've learned, making you stand out from the crowd.
Course details
Year one
Brands: Past, Present & Future
You'll explore how fashion brands from the past and the present have been represented, and investigate how this could influence how brands of the future are promoted and represented.
You'll form teams to work on a given brand, and you'll research the brand to organise, style and shoot a series of imagery to represent your interpretation of the brand's promotional identity.
Fashion Styling & Identity
You'll extend your theoretical and practical knowledge of creative fashion styling, by learning how people – from pop stars to fashion models - use the style in order to define and represent their identity. You'll create styled images for a specified fashion editorial, exploring identity through your styling and choice of model.
Fashion Media & Publishing
You'll be learning about the various forms of creative writing and publishing, and you'll be encouraged to explore different written communication methods within the context of fashion - from creative to journalistic, and critical to opinion-led. You'll create an anthology of written pieces, which you'll combine, edit, layout and design ready for presentation in a format of your choice – whether it's online, newsprint, glossy magazine, blog or lookbook.
myPORTFOLIO
At the end of your first academic year, you will produce a portfolio, showcasing your work so far. This unit actually runs throughout the whole year and in addition to your portfolio, you'll also be encouraged to undertake work-based learning, to benefit your brand knowledge and skills. You'll also undertake Skill Thread workshops – in Imaging and Promotion, Marketing and Branding, Digital Media and Photography, and Personal Development Planning - to help you combine your technical expertise with your creative outcomes.
Year two
There is a choice of two options in Year two - either to continue to study at UCA or to undertake an exchange visit abroad halfway through the year.
Units for students at UCA Rochester:
Fashion Film & Marketing
You'll learn about the importance of film and marketing in the fashion industry – how the behind-the-scenes interviews, the red-carpet sound-bite, the documentary, the as-seen-on or the advert, offer opportunities to go beyond the static. You'll look at the changing presentation of fashion from the theatre of the catwalk to online events, how digital marketing can identify gaps in the market, and create a promotional short film with a specific client in mind.
Digital Media & Branding
Using research and analysis you'll develop a deep understanding of the market, before applying this understanding to branding and creative solutions and, finally, communicating your ideas to a client. You'll do this by making a full branded market report, identifying strengths, weaknesses and any gaps in the market – before producing a creative outcome, outlining your suggestions for the client to improve their brand.
myINDUSTRY
Preparing you for life after graduation, this unit is all about understanding the marketplace and your role within it. You'll focus on the practices and principles of the creative industries surrounding fashion media and promotion, learn about internships, your rights as a worker, confidence building, ethical concerns and how to academically frame your placement in relation to your future goals. This unit has three opportunities to prepare you for your final year options – a professional portfolio, an industry placement, and writing an industry market report.
Units for students going on an exchange visit abroad:
Fashion Film
You'll apply your understanding of, and responses to, the market of fashion and fashion promotion in film, by making a short promotional film or documentary of a live event or editorial. You'll focus on market, narrative, visuals and technique.
Digital Branding
You'll learn how the market as a whole behaves, from price differences and entry price points, the differences between luxury and high street, and seasonal developments brand use to promote products and engage with the customer. You'll produce a branded market report and complete a reflective research document online, and use your research from this document to underpin your creative choices in the Fashion Film unit.
Exchange unit
As you visit one of our partner universities you'll complete your studies with a unit assigned by them, in line with the focus of this course. Recent exchange partners for this latter option have included the Amsterdam Fashion Institute (Netherlands), IED Milan (Italy) and UTS Sydney (Australia).
Year three
Innovation for Industry
You will showcase your in-depth knowledge and understanding of all areas in which fashion media and promotion operate, by answering a relevant research question set by a client. You'll need to identify and present new and innovative concepts and propose an original idea to support either a launch, a product, a reinvention of a product or a narrative within a specific media arena.
Creative Direction for the Fashion Industry
The development of a creative business narrative, within the world of fashion media and promotion and at all levels of the market, is among the most complex, yet most rewarding tasks within the industry. The initial thoughts and concepts, which become the starting points of the specialist outcome, are vital. You'll showcase your learning through a substantial final project focusing on your area of professional interest, complete a rigorous personal development planning document, complete a research document and put together your graduate portfolio and self-promotion showreel.
Dissertation
You'll undertake a substantial period of sustained, individually negotiated research on a subject related to your specialisms within fashion media and promotion, towards a structured written piece.
Or
Research Theory and Practice
Here, you have the opportunity to study, in-depth, a topic that deeply interests you, and that will support your development as a fashion media and promotion practitioner and/or broaden your understanding of the wider industry. This will be achieved by absorbing concepts and literature that already exists, but you will also add to this through primary research, which can take many forms. Developing your ideas and finding an angle and an argument allows you to potentially add to the knowledge or discussion of this topic.
Study abroad
This course offers the opportunity to study abroad for part of your second year.
Fees and additional course costs
The course fees per year for 2020 entry are:
UK and EU students - £9,250
International students - £16,250 (standard fee)
International students - £15,600 (full early payment fee)
Additional course costs
In addition to the tuition fees please see the additional course costs for 2020 entry.
These fees are correct for the stated academic year only. Costs may increase each year during a student's period of continued registration on course in line with inflation (subject to any maximum regulated tuition fee limit). Any adjustment for continuing students will be at or below the RPI-X forecast rate.
Facilities
On our fashion media and promotion course, you'll have access to a digital media suite with Macs loaded with design software; studio spaces used for teaching, group projects and styling workshops and photographic studios for fashion shoots.
Course connections
On this course, you'll be exposed to a world of opportunities
Industry links
Working with industry is embedded in all three years. It's a course requirement for all students to complete extra-curricular work, which is presented at the end of each year in your portfolio. Live project briefs are a mandatory element in the units: my SHOWCASE, Industry Awareness, and Innovation for Industry. The final major project is the perfect place for live project work to support career plans.
Our industry connections include:
Fashion brands
Burberry
Ralph Lauren
Jimmy Choo
Net-a-Porter
Topshop
Radley
Free People
River Island
ASOS.
Fashion media
Tank
Vogue
Elle
iD
Another Magazine
ShowStudio
Betty
Cosmopolitan.
Fashion PR agencies
Modus
Lamb to Slaughter
Sane
Impulse
Surgery
Doll
Exposure
Tea & Cake PR
Nikki Rowntree PR.
Other fashion and retail companies
WGSN
Shaftesbury PLC
Camden Tech Holdings.
Our visiting professionals and publications include:
WGSN
PYMCA (Photographic Youth Music Culture)
Global Visual Director, Topshop
Tim Whitmore
Karen Millen
Lulu Guinness
Mulberry
Susie Lau
VB Victoria Beckham
Wallpaper magazine
Wonderland magazine
FAULT magazine.
Careers
Nine out of ten graduates from this course are in employment or further study within six months of graduation, working in areas as diverse as:
Styling
Public relations
Marketing
Digital marketing
Copywriting.
Recent graduates' positions demonstrate a dazzling array of career opportunities, such as:
Social media manager
PR coordinator
Digital account executive
Digital marketing assistant
Marketing assistant
Junior account executive
Communications coordinator
Communications assistant
Marketing communications manager
Fashion assistant
Online coordinator.
In addition, a number of graduates have created their own career and business opportunities through freelance editorial styling, journalism, and boutique PR and marketing.
A number of our graduates have gone on to secure the following roles, to name a few:
Brand manager at TOPSHOP/TOPMAN
Online marketing coordinator at French Connection
Press officer at River Island
Freelance copywriter ASOS.com
Fashion PR coordinator at House of Fraser
Press officer at The Dune Group
Key account coordinator for the UK & Ireland at Kipling
Showroom assistant at Burberry
Brand copywriter at New Look
Event organiser at Bettina Scarlett Presents
Founder and editor at MODEICA
Associate consultant at Mackenzie Jones
Freelance fashion assistant at Marie Claire
Online fashion contributor at Notion Magazine
Freelance writer at Adorn Insight
Fashion assistant at Hunter Gather
Designer at Beach Carlota
Press assistant at Impulse (PR)
Press samples assistant at Burberry
Trend analyst intern at EDITD
PR executive at Modus (PR).
Further study
You may also like to consider further study at postgraduate level.
Entry requirements
UK entry requirements
Along with your portfolio, the standard entry requirements* for this course are:
One of the following:
112 new UCAS tariff points
Pass at Foundation Diploma in Art & Design (Level 3 or 4)
Distinction, Merit, Merit at BTEC Extended Diploma (Level 3)
Merit at UAL Extended Diploma (Level 3)
112 new UCAS tariff points from an accredited Access to Higher Education Diploma in an appropriate subject
27-30 total points in the International Baccalaureate Diploma with at least 15 IB points at Higher Level.
And four GCSE passes at grade A*-C and/or grade 4-9 including English (or Functional Skills English/Key Skills Communication Level 2).
Other relevant and equivalent Level 3 UK and international qualifications are considered on an individual basis, and we encourage students from diverse educational backgrounds to apply.
*We occasionally make offers which are lower than the standard entry criteria, to students who have faced difficulties that have affected their performance and who were expected to achieve higher results. We consider the strength of our applicants' portfolios, as well as their grades - in these cases, a strong portfolio is especially important.
International entry requirements
To view the equivalent entry requirements for your country please check our website.
Your portfolio
For this course, we'll require you to attend an Applicant Day and bring your portfolio for assessment. This is a creative course, but you don't need visual arts or design qualifications to apply. We look for creativity and problem-solving skills that demonstrate the potential for promoting fashion, together with a commitment to, and interest in, the fashion industry. Further information on how to compile a portfolio and the specific requirements for examples of work to be included will be provided on the Applicant Portal after you've applied.
Last updated May 2020
About the School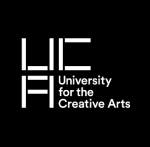 Oscar-winning filmmakers, world-renowned fashion designers, television presenters, celebrity jewellers and Turner Prize nominees are just some of the high-profile graduates from the University for the ... Read More
Oscar-winning filmmakers, world-renowned fashion designers, television presenters, celebrity jewellers and Turner Prize nominees are just some of the high-profile graduates from the University for the Creative Arts. As a specialist creative arts university, we have created a unique community for our students, where like-minded people can share in the creative process and inspire one another. Collaboration between courses is encouraged, with fine artists studying with budding filmmakers and fashion designers working alongside architects. In this way, our students benefit from exposure to a range of disciplines. Choosing to study with us will give you the freedom to discover your own personal style through a winning combination of industry-focused courses, state-of-the-art facilities, and inspirational expert staff.
Read less