Program Description
Course Overview
Develop your own unique style with a BA (Hons) Fashion Design. With a focus on craftsmanship and innovation, we equip you with a broad knowledge of fashion from design, experimentation, pattern cutting and construction to putting together your own collection. If you want to make your mark on the fashion industry, you can start with this course.
With a large, well-equipped workshop and industry equipment you will use the space to create individual designs.
Understand fashion
You'll explore the many twists and turns of fashion, as well as how to research and develop ideas to produce exciting and innovative fashion. The course cultivates new ways of making and thinking.
Beyond design and construction, you will also learn how to present your ideas to clients and pitch design concepts to a wider audience. On this course, you'll develop your individual strengths, building a small collection and portfolio to launch you into the design industry on graduation.
Get involved with the industry
You will benefit from our links with the fashion industry and close proximity to London. London is one of the world's fashion capitals, well known for spawning innovation and talent. As well as working on your own briefs, you'll have the chance to work on industry-based projects with leading designers. Guest speakers can cover a range of areas from Fashion design, costume, styling, brand consultancy and Fashion PR.
You will develop live exhibitions and fashion shows to showcase your work and network with industry professionals.
More placements, more choices
Bucks is a Placements Plus university. So, whatever degree you do, you can be sure there'll be plenty of industry-relevant opportunities on offer, to help you get into your chosen field.
We'll also prepare you for work beforehand, with special skills for work training, further boosting your CV, and building skills employers will value. In recognition of the value, we place on these skills we have incorporated this experience into your study time.
Placements Plus is all about helping you get some valuable experience under your belt while you're a student. To increase your choices later, and help you get the graduate-level job you want.
Course Details
UCAS CODE: W230
Our team of lecturers are all experienced designers, current industry practitioners and researchers. They work on the forefront of trends, techniques and industry needs. You will be working on industry standard equipment learning the latest techniques and future-focused methods of fashion craftsmanship. In our workshops, you'll receive one-to-one teaching, working closely with lecturers, specialist technicians and alongside fellow students.
Create innovative designs in our professional standard studio and workshops
This course is 75% practice-based so you will have ample opportunity to develop your subject through a hands-on, experimental approach. This will involve access to workshops to support the design process.
With your own personal workspace, you'll benefit from being part of our vibrant and dynamic design studio community. From here, you'll have full access to all the equipment you'll need. We've spent a lot of love and care making the Red Shed the perfect creative space. We have one of the best-equipped workshops in the country and a team of dedicated technicians. You will master materials, both through traditional methods and using digital software.
Gain experience working on live briefs on campus
Thanks to our proximity to London, you can visit some of the world's best shops, galleries and museums for inspiration. You can work with designers in and around the capital, gaining experience in how to adapt to the challenges of working in a business. Students will have the opportunity to get noticed at our London degree show.
What are the course entry requirements?
A typical offer will be a UCAS Tariff score of 80. A minimum of two full A-levels (or equivalent) is required. Every application is considered on an individual basis.
On review of your application, you may be invited for an interview.
Applicants who do not meet the minimum requirements for the three-year undergraduate programme, or those who do not feel fully prepared for a degree course, can apply for a four-year programme including a Foundation Year.
Course Modules
Module Map
This module map provides a list of the modules that make up your course.
Each module is worth a specified number of credits (typically either 15 or 30 credits for undergraduate courses). Compulsory (or 'core') modules cover key subject knowledge, while 'option' modules enable you to develop your own interests. For a full-time course, you must take modules worth a total of 120 credits at each level of the course. The number of option modules you can take depends on the number of compulsory modules at each level. You can find more information about how your course is structured via the Academic Advice pages.
Our teaching is informed by research and employer requirements, and modules change periodically to reflect developments in the subject area. In addition, where we have insufficient numbers of students interested in an option module, this may not be offered. If an option module does not run, we will advise you as soon as possible and help you choose an alternative module.
The modules available on this course are as follows:
Year 1 Modules
Critical and Historical Studies - Historical and Critical Thinking
Materials and Processes
Design, Techniques and Concepts
Portfolio
Year 2 Modules
Design and Market Awareness
Live Industry Project
Exhibition and Promotion
Contextual Studies 2
Year 3 Modules
Critical and Historical Studies - Dissertation
Final Collection
Contextual Report
Employability
What are my career prospects?
We make sure that you have all the skills you need to start a career in fashion. With our focus on craftsmanship and skills, you graduate with a robust understanding of the sector.
You will benefit from our links with the fashion sector, offering opportunities to work on live projects and to hear from industry professionals. You can also have the chance to enter industry competitions.
There is a wide range of career possibilities, such as Fashion Designer, Pattern Cutter, Garment Technologist, Product Developer, Entrepreneur, Fashion Buyer, Visual Merchandiser, Retail Management, Public Relations, Press and the media, Events and production organisation or Fashion Styling.
Graduates can also choose to further explore fashion in a postgraduate course.
How will you help me prepare for my future career?
Throughout your time with us, we'll support you on the route to your chosen career. We'll help you to develop crucial skills, encouraging you to become enterprising, employable and good leaders.
We encourage our students to apply for work placements during the University holidays, giving you the opportunity to develop your skills in a work background. Our modules and teaching expertise will help you become more independent as a learner and more certain of your discipline expertise.
We also help you find employment after graduation.
The Big Deal
At Bucks, we believe in putting our students first. That's why our Students' Union have developed our exclusive 'Big Deal' package. We're the only university in the UK to offer free access to such a diverse and exciting range of activities – all to enrich the university experience.
We offer FREE events and entertainment, additional skills workshops, sports, recreational activities, societies and paid student rep schemes. All at one of the top 10 Students' Unions in the UK. It's a big deal!
Fees
How much does it cost
Full-Time Home and EU, September 2019: £9,250 per year
Full-Time International, September 2019: £12,000 per year
Full-Time Home and EU, February 2020: £9,250 per year
Full-Time International, February 2020: £12,000 per year
Most courses will involve some additional costs that are not covered by your fees.
You could benefit from financial support through a bursary or scholarship during your time as a student.
Last updated May 2019
About the School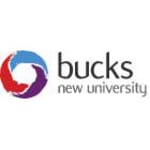 Bucks New University was originally founded in 1891 as the School of Science and Art. Back then the School offered evening classes to people in the local area – and was initially funded with a tax on ... Read More
Bucks New University was originally founded in 1891 as the School of Science and Art. Back then the School offered evening classes to people in the local area – and was initially funded with a tax on beer and spirits!
Read less