Program Description
The Amsterdam Fashion Academy has a lot to offer! Would you like to study in an international environment? Are you searching for inspiration, creativity and high-quality fashion knowledge and skills? Useful contacts that connect you directly to the fashion business? A future in fashion? They are all here at your disposal!
The University awarded bachelor degree course in Fashion Business is for students who aspire to work in the fields of: Fashion Business, Marketing, Branding, Communication and PR, Trend & Prediction and Fashion Editorial Styling. Traditional illustration and drawing techniques, CAD, styling, business, communication, photographic outcomes, research and networking form essential elements to this exciting and creative programme.
Aim:
Fashion business jobs are crucial for the continued revenue growth and overall success of the fashion industry and the global economy as a whole. The study of Fashion Business at the Amsterdam Fashion Academy is an exciting field that gives you access to countless career opportunities in the fashion industry. This course has been tailored to blend creative fashion knowledge with a solid grounding of business, marketing, branding, communications, styling, design, historical and cultural studies. Our aim is to produce confident fashion business people that can respond effectively to the constantly changing challenges in the international fashion industry.
Programme structure:
Year 1 Fashion Visual Research and Presentation- Introduction to Project Management - Introduction to Fashion Styling - International Branding – Fashion Marketing and Promotion – Introduction to Historical and Contextual Studies
Year 2 Historical and Contextual Studies - Fashion Branding - Industrial Practice in a Global Context - Fashion Styling – Fashion Communications – Fashion Forecasting
Final year (Year 3) Dissertation - Live Industry / Competition Brief - Research Project - Business Practice - FMP Marketing and Promotion
Students who successfully complete the programme will be awarded a UK validated Bachelor's degree in Fashion Business. In accordance with UK requirements, 120 credits points are available each year of study and students need to obtain 360 credits for successful completion of the three-year course.
How do you study?:
This Fashion Business bachelor degree course offers both an academic and practical perspective, enabling you to gain knowledge and insights in the disciplines relevant to fashion. Throughout the course, you assess the importance of fashion in stimulating consumption by means of essays, research, presentations and display projects. You also actively participate in fashion industry activities by tackling challenging project briefs, often in collaboration with the leading labels in the fashion industry and Fashion Design students. This versatile course has been ultimately structured to provide you with an optimum route to employment in many aspects of the fashion industry. Our experienced and international tutors aim to help you reach your full potential by challenging, stimulating, informing and rewarding you. Embedded within the course programme, you also develop essential skills making you more employable such as writing a CV and professional practice modules including a research project and writing a business plan.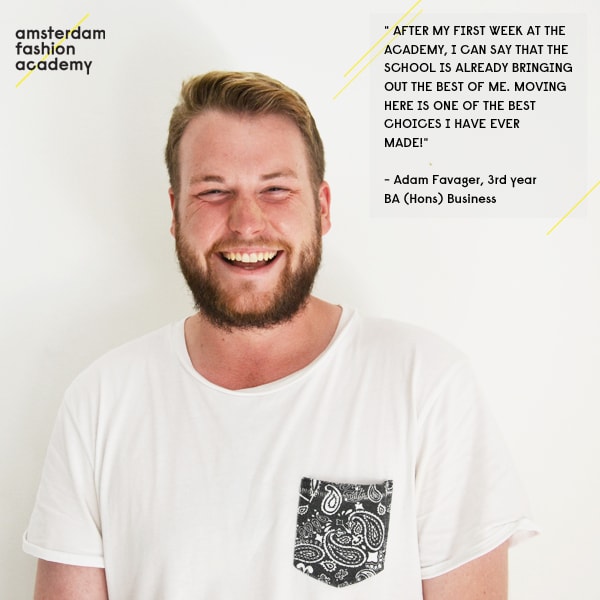 Duration
3 or 4 years
Careers
Trend watcher, fashion forecaster, fashion buyer, fashion marketer, visual merchandiser, fashion merchandiser, fashion journalist, fashion brand manager, fashion market researcher, fashion public relations manager, fashion event manager, fashion communications manager.
Cost & Fees
first year € 15.600,-, second year € 11.900,-, third year € 9.000,-
The Amsterdam Fashion Academy is a non-governmental and non-subsidized institute.
Entry Requirements
One of the following:
International Baccalaureate Diploma (International schools, UK and US)
GCE A-level
Abitur or Fachhochschulreife (Germany and Austria)
Baccalauréat (France)
Access to HE Diploma in an art related programme with at least 45 credits at Level 3 (UK)
Completed secondary education at university entrance level
Diploma Foundation Diploma in Art & Design (Level 3)
Diploma mbo 4, havo or vwo (The Netherlands)
We welcome applications from people of any age who might not meet the standard entry criteria, but we expect to see evidence of continuing academic and/or professional development and a capacity to pursue the course successfully. If your application is successful, you may be invited to attend an interview to discuss your ability and suitability for the course. Please be informed that we are not legally able to accept applications from anyone who doesn't hold an EU Passport.
Last updated Feb 2018
About the School
The Amsterdam Fashion Academy is an international independent fashion Academy making global learning accessible. By collaborating with international universities we are able to provide high-quality co ... Read More
The Amsterdam Fashion Academy is an international independent fashion Academy making global learning accessible. By collaborating with international universities we are able to provide high-quality courses that train students as fashion designers, fashion intellectuals and fashion business people.
Read less