BA (Hons) Business Management (Finance)
Home ›
BA ›
BA (Hons) Business Management (Finance)
Program Description
The University of Derby is a TOP-35 UK University for Management Studies (Guardian University Guide 2018).
The only bilingual undergraduate course in Greece accredited by the UK CMI (Chartered Management Institute).
Recently updated content (2017), with modules providing exemptions from the Chartered Institute of Management Accountants (CIMA) professional qualifications.
Interactive teaching & learning methods, with guest lectures, business games, company visits, consultancy projects, etc.
Integrated plan for developing students' employability skills (MC Employability Scheme).
Developed in close consultation with the premier UK professional body for managers, the Chartered Management Institute (CMI), this course puts you on the fast track to success. It is one of the few where you'll graduate with a highly regarded BA (Hons) Business Management (Marketing) degree as well as the CMI Level 5 Diploma in Management and Leadership. With these qualifications on your CV, you'll signal to prospective employers that you're suited for senior leadership roles and rapid promotion. The Diploma is the benchmark qualification for full CMI membership and takes you a step towards Chartered Manager status. There is no need to take extra exams or coursework to achieve the Diploma: our combined module and CMI assessments give you a smooth route to both qualifications.
To help you advance in a career with a financial focus, the course also features modules which offer exemptions from the Chartered Institute of Management Accountants (CIMA) papers. This will give you a head start if you would like to qualify as a chartered management accountant eventually.
Flexibility is one of the most distinctive features of the Business Management suite of degrees. All students study the same modules in the first year to gain insights into the major business disciplines. After your first year, you can choose to follow the specialist pathway in Finance or – if you find your interests have changed – you can easily transfer to the core Business Management route or specialise in Marketing or Shipping.
Email a picture or scan of your school or univeristy transcipt for quick entry evalauation: e.skourti@medcollege.edu.gr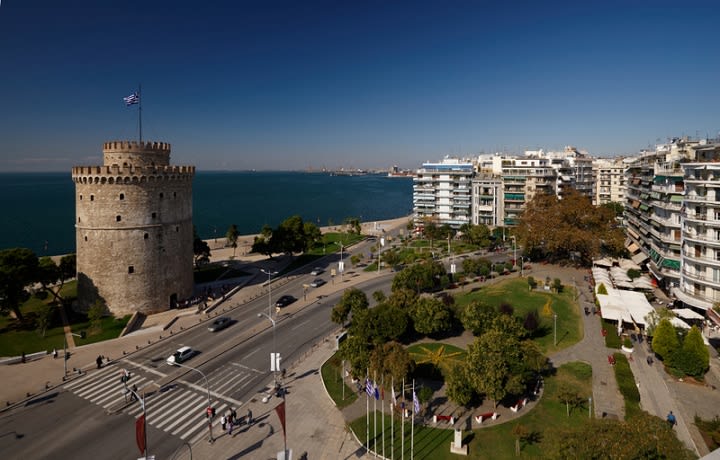 Admissions
The programme is addressed to High School graduates who want to build a career in Finance.
Entry Requirements:
High School leaving certificate (Apolyterion) from a General or Vocational Senior High School (or equivalent)
Reference Letter (1)
Adequate knowledge of English (IELTS 4.5 or equivalent) *
Academic Interview
Photos (2)
ID-Card/ passport
*The level of English required for the English-taught programme is equivalent to IELTS 6.0 or B2. Candidates without official English language certificates can sit the English language placement test of Mediterranean College.
Holders of Vocational Training Institutes (IEK) Diplomas or Higher National Diplomas (HND), students of Technological (TEI) or Higher Education Institutions (AEI) of relevant fields may be admitted to an advanced stage of the course, upon a Recognition of Prior Learning procedure. They need to additionally submit:
Diploma and/or academic transcript
Programme Handbook (if available)
Structure & Content
This course comprises 20-credit modules, most of them being delivered on a semester basis, while a few are year-long modules. The highlight of the course is the final year 40-credit consultancy project with an employer, where you will harness your financial, research and project management skills to improve an organisation's business performance. Modules of Year 1 are delivered and assessed in Greek; modules of Year 2 are delivered and assessed in Greek and English; modules of Year 3 are delivered and assessed in English. (Note: this course is also delivered entirely in English).
Without strong management control and effective coordination of financial resources, businesses frequently fail to realise their potential. This course gives you insights into the common pitfalls in performance management and how to avoid them. We equip you with specialist skills including financial analysis and projections so that you can assess the financial health of an organisation and deliver practical business solutions. You will also learn more about the value of corporate governance and how managers are responsible to wider stakeholders.
Year 1
Year 2
Year 3
Understanding People in Organisations
Quantitative Skills for Business
Global Business and Strategy
Understanding the Global Business Environment
Principles of Responsible Management
Financial Statement Analysis
Business Economics
Managing Financial Resources
Developing Leadership and Management
Finance and Business Performance
Applied Operations Management
International Business Performance Appraisal
Developing an Enterprising Mindset
Managing People
The Business Consultancy Project
Marketing Fundamentals
Law for Accountin
The Business Consultancy Project
English I
English II
Teaching & Learning
Teaching & learning incorporates formal lectures, sometimes involving guest speakers; tutor-led and student-led seminars; one-to-one and small group tutorials; work experience projects; work-related learning; self-directed study; internship opportunities; and video discussions with the University of Derby students. By stage three, you are expected to be more in charge of your own learning, with module tutors advising and directing your studies.
Business simulations, topical case studies, employer-led projects and business games – all provide practical scenarios in which to test your ideas and hone your problem-solving, decision-making and leadership skills. The course culminates in a live consultancy project with an employer, where you will harness your research and project management skills to improve business performance.
You will benefit from an innovative variety of assessment modes. Assessment is mainly via coursework which can take forms such as traditional essays and reports, group project work, research and consultancy projects, presentations, posters, and design of digital materials. There are also in-class tests and computer-based assessments.
We encourage and support you to take an optional internship to acquire the experience which will set you apart in the graduate employment market. You will further enhance your student learning experience by attending the Business School's activities (such as the Student Excellence Conference, open lectures, etc).
Why choose this Course
The University of Derby is a TOP-35 UK University for Management Studies (Guardian University Guide 2018).
This course has been recently updated (2017) and includes modules that offer exemptions from the Chartered Institute of Management Accountants (CIMA) professional qualifications.
It is the only bilingual undergraduate programme in Greece to be accredited by the UK Chartered Management Institute (CMI). The CMI accreditation offers important benefits:

It ensures that the programme teaches what employers need!
Students – along with their Degree – they receive a well-respected diploma, the Level 5 Diploma in Management & Leadership from CMI (with no further exams).
Students will register with CMI as Affiliate Members and have access to the digital CMI library, newsletters and events.
Students will be assigned with a mentor (member of CMI) from whom they'll receive personal guidance and support in employment prospects.

This course is flexible. Students are introduced to all business functions in the first year of studies and after that, they have the ability to either continue with the Finance pathway, or shift to Business Management, Marketing or Shipping.
The programme is delivered in both Greek and English, so that students are gradually and smoothly introduced to studying in English. English lessons are provided during the 1st and 2nd year of study, specially designed to cover terminology and to help students meet the requirements of the English-taught part of the programme (students therefore do not need additional English tuition). Students receive the support of the College's English Department throughout their studies. As graduates of a UK University (being taught in English) they certify their English as a foreign language competence at a Proficiency (C2) level.
Students on this course can undertake an optional internship in one of the partner corporations within the Business School's wide industry network.
Students are taught and assessed in different, innovative ways not only through lectures and exams (labs, case studies, guest lectures, company visits). Assessment is creative and professionally orientated, based on written coursework and projects. The student learning experience is further enhanced with the Business School's activities.
Mediterranean College gives particular emphasis on the academic support of undergraduate students: a personal tutor is assigned to every student; lecturers are available at office hours; students with difficulties may use the services of the counselling and learning support centre; students receive regular feedback on their academic progress; students have full access to the College's libraries and electronic resources.
All academic staff are accredited lecturers of the University of Derby for every module they teach. Mediterranean College implements an integrated system of recruitment, assessment and continuing professional development of academic staff, so that students receive excellent teaching and personal support to develop their social and professional skills.
Business School students actively participate in activities organised within the MC Employability Scheme, the College's integrative employability development plan.
Mediterranean College Business School is one of the first and leading private business schools established in Greece (1977).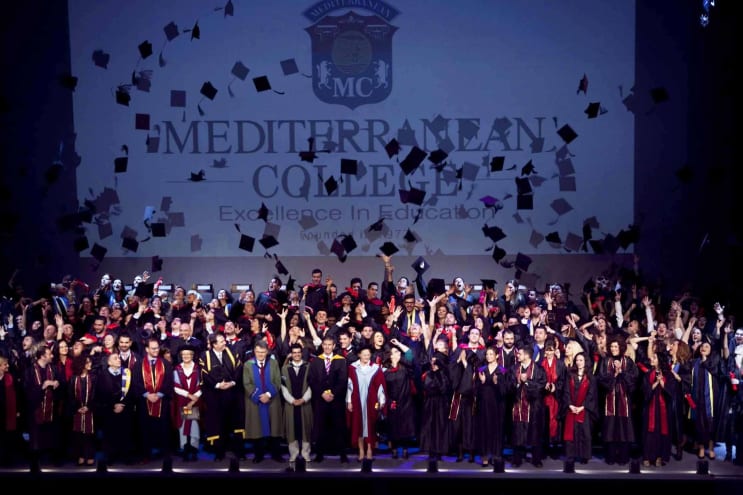 Further Study & Career
The programme graduates, according to the Greek law, are holders of an accredited university degree, professionally equivalent to those awarded by Greek State Technological or Higher Education Institutes. If they wish so, they can have their degree recognised by the Greek authorities.
After successfully completing the course, graduates may continue for a Master's degree at Mediterranean College or at overseas universities. Alternatively, they can seek employment.
BA (Hons) holders may attend the following Master programmes offered by Mediterranean College:
ΜΒΑ Global
MBA Global Finance
MSc Marketing Management
Alternatively, they can specialise on certain fields by attending selected accredited CPD courses offered by Mediterranean Professional Studies:
Leadership & Human Resources Management
Marketing Management
Digital & Social Media
Shipping Management
Global Operations & Logistics
Hotel & Tourism Management
Health Management
Sports Management
Graduates who choose to enter the labour market will be able to assert positions in any business environment or develop their own business in Greece or abroad. In specific, they can build their career in:
Multinational companies
Industrial production companies
Retail & other commercial businesses
Professional services (technology, education, consulting, etc)
Media
Banks & other financial services
Hospitals & other health services
Tourism enterprises
Shipping enterprises
Non-governmental organisations
Last updated Apr 2019
About the School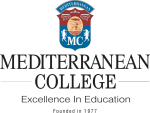 Being the first private College to be founded in Greece back in 1977, the Mediterranean College prides for its pioneering initiatives that have shaped private, higher education in Greece.
Being the first private College to be founded in Greece back in 1977, the Mediterranean College prides for its pioneering initiatives that have shaped private, higher education in Greece.
Read less