BA (Hons) Banking and Finance
Program Description
BA (Hons) Banking and Finance
The course provides a range of career opportunities including although not exclusively the academic stage of training for a career in the Banking and Finance operations by:
An in-depth study in the context of substantive areas of the banking and financial system, typically international banking regulation, financial markets and the determination of monetary policy.
Providing a critical understanding of the theories, activities, policies, and marketing within the context of banking and financial business
Critically understanding the limitations of the current state of financial theories in making strategic business decisions.
2014 Intakes/Term dates
11 Jan. 2014 - 22 Mar. 2014
12 Apr. 2014 -5 Jul. 2014
12 Jul. 2014 - 4 Oct. 2014
8 Nov. 2014 - 14 Mar. 2014
Programme Outcomes
Develop critical thinking and analysis skills in a range of areas of banking, finance and business, including factors affecting business performance in international markets, international banking business, networks, structures and competitiveness, solutions to international financial crises, the risk and return, the level and structure of interest rate, money demand and supply.
Application of key concepts such as key valuation concepts and tools associated with financial decision-making, management of projects, security prices and payment on mortgage loans, and forecasting foreign exchange rates, to practical business problems or issues.
Develop a critical appreciation of the business context in which the banking industry operates and an ability to apply general management techniques to management key approaches to banking and financial operations.
Programme Structure
To achieve the above award students will be required to complete the following 6 units over one year of study attending classes twice per week ( weekdays from 530 pm to 8 pm or on Saturdays from 8 am to 1030 am). Module Title
Contemporary Development in Business and Management
Money Banking and Finance
Managing Projects
Financial Markets
Financial Management
International Banking
In addition to attending lectures with the University of Sunderland approved lecturers, students will have access to the University online library. Attendance to classes is a requirement and assessments are set by the university and graded by the University.
Course Fees
Tuition Fee UK 3000 pounds payable in installments
Local Fee KShs 30,000/-
Includes University online library membership, exam/assessment fees, use of the internet, labs.
Admission Process
The normal entry criteria for admission to the above Programme BA (Hons) Banking and Finance are that students have successfully completed a recognized Higher or Advanced Diploma or equivalent. This could be an ABE Advanced Diploma in Business, an EDEXCEL Higher National Diploma in Finance, or Business or related area or 240 credits or the equivalent of a recognized undergraduate award in a relevant finance, banking, business, and management related discipline.
Completing the Admission Process
Complete the Admission form
Provide 2 passport size photographs and certified copies of your academic credentials
Provide your CV detailing your qualifications and work experiences
Provide letter from your supervisor stating your job position and job description
Make application fee payment of KShs 2,000/- (two thousand only) by cash deposit direct to the College account or by cheque payment to INTEL COLLEGE.
Submit items 1-5 above to the College Administrator.
Last updated Feb 2018
About the School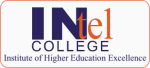 INtel College has been established since 1990 and offers courses in Business and in Computing. Our courses range from short part time courses all the way to degree Programmes - both Bachelors and Mast ... Read More
INtel College has been established since 1990 and offers courses in Business and in Computing. Our courses range from short part time courses all the way to degree Programmes - both Bachelors and Masters programmes. Courses are offered day, evenings and Saturdays.
Read less