Program Description
Course Overview
The BA Animation degree programme aims to:
Provide a platform for students to develop as World Leading, thoughtful and highly creative Animators
Provide students with the knowledge, skills and competence to equip them for a career in Animation
Develop socially responsible (sustainable and ethical practice) and Internationalised Animation
Develop the conceptual and analytical powers of the student in relation to Animation.
Assist the student to develop the skills required for both autonomous practice and team-working.
Develop the transferable skills to prepare the student for graduate employment.
Provide graduates with the required foundation for future continuing professional development and a sustained career in Animation.
Learning & Teaching
A significant focus on Studio teaching is maintained, supported by Keynote Lectures and supporting seminars. Individual students will be supported by significant amounts of 'feedback' during Group Critiques, single and group tutorials.
Students take a significant lead in their studies, develop their own research focus and expertise base and actively engage with the process of assessment and the manner in which their individual expertise is expressed and tested.
Students will be supported as they work autonomously such that they are able to generate significant and unique learning through rigorous, self-directed and collaborative practice.
Assessment
You will be assessed via coursework: written and portfolio based, viva voce (presentation and critiques.
In line with the CSAD Undergraduate Scheme each 40 credit module will have a single summative assessment point at the end of the module. Interim assessments in a module will be formative only.
Critiques
Discussions involving staff and students are a central feature of the critiques in assignments and project work organised within the studio programme. Critiques are held at each assessment stage (interim or final) of an assignment or project in the studio-based modules where students present their work to the year group and tutor for feedback and debate. This event is a cornerstone of the learning process. Assignments are designed to ensure that students tackle a wide range of case studies or precedent that illustrates a variety of situations or solutions. The critique process ensures students learn from work being done by others as well as through their own efforts.
Employability & Careers
You have the opportunity to select two four-week work experience options during Field 5. You will collaborate with Industry during Interior Design Professional module. Students successfully completing this programme of study could work in consultancy, freelance/founder of a practice or progress on to a teaching qualification, progress on onto the MDes, MA Design futures or Ph.D.
Entry Requirements & How to Apply
Applicants should have a strong art and/or design portfolio and demonstrate a commitment to art and/or design, five GCSE passes including English and Maths at grade C or above plus:
300 points from a successfully completed Art & Design Foundation Diploma or/and
At least 3 A Levels / Scottish Advanced Highers from any Subject (General Studies excluded)
QCF BTEC Extended Diploma: Distinction Distinction Merit
300 points from the Irish Leaving Certificate at Highers to include 3 x B1 grades from any subject (minimum grade C2 considered)
Access to HE Diploma with 45 credits at Level 3 within a relevant subject
Welsh Baccalaureate Advanced Diploma considered along with grades CC at A Level within any subject, General Studies excluded
Qualifications equivalent to the above
If your qualification isn't listed above, please refer to the UCAS website.
For applicants only undertaking 2 A Levels or BTEC equivalent, or applying with other life experiences, other qualifications and/or art & design achievements will be considered. Selection Procedure and Interview Days:
Selection is based on the receipt of a completed UCAS application and attendance at a School of Art & Design Interview.
Acceptance at interview is based upon a balance of three criteria:
Personal enthusiasm for and immersion in the practice and theory of Art & Design
Academic achievement and ability
Quality of work, ambition and skills demonstrated in a portfolio
For more information about Art & Design Interview Days, please click here.
How to Apply:
Applications for this course should be made online to UCAS at www.ucas.com/apply. For further information please visit our How to Apply pages at www.cardiffmet.ac.uk/howtoapply.
UCAS Code: 6HJ3
Last updated Oct 2019
About the School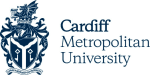 Located in an exciting, modern European capital city, Cardiff Metropolitan University is a global university. We are continually investing in our students' future and provide education and training op ... Read More
Located in an exciting, modern European capital city, Cardiff Metropolitan University is a global university. We are continually investing in our students' future and provide education and training opportunities that are accessible, flexible and of the highest quality to students from over 140 countries worldwide.????
Read less