BA (Hons) Acting & Performance
Program Description
Course overview
Encompassing all the practical, artistic and academic skills needed for a successful career in the competitive world of acting and performance, our BA (Hons) Acting and Performance degree is an exciting and immersive course with a strong bias towards acting for the camera.
Based at UCA Farnham, the course prepares you to flourish on stage and screen and uses the camera as a teaching and learning tool. You'll find your individual voice through writing and creating, develop the core acting skills of voice and movement and learn techniques for the camera, microphone and stage.
You'll be encouraged to draw on your own background and interests as you explore your craft, and each year you'll have the opportunity to develop your own ideas through self-directed and written performance, either in groups or as solo projects.
Our connection with Farnham Maltings, a local theatre and performing arts venue, means you'll benefit from a network of professional theatre makers and its extensive resources, including performance and rehearsal spaces. On campus, you'll also have access to UCA Farnham's first-class film and TV centre, together with rehearsal rooms, a cinema, sound recording studios and filmmaking equipment.
And you'll be encouraged to work closely with peers on other courses, including Film Production, Music, Animation, Journalism, Media and Games Arts, ensuring you take your place in our vibrant and collaborative creative community.
Course details
Year one
Your first year of study will involve exploring the many facets of performance, both physically and theoretically, and examining the connections between stage and screen acting.
Acting Skills 1
You'll be introduced to a basic set of skills to provide a robust foundation for the course. Movement and voice workshops, practising various approaches to text and stage combat form the basis of this unit.
Stage Screen Connections
In this unit, you'll develop your contemporary screen acting skills and be introduced to filmmaking techniques including editing, shooting, camera, lights and sound. You'll experiment with creating, performing in and making your own short silent film. Alongside these skills, you will be introduced to the lenses of critical theory to begin your analysis of film and stage work.
Approaches to Acting
You'll learn the theoretical and practical approaches to creating a role and begin building a toolkit of approaches to acting, which will enable you to work with a variety of directors, theatrical styles and screens.
Exploding the Play
You'll explore the uses of improvisation and techniques, as an actor, for developing improvised performances. This unit gives you the opportunity to undertake a self-directed piece of work in small groups.
Year two
Acting Skills 2
You'll develop your practical approaches to acting from Year one, advancing your creative and technical skills and learning how to connect with your audience. Movement studies continue, you'll be introduced to applied voice skills (singing and recorded voice) and creative script writing.
American Theatre
Using examples of scenes from the plays of American writers, you'll explore the underlying themes and methods writers employ to create meaning and depth in their work. You'll explore how you, as an actor, interpret and translate these intentions into performance.
Social Realism
The different ways in which filmmakers, writers and directors use real-life stories, events and people to make drama, and it relates to you as an actor, is explored in this unit. You'll debate the relationship of social realism to politics and how it, as a style, affects your work.
Violence and Revenge
This unit introduces you to speaking Shakespearian verse involving the most violent and vengeful scenes Jacobean theatre has to offer. These are performed in a festival style which you will be producing. Alongside this, you will be studying violent films from the viewpoint of cultural debate and active citizenship.
Study Abroad (optional)
Students may choose to study abroad during the latter part of the second year.
Year three
Your final year is about 'making it your business' and sustaining your career after graduation – you'll make a short film and finish the third year with a live performance.
Professional Development
This unit focuses on the business of acting and how to apply your acting skills to practical approaches to help you make your way in the creative industries. You will create a website and a personal or business plan including 30 opportunities for work, either as an actor or as a small company.
Dissertation
After choosing a subject related to your course, you'll undertake a period of thorough and sustained research on that subject, towards the production of a structured written piece. This is an excellent option for those wishing to pursue an academic career.
Or
Practice as Research
As with the dissertation, this is a sustained research project however, this project involves you making work as part of your research. This option is suitable for those wanting to make work after graduation.
Performance
Led by professional directors, you will work on a film performance and a stage performance. These productions and films will be the culmination of your journey from Year one to Year three.
Study abroad
This course offers the opportunity to study abroad for part of your second year.
Fees and additional course costs
Tuition fees
The course fees per year for 2020 entry are:
UK and EU students - £9,250
International students - £16,250 (standard fee)
International students - £15,600 (full early payment fee)
Additional course costs
In addition to the tuition fees please see the additional course costs for 2020 entry.
These fees are correct for the stated academic year only. Costs may increase each year during a student's period of continued registration on course in line with inflation (subject to any maximum regulated tuition fee limit). Any adjustment for continuing students will be at or below the RPI-X forecast rate.
Facilities
This course has an on-campus performance space and study spaces for group work, tutorials, seminars and technical workshops. It is also in partnership with the Farnham Maltings and the larger performances are housed there. The Maltings is a leading performance venue located in the heart of Farnham with a network of professional theatre makers based there and regular live and screened performances which give Acting and Performance students a valuable live/screen experience every week.
Course connections
On this course, you'll be exposed to a world of opportunities
Industry links
Taught by lecturers with professional acting or directing experience, you'll quickly learn what it takes to be an industry professional. Our degree course is designed by professionals to train contemporary actors, and our valuable industry links include:
Farnham Maltings
British Actors' Equity
Drama UK (the body that oversees drama training across the country).
Careers
Alongside (or as an alternative to) theatre, TV, radio or film work, a portfolio career for the professional freelance actor may also include:
Acting in corporate films, and live role-play in business training
Forming a company to create and stage your own work
Commercials (film or audio)
Voicing computer games and animations
Creating original material for Image Capture projects
Community projects such as theatre in schools.
Further study
You may also like to consider further study at postgraduate level.
Entry requirements
UK entry requirements
The standard entry requirements* for this course are:
One of the following:
112 new UCAS tariff points
Pass at Foundation Diploma in Art & Design (Level 3 or 4)
Distinction, Merit, Merit at BTEC Extended Diploma
Merit at UAL Extended Diploma
112 new UCAS tariff points from an accredited Access to Higher Education Diploma in an appropriate subject
27-30 total points in the International Baccalaureate Diploma with at least 15 IB points at Higher Level.
And four GCSE passes at grade A*-C and/or grade 4-9 including English (or Functional Skills English/Key Skills Communication Level 2).
Other relevant and equivalent Level 3 UK and international qualifications are considered on an individual basis, and we encourage students from diverse educational backgrounds to apply.
*We occasionally make offers which are lower than the standard entry criteria, to students who have faced difficulties that have affected their performance and who were expected to achieve higher results. We consider the strength of our applicants' portfolios, as well as their grades - in these cases, a strong portfolio is especially important.
International entry requirements
To view the equivalent entry requirements for your country please check our website.
Your portfolio
For this course, there's an audition stage to the application process. You'll be invited to attend an audition which comprises two activities: 1 - a group workshop: this will include improvisation games and imagination exercises incorporating voice and movement, allowing you to demonstrate your collaborative working skills. 2 - an individual audition piece (for a maximum of two minutes); either: a short piece of contemporary text (play or screenplay); or a piece of Shakespeare; or an original piece you have written.
Last updated Mar 2020
About the School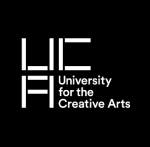 Oscar-winning filmmakers, world-renowned fashion designers, television presenters, celebrity jewellers and Turner Prize nominees are just some of the high-profile graduates from the University for the ... Read More
Oscar-winning filmmakers, world-renowned fashion designers, television presenters, celebrity jewellers and Turner Prize nominees are just some of the high-profile graduates from the University for the Creative Arts. As a specialist creative arts university, we have created a unique community for our students, where like-minded people can share in the creative process and inspire one another. Collaboration between courses is encouraged, with fine artists studying with budding filmmakers and fashion designers working alongside architects. In this way, our students benefit from exposure to a range of disciplines. Choosing to study with us will give you the freedom to discover your own personal style through a winning combination of industry-focused courses, state-of-the-art facilities, and inspirational expert staff.
Read less