Read more about this program on the school's website
Program Description
School of Engineering and Digital Sciences
Nazarbayev University's School of Engineering and Digital Sciences (NU SEDS) has designed all of its programs to revolutionize the traditional engineering and science learning environment of lectures and laboratories to include modern components that engage students in project-based exercises in critical thinking.
As world-class leaders in STEM education, all NU SEDS graduates enter the global marketplace as highly skilled experts in their chosen field of study. Our graduates go on to become innovators who overcome the obstacles in Central Asia and Eurasia's advanced technology industries.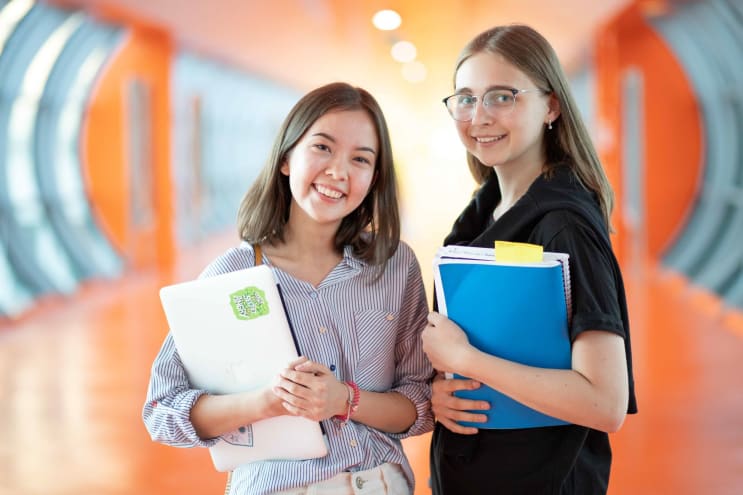 ©Nazarbayev University
The SEDS promotes a mission of utilizing advanced technologies and research to shape student expertise and train them in critical thinking and inventive design.
Graduates of NU SEDS are coveted in the global engineering and digital science community because of our students' interdisciplinary perspectives essential to advancing modern industry and infrastructure.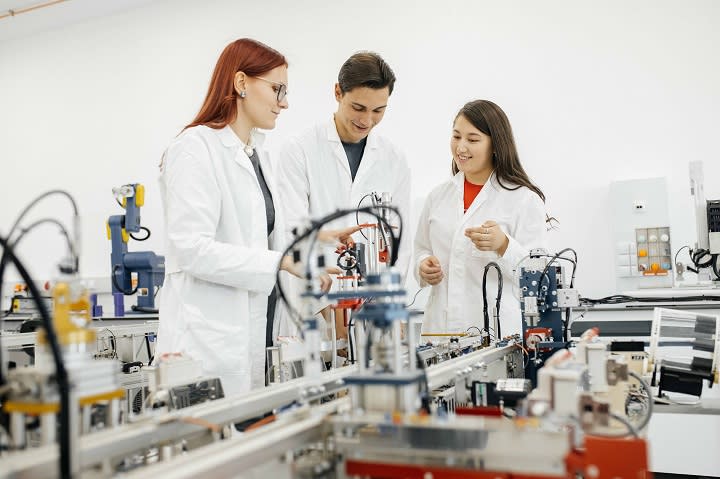 ©Nazarbayev University
About the program
The program is one of the first Robotics and Mechatronics programs in the world. The program will educate young engineers for working with the latest intelligent robotics and mechatronics systems in different industries, creating local robotics and mechatronics companies and preparing them for graduate work.
Robotics students have access to state-of-the-art facilities available at the department. There are opportunities for students to be members of the Student Robotics Club, to participate in the faculty research projects and do industrial internships. Graduates will be prepared for an industrial and research-oriented career, either working as engineers with advanced technological systems or directly pursuing further research (graduate school) in top international universities.
Mechatronics is a multidisciplinary field of engineering, combining mechanical, electrical, computer and systems engineering in order to design and manufacture highly technological and complex systems such as robots, prostheses, medical devices, and electric cars. Nowadays, robotics is on the verge of rapid growth driven by both supply and demand. The supply side is driven by decreasing costs and the increasing availability of different types of sensors, computing devices, and actuators. The demand side is driven by national needs for defense and security, healthcare, automation, customized manufacturing, and interactive entertainment. Therefore, there is a clear need for a specialized university program preparing engineers capable of designing, implementing and working with modern robotic and mechatronic systems in industry and other sectors of society. The students of the Robotics and Mechatronics program acquire their skills both based on the understanding of theoretical concepts and on extensive hands-on experience in the teaching and research labs of the department. Students can be involved in the research activities of the faculty members during summer internships, and/or during their graduation projects.
General information
Campus: Nur-Sultan, Kazakhstan
Language: English
Delivery mode: Full time, on-campus
Duration: 4 years
Total ECTS credits: 248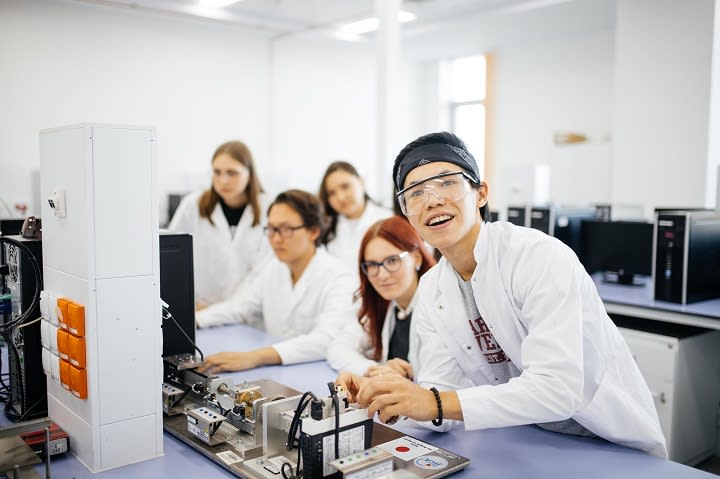 ©Nazarbayev University
Entrance requirements
English Language Requirements
IELTS – no less than 6.5 overall (with at least 6.0 in each sub-score)
or
TOEFL IBT – 79-93 (Reading – no less than 13, Listening – no less than 12, Speaking – no less than 18, Writing - no less than 21)
or
TOEFL PBT – 574-599
Academic Requirements
SAT Subject Test – Chemistry and Biology with at least 600 in each subject;
SAT Reasoning Test – no less than 1240. An essay is required, no minimum score
or
ACT – composite score no less than 27. Writing part is required, no minimum score
Work after graduation
Possible career destinations:
Robotics Engineer
Mechatronics Engineer
Maintenance Technician
Machine Operator
Research Assistant
Project Engineer
Field Service Technician
Welder
Strategic partners of Nazarbayev University
Duke University, Fuqua School of Business (USA)
The National University of Singapore, Lee Kuan Yew School of Public Policy (Singapore)
The University of Pennsylvania (USA)
The University of Cambridge (UK)
Colorado School of Mines (USA)
The University of Wisconsin-Madison (USA)
The University of Pittsburgh Medical Center (USA)
The Lawrence Berkeley National Laboratory (USA)
The Oak Ridge Associated Universities (USA)
Last updated Apr 2020
Keystone scholarship
Discover the options our scholarship can give you
About the School
Located in Nur-Sultan City, Kazakhstan, in Central Asia, Nazarbayev University is a research university with growing international renown combining education and innovation on a state of the art 21st- ... Read More
Located in Nur-Sultan City, Kazakhstan, in Central Asia, Nazarbayev University is a research university with growing international renown combining education and innovation on a state of the art 21st-century campus. NU scholars conduct research in a variety of fields and bring the most ambitious projects to life. Research is supported by internal and external funds each year and carried out in modern laboratories. English as the language of instruction and research at Nazarbayev University, admission and progression systems are entirely merit-based.
Read less