Program Description
As the construction industry has been growing by leaps bounds, there has been an infinite scope for interior designers. Irion the present scenario, with varied preferences of people, inter designing has come up with challenging and promising career opportunities.
When you choose to become an interior designer, you learn and master the following skills of the trade:
Technical drawing, also known as drafting, is the academic discipline of creating standardized top views and side views of any furniture and buildings by architects, interior designers, drafters, design engineers, and related professionals. Standards and conventions for layout, line thickness, text size, symbols, view projections, descriptive geometry, dimensioning, and notation are used to create drawings that are ideally interpreted in only one way.
Design project commences with proper space planning to blend with the environment to provide a proper division of peaceful living spaces with maximum utilization keeping the comfort of the user and perception of the interior as a whole. You get to plan a residence, shop, corporate office, hotel or a restaurant.
This is related to the type of construction and style of architecture being practiced in modern times. The use of RCC in the contemporary era has been extended to roofs and building columns, beams, lintels, sanitation, and plumbing etc.
You must be able to understand all materials like bricks, stones, tiles, flooring materials, light fixtures, sanitary, and their physical properties. LANDSCAPING It is the landscaping that makes space come alive. You should be equipped with the latest trends, materials and innovative ideas to create the right kind of environment to make it an immersive experience.
Furniture design is an added opportunity to challenge and redefine the boundaries of tradition in order to reconcile with contemporary ideas and changing needs of a modern lifestyle.
You learn to calculate the expenditure and make cost estimates of materials and furnishings and provide cost-effective solutions to the client.
Visual Merchandising is the art of persuasion through a presentation, which puts the merchandise in focus and in perspective too. It educates the customers, creates desire and finally augments the selling process. Visual merchandising helps all brands to directly explain its unique selling proposition (USP) to the consumers. Retail outlets are increasingly looking at visual merchandisers to provide the edge as far as visual display is concerned. In the current scenario, visual merchandising should be a blend of art and science. The medium has to be in synergy with other retail operations and should give results apart from aesthetic appeal. You will help in educating the customers about the product/service in an effective and creative way while enabling a successful selling process – from browsing to buying. You learn and implement the latest methods of merchandising and using the right tools to give the retail space a look that is consistent with the brand message.
The use of computers has become an indispensable tool in designing spaces. You learn to make sketches, illustrations and renders through computer-aided designing, Excel, PowerPoint, 2D, 3D drawings in Auto CAD.

Eligibility for pursuing interior designing
10+12/Any 3 years diploma in recognized board
B.Sc. in Interior Designing Course Description
IIFA offers a 3-year full-time course B.Sc in interior designing
The course has 6 semesters where the student gets introduced to the world of Design with concepts of drawing
Offering a unique and comprehensive Bhatathiyar university degree syllabus and prepares a student from the fundamentals like Auto Desk Auto Cad 2D&3D, 3Ds MAX, V-Ray, commercial and industrial Designing's which is essentially required in today's industry.
This well-blended syllabus in combination with communications and self-development classes make IIFA students a preferred choice among leading studios and interior designing companies.
230000/- total course fees with Installments
200000/- with a Lump sum (with Free Laptop)
40000/- Down payment
Note: Study material, examination fees, a project with 100% Placement Assistance.
Last updated Sep 2019
About the School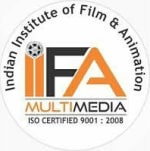 An animation & visual effects course should not only teach you the tools of the trade but should first excite your right brain and ignite your creativity. Which is why at IIFA school, you can trus ... Read More
An animation & visual effects course should not only teach you the tools of the trade but should first excite your right brain and ignite your creativity. Which is why at IIFA school, you can trust our courses and expert mentors to train and teach and not senselessly preach.
Read less