Program Description
Psychology for all who want more
As an expert or an expert in business psychology make like questions and want answers. It you are interested in what people feel in organizations, and think about what makes them efficient and how to deal with the rapid change in a digitized, globalized world. They want to know how people behave in consumer situations, what motivates them and what cues influence their decisions. With this knowledge, you can identify trends and developments in your future field of activity. Based on this, you will define goals, put them into the working world and organizing cooperation correctly. You will understand your customers and develop product and marketing concepts that are tailored to their needs. You learn from the experience of empirical studies and meet the demands of their professional practice with the concepts of human resources, industrial and organizational psychology, and the findings of the market and consumer psychology in all essential characteristics such as health psychology, cross-cultural psychology and media psychology ,
Course contents "Business Psychology"
Business Psychology is an interdisciplinary field of study at the interface between psychology and economics. The man, his motives, his behavior and the impact on his mental health are the focus. You learn practical problems from the perspective of psychology to investigate empirically and implement, taking into account the economic corporate goals into concrete action plans. Contact with questions of personnel management and development apart, learn coaching and communication technologies, and reflect on the findings from this on himself. In order to develop social skills that you will have recourse as a leader in the firm in the course of your studies. Based on legal, economic and methodological basic knowledge you are working in the basic subjects of psychology (eg social psychology or General Psychology). On this basis, they are in the higher semesters deepen your knowledge in the personnel and organizational psychology as well as the consumer and media psychology. With your graduation "Business Psychology B.Sc." you are best prepared for the latest requirements in work areas of personnel development, business organization and marketing management.
From the lecture test lab
The study of industrial psychology moves the tension between human and economic. Therefore, imagine the psychological triad of emotion, behavior and cognition. In the study course Business Psychology an essential focus is on building your methodological skills. You will learn all the essential quantitative, qualitative, diagnostic and experimental methods and implement them right away. In the test laboratory to discover in real conditions, what it means to set up and carry out a test method - from the test organization, on the implementation and evaluation of the tests to discussion with the volunteers. Partners like N-TV, the Berlin Transport Authority (BVG) and many more will also offer additional opportunities to socialize during market research projects, consulting projects or presentations important contacts with potential employers.
Modern, practical and international management studies
During your studies at the EBC will continually draw on the possibilities of the digital world. You organize your study using the virtual campus, which you can see the current class schedules as well as the scripts of many lectures. You are introduced to the use of scientific research platforms and in online libraries. so you learn new possibilities of the Internet to know and professionalise their media skills.
Integrated into the EBC studies are a national and international internship. Here you can apply your professional interests in different organizations, companies and departments. These placements make valuable experience that will prepare you for career entry.
Abroad study your foreign language skills of the intensive language seminars and trainings of EBC studies be consolidated. Furthermore, you are expanding your intercultural skills. You know the country and the culture to know and make valuable contacts. The most popular partner universities of the Business Psychology program are the New College in Durham, and the National University in San Diego. Overall, you can choose from more than 70 partner universities in 20 countries.
Curriculum

Graduation
On successful completion of the seven-semester EBC studies graduation for a Bachelor of Science (B.Sc.) takes place.
perspectives
The successful completion of the program "Business Psychology" is ideally suited for a psychologically and economically founded career start. Both in the field of human resource management, and marketing of large companies and agencies qualified, economic psychologically profiled professionals are sought. The EBC study offers by various applications very good opportunities in the following industries and business fields:
Human Resource Management (HRM)
Marketing
advertising agencies
marketing research
Corporate Communication
Public Relations (PR)
organizational consulting
Institute for Market, advertising or media psychology
Consulting (including strategic business consulting)
Freelance trainer or coach
Graduates of EBC Hochschule who wish to continue studying for her bachelor's degree, have the opportunity to complete a master's degree within a few semesters. With the bachelor's degree at the EBC University you can reach a total of 210 credit points.
Last updated Mar 2020
About the School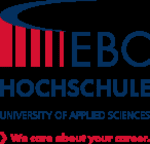 Become a management professional with an international perspective – a truly global citizen. EBC University of Applied Sciences is a German globally connected multi-campus business school with a stron ... Read More
Become a management professional with an international perspective – a truly global citizen. EBC University of Applied Sciences is a German globally connected multi-campus business school with a strong focus on practical application and implementation. The core of our institutional philosophy is to put the student in the centre of all our actions. We are highly invested in our students and alumni.
Read less