Program Description
Exercise Science
PROGRAMS OF STUDY: B.S. in Exercise Science
Why study Exercise Science at M.C.?
Are you fascinated by the human body and how it works? Are you passionate about helping people and making an impact on society? Do you like exercise/physical activity? An Exercise Science student studies the immediate and long-term effects of physical activity on the body. The Exercise Science Major provides a challenging educational experience for students who wish to pursue health/fitness careers and further their education at the graduate level.
The major provides hands-on experience in the health/fitness industry tied to core academic preparation in the science of exercise and health. Exercise Science provides a solid foundation to prepare you for a variety of careers, such as Physical Therapy, Athletic Training and Exercise Physiology. There are many exciting careers in Exercise Science. Note that many involve further study, however, in many areas, there are entry-level positions while you pursue further education.
Maryville College Works is a comprehensive career preparation program that is integrated into the College's four-year liberal arts curriculum. Key components include assessment, advising, networking and professional experiences.
EXTERNAL RELATIONSHIPS
Blount Memorial Hospital
Clover Hill Senior Living
Foothills Physical Therapy
Results Physiotherapy
University of Tennessee Student Health
ON CAMPUS OPPORTUNITIES
Led by Sharon Wood '83, M.C. alumna and head athletic trainer, Maryville College boasts an outstanding student athletic trainer program. Students who are interested in gaining valuable experience in sports medicine are encouraged to apply for the program and work in the M.C. Training Room. Unlike programs at larger colleges and universities, our students work with each varsity sport and help with student-athletes' rehabilitation and injury prevention. Graduates of our program have gone on to successful careers in athletic training, physical therapy and various other areas of health care.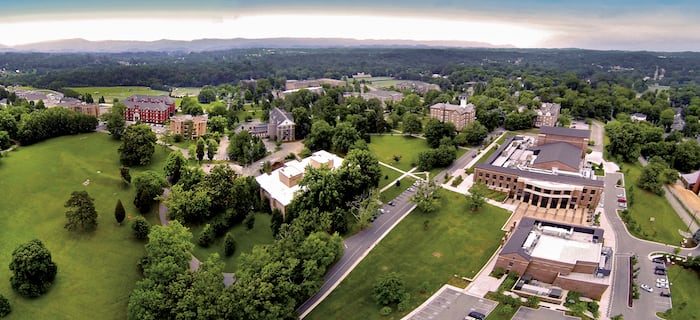 Meet a current student
Colby Beach '19
Hometown: Kingston, Tenn.
Knowing that Maryville College would give him more opportunities for undergraduate research and faculty mentoring than his "first choice" university, Colby transferred to Maryville College before his sophomore year and considers it one of the best decisions he's ever made. With a career goal of becoming an epidemiologist and working for the World Health Organization or Center for Disease Control, he is already building a resume of internships, published research and presentations. "None of these things would have been possible as a sophomore/junior without the guidance of Dr. [Jennifer] Flynn, Dr. [Traci] Haydu, and Dr. [Jeremy] Steeves."
Outcomes of Recent Grads
Featured Graduate
JUSTIN COLLETT '17
CURRENTLY: STRENGTH & CONDITIONING SPECIALIST/RUNNING BACKS COACH AND ADJUNCT FACULTY MEMBER
Justin majored in exercise science and minored in business so that he can someday own and operate his own physical therapy practice. "I believe M.C. is great preparation for future careers with its rigorous classes, Senior Study requirement, comprehensive exams and intelligent, helpful professors. I spent the summer of 2015 interning with Blount Memorial Hospital's outpatient physical therapy facility, Total Rehabilitation at Cherokee. I would not have had this opportunity without the College's partnership with BMH and great people like Dr. [Traci] Haydu and the other exercise science professors who push me to be the greatest I can be."
HANNAH MONTGOMERY HESTER '14
CURRENTLY: PHYSICAL THERAPIST AT LIFE CARE CENTER OF RHEA COUNTY IN DAYTON, TENN.
As a student, Hannah had numerous opportunities to observe physical therapists: While a member of the College's volleyball team, while gathering data for her Senior Study on the effects of Kinesio tape during rehabilitation, while completing a practicum. Those opportunities confirmed her career choice and gave her confidence in graduate school. She graduated with a doctor of physical therapy degree (DPT) from the University of Tennessee at Chattanooga in 2017. "Maryville College created a strong academic foundation and key personal relationships that have helped shape me into a confident future healthcare professional," she said.
Graduate School Placements
Columbia University
East Tennessee State University
Texas Tech University-Lubbock
University of Alabama-Birmingham
University of Tennessee-Chattanooga
University of Tennessee-Knoxville
Western Carolina University
Video Gallery
Career Options
Aerobics Instructor
*Athletic Director
*Athletic Trainer
Coach
*Commercial Wellness Center Director
*Community Fitness Director
Community Health Director
Corporate Health Advisor
Director of Recreation
Employee Fitness Director
Exercise Facility Manager
*Exercise Physiologist
Fitness Center Director
Group Fitness Exercise Leader
Health Educator
*Occupational Therapist
Personal Trainer
Pharmaceutical Salesperson
*Physical Therapist
*Physicians Assistant
*Professor
Recreation Therapist
Rehabilitation Specialist
*Sports Agent
Sports Manager
*Sports Nutritionist
*Sports Psychologist
*Strength and Conditioning Coach
Wellness Coordinator
Adapted Physical Education
Biomechanics
Motor Development
Motor Learning
*Some careers require advanced education/training
Learning Outcomes
Students successfully completing the program of study will have achieved:
Understand and apply fundamental concepts of Exercise Science

Demonstrate an understanding of the underlying anatomical, physiological and biomechanical concepts and principles relating to Exercise Science for both the enhancement of long-term health and wellbeing and for enhancing athletic performance.
Demonstrate basic concepts and principles relating to motor behavior enabling them to know how humans best learn motor skills and how to teach motor skills to others
Demonstrate and communicate the role of exercise science in society
Assess, design and implement a safe and effective exercise prescription to improve health and performance
Apply knowledge in a real-world setting, integrating ethical standards and an appreciation of diversity in their professional lives.

Respect persons from diverse cultures and backgrounds

Demonstrate the ability to work effectively with individuals from diverse cultures and backgrounds
Demonstrate the ability to modify and adapt exercise programming for the inclusion of all peoples in the promotion of lifetime health and wellness.

Effectively communicate through oral and written means, in both one-on-one and group settings

Develop communication skills (oral and written), interpersonal skills, critical thinking skills, technological skills, and reflective skills necessary to enhance scholarly pursuits and become lifelong learners within the disciplines of exercise science
Demonstrate proficiency in communication in written laboratory and topical reports
Demonstrate proficiency in communication through presentations in a classroom environment
Demonstrate proficiency in their Senior Study, which will reflect their area of interest and remain consistent with the student's long-term vocation goals

Commitment to open-minded inquiry and lifelong learning to maintain best practice in the profession

Demonstrate an adequate level of personal physical fitness
Participate in professional organizations and meetings
Demonstrate the ability to evaluate scientific literature in the discipline, understand and synthesize relevant information, and be able to convey this information both orally and in writing
Pursue Graduate degrees in related fields, such as Kinesiology, Exercise Science, and Allied Health.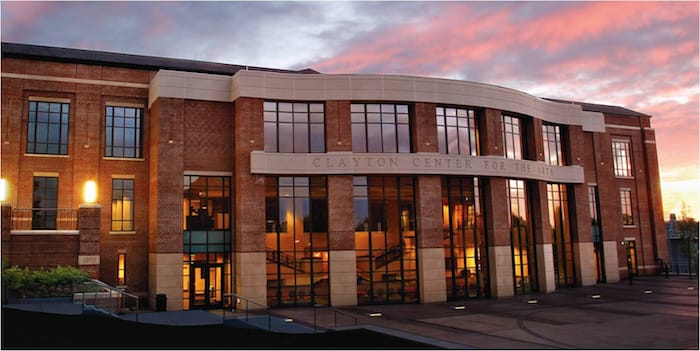 Required Courses
Major
The Major in Exercise Science consists of 67 credit hours and includes the following courses:
PHR 101: Human Health and Development (3 hours)
PHR 177: Community First Aid and CPR (1 hour)
PHR 219: Principles of Human Nutrition (3 hours)
PHR 231: Motor Development and Motor Learning (3 hours)
PHR 311: Athletic Training (3 hours)
PHR 321: Physical Education and Recreation for Special Populations (3 hours)
PHR 332: Kinesiology (3 hours)
PHR 341: Measurement and Evaluation in Physical Education (3 hours)
PHR 337: Internship (3 hours)
PHR 345: Physiology of Exercise (3 hours)
PHR 351-352: Senior Study (6 hours)
BIO 115: Cell Biology (4 hours)
BIO 217: Human Anatomy and Physiology I (3 hours)
BIO 218: Human Anatomy and Physiology II (4 hours)
Either of the following courses:
BIO 221: Genetics (4 hours)
or
BIO 412: Animal Physiology (4 hours)
CHM 121: Principles of Chemistry I (4 hours)
CHM 122: Principles of Chemistry II (4 hours)
PHY 101: College Physics I (4 hours)
PHY 102: College Physics II (4 hours)
PSY 101: Introductory Psychology (3 hours)
American Red Cross certifications in Standard First Aid and Community CPR are required as part of the major.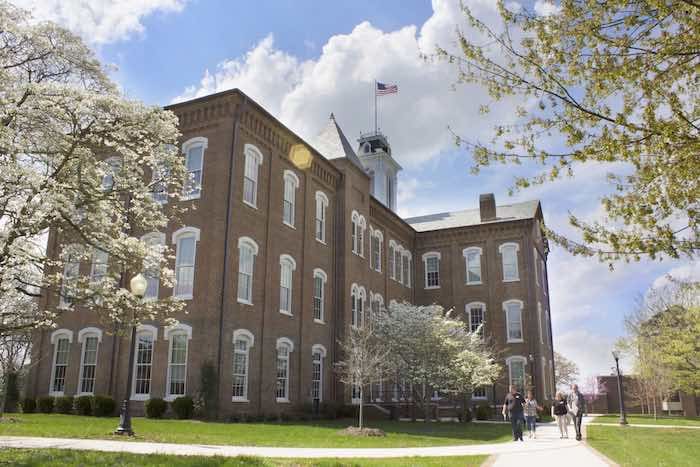 Last updated Feb 2018
About the School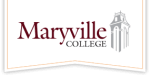 Maryville College is ideally situated in Maryville, Tenn., between the Great Smoky Mountains National Park and Knoxville, the state's third largest city. Known for offering its students a rigorous and ... Read More
Maryville College is ideally situated in Maryville, Tenn., between the Great Smoky Mountains National Park and Knoxville, the state's third largest city. Known for offering its students a rigorous and highly personal experience, Maryville College is a nationally ranked institution of higher learning that successfully joins the liberal arts and professional preparation in partnership with others. Founded in 1819, Maryville is the 12th oldest college in the South and maintains an affiliation with the Presbyterian Church (USA). Total enrollment for the fall 2016 semester is 1,198.
Read less