B.S. Mechanical Engineering Technology
Home ›
BSc ›
B.S. Mechanical Engineering Technology
Program Description
Description
The Bachelor of Science degree in Mechanical Engineering Technology teaches design, operation, installation, maintenance and analysis of machinery. The program prepares students to become highly technical professionals in current and emerging fields using mechanical and computer-aided engineering. Students learn to develop innovative solutions to problems encountered in manufacturing. This program is ATMAE accredited.
Fully offered at:
Kent Campus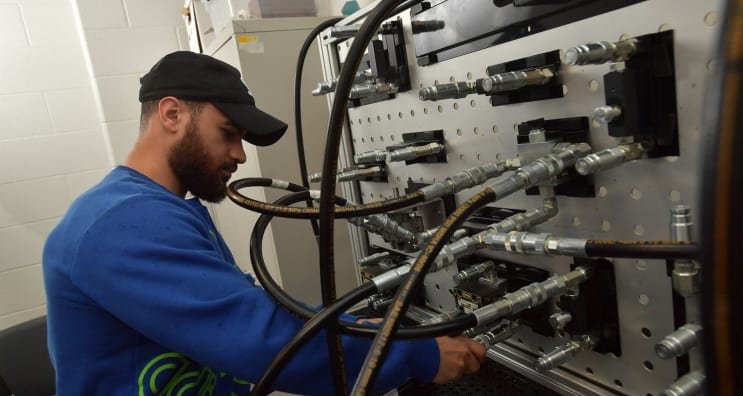 Admission Requirements
The university affirmatively strives to provide educational opportunities and access to students with varied backgrounds, those with special talents and adult students who graduated from high school three or more years ago.
Freshman Students on the Kent Campus: The freshman admission policy on the Kent Campus is selective. Admission decisions are based upon the following: cumulative grade point average, ACT and/or SAT scores, the strength of high school college preparatory curriculum and grade trends. The Admissions Office at the Kent Campus may defer the admission of students who do not meet admissions criteria but who demonstrate areas of promise for successful college study. Deferred applicants may begin their college coursework at one of seven regional campuses of Kent State University. For more information on admissions, including additional requirements for some academic programs, visit the admissions website for new freshmen.
Freshman Students on the Regional Campuses: Kent State campuses at Ashtabula, East Liverpool, Geauga, Salem, Stark, Trumbull, and Tuscarawas, as well as the Regional Academic Center in Twinsburg, have open enrollment admission for students who hold a high school diploma, GED or equivalent.
English Language Proficiency Requirements for International Students: All international students must provide proof of English language proficiency (unless they meet specific exceptions) by earning a minimum 525 TOEFL score (71 on the Internet-based version), minimum 75 MELAB score, minimum 6.0 IELTS score or minimum 48 PTE score, or by completing the ESL level 112 Intensive Program.
Program Learning Outcomes
Graduates of this program will be able to:
Use the techniques, skill and modern engineering tools necessary for engineering practice.
Apply knowledge of mathematics, science, and engineering.
Design a system, component or process to meet desired needs within realistic constraints, such as economic, environmental, social, political, ethical, health and safety, manufacturability and sustainability.
Program Requirements
MAJOR REQUIREMENTS [BS-MERT]
Major Requirements (courses count in major GPA)
TECH 13580 Engineering Graphics I
TECH 20001 Energy/Power
TECH 20002 Materials And Processes
TECH 21021 Survey Of Electricity And Electronics
TECH 23581 Computer-Aided Engineering Graphics
TECH 26010 Introduction To Computer Engineering Technology
TECH 26200 Programming For Engineers I
TECH 31000 Cultural Dynamics Of Technology (DIVD) (WIC)1
TECH 33031 Programmable Logic Controllers
TECH 33033 Hydraulics/Pneumatics
TECH 33111 Statics And Strength Of Materials
TECH 33363 Metallurgy And Materials Science
TECH 34002 Advanced Computer-Aided Design II
TECH 36200 Programming For Engineers II
TECH 43080 Industrial And Environmental Safety
TECH 43550 Computer-Aided Manufacturing
TECH 43580 Computer-Aided Machine Design
TECH 43800 Applied Engineering Technology Seminar (ELR)
Technical Electives, choose from the following:
TECH 31065 Cast Metals or
TECH 36620 Project Management In Engineering And Technology
TECH 33040 Motors And Controllers
TECH 43030 Mechatronics
TECH 43031 Mechatronics II
TECH 43096 Individual Investigation In Applied Science And Technology
TECH 43700 Computer Integrated Manufacturing
TECH 47200 Systems Engineering
TECH 47210 Sustainable Energy I
TECH 47211 Sustainable Energy II
Additional Requirements (courses do not count in major GPA)
ACCT 23020 Introduction To Financial Accounting
CHEM 10050 Fundamentals Of Chemistry (KBS)
COMM 15000 Introduction To Human Communication (KADL)
ECON 22060 Principles Of Microeconomics (KSS)
ENG 20002 Introduction To Technical Writing
MATH 11022 Trigonometry (KMCR)
MATH 12002 Analytic Geometry And Calculus I (KMCR)
PHY 13001 General College Physics I (KBS)
PHY 13002 General College Physics II (KBS)
PHY 13021 General College Physics Laboratory I (KBS) (KLAB)
PHY 13022 General College Physics Laboratory II (KBS) (KLAB)
UC 10097 Destination Kent State: First-Year Experience
Kent Core Composition
Kent Core Humanities and Fine Arts (minimum one course from each)
Kent Core Social Sciences (cannot be ECON)
General Elective (total credit hours depends on earning 120 credit hours, including 39 upper-division credit hours)
1A minimum C grade must be earned to fulfill the writing-intensive requirement.
Graduation Requirements
Minimum Major GPA: 2.250
Minimum Overall GPA: 2.000
Last updated Aug 2019
About the School

The College of Aeronautics and Engineering (CAE) is one of the eleven colleges of Kent State University, with approximately 1,000 students and near double-digit growth in recent years. As one of its f ... Read More
The College of Aeronautics and Engineering (CAE) is one of the eleven colleges of Kent State University, with approximately 1,000 students and near double-digit growth in recent years. As one of its fastest-growing colleges, the university has committed strong support to expand its programs. Kent State has constructed a new 55,000 square foot building for the college. The Aeronautics and Technology Building (ATB) is located at 1400 Lefton Esplanade.
Read less