B.S. Computer Engineering Technology
Home ›
BSc ›
B.S. Computer Engineering Technology
Program Description
Description
The Bachelor of Science degree in Computer Engineering Technology provides students with the opportunity to study computer systems and software-hardware interface so that they are capable of analyzing the problems in the computer and networking industry and producing computer engineering, networking, and software solutions. The major's curriculum includes materials necessary for students to be eligible for industry certifications (e.g., Cisco, Dell, Juniper Networks) for career advancement.
Computer engineering technologists focus on hardware or software issues. When companies need custom applications and network systems designed, they call the computer engineering technologist. In this age of heavy computer usage, with companies using computers for a large variety of functions, the computer engineering technologist is invaluable in keeping equipment running, updating software, maintaining connectivity and interfacing with users.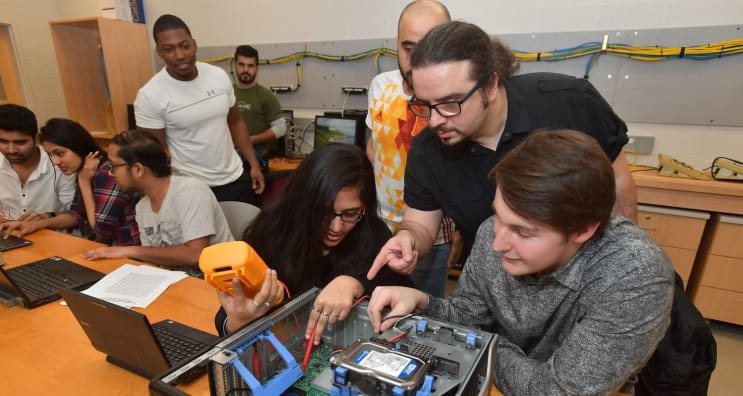 Computer engineering technologists typically work for large companies, installing, testing, operating and maintaining the computer network ins. They may also find employment with companies that sell computers, at computer repair stores or at independent emergency repair facilities. Other common work locations include computer and peripheral manufacturing facilities, computer distribution facilities, computer research facilities, and educational institutions.
Fully offered at:
Kent Campus
Accreditation
The B.S. degree in Computer Engineering Technology is accredited by the Association of Technology, Management and Applied Engineering (ATMAE).
Admission Requirements
The university affirmatively strives to provide educational opportunities and access to students with varied backgrounds, those with special talents and adult students who graduated from high school three or more years ago.
Freshman Students on the Kent Campus: The freshman admission policy on the Kent Campus is selective. Admission decisions are based upon the following: cumulative grade point average, ACT and/or SAT scores, the strength of high school college preparatory curriculum and grade trends. The Admissions Office at the Kent Campus may defer the admission of students who do not meet admissions criteria but who demonstrate areas of promise for successful college study. Deferred applicants may begin their college coursework at one of seven regional campuses of Kent State University.
Freshman Students on the Regional Campuses: Kent State campuses at Ashtabula, East Liverpool, Geauga, Salem, Stark, Trumbull, and Tuscarawas, as well as the Regional Academic Center in Twinsburg, have open enrollment admission for students who hold a high school diploma, GED or equivalent.
English Language Proficiency Requirements for International Students: All international students must provide proof of English language proficiency (unless they meet specific exceptions) by earning a minimum 525 TOEFL score (71 on the Internet-based version), minimum 75 MELAB score, minimum 6.0 IELTS score or minimum 48 PTE score, or by completing the ESL level 112 Intensive Program.
Program Learning Outcomes
Graduates of this program will be able to:
A general understanding, and a depth of knowledge in core computer engineering concepts, principles, and applications.
An understanding of recent, current, and upcoming trends and related applications in computer engineering.
An acknowledgment of necessary design steps involved in making complex computer systems; and a practical understanding of the skills necessary to analyze existing systems.
A practical knowledge of tools and techniques to design innovative solutions from requirements specifications.
An understanding of the ethical issues involved with the use of computer engineering-related technologies; and a clear desire to strive for the best practices.
Program Requirements
Major Requirements [BS-CET]
Major Requirements (courses count in major GPA)
TECH 21021 Survey Of Electricity And Electronics
TECH 23010 Computer Hardware I
TECH 26010 Introduction To Computer Engineering Technology
TECH 26200 Programming For Engineers I
TECH 26301 Networking Hardware I
TECH 26310 Web Design And Development or
TECH 33020 Computer Hardware II or
TECH 43320 Applied Embedded Systems II
TECH 31000 Cultural Dynamics Of Technology (DIVD) (WIC)1
TECH 33222 Digital Design For Computer Engineering
TECH 33223 Electronic Communication
TECH 33320 Applied Embedded Systems I
TECH 36200 Programming For Engineers II
TECH 36302 Networking Hardware II
TECH 36337 Information Technology Security
TECH 36620 Project Management In Engineering And Technology
TECH 43222 Computer Hardware Engineering And Architecture
TECH 46000 Computer Engineering Technology Capstone (ELR)
TECH 46300 Network Security
TECH 46312 Wireless Network And Telecommunication Systems
TECH 46316 Server Administration And Configuration I
TECH 46350 Network Management And Design Technology
Technology Upper-Division Electives (TECH 30000 or 40000 level)
Additional Requirements (courses do not count in major GPA)
COMM 15000 Introduction To Human Communication (KADL)
ENG 20002 Introduction To Technical Writing
MATH 11012 Intuitive Calculus (KMCR)
MATH 11022 Trigonometry (KMCR)
MIS 24056 Business Analytics I
MIS 24163 Principles Of Management
PHY 13001 General College Physics I (KBS)
PHY 13002 General College Physics II (KBS)
PHY 13021 General College Physics Laboratory I (KBS) (KLAB)
PHY 13022 13021 General College Physics Laboratory II (KBS) (KLAB)
UC 10097 Destination Kent State: First Year Experience
Kent Core Composition
Kent Core Humanities and Fine Arts (minimum one course from each)
Kent Core Social Sciences (must be from two disciplines)
General Electives (total credit hours depends on earning 120 credit hours, including 39 upper-division credit hours)
1A minimum C grade must be earned to fulfill the writing-intensive requirement.
Graduation Requirements
Minimum Major GPA: 2.250
Minimum Overall GPA: 2.000
Last updated Aug 2019
About the School

The College of Aeronautics and Engineering (CAE) is one of the eleven colleges of Kent State University, with approximately 1,000 students and near double-digit growth in recent years. As one of its f ... Read More
The College of Aeronautics and Engineering (CAE) is one of the eleven colleges of Kent State University, with approximately 1,000 students and near double-digit growth in recent years. As one of its fastest-growing colleges, the university has committed strong support to expand its programs. Kent State has constructed a new 55,000 square foot building for the college. The Aeronautics and Technology Building (ATB) is located at 1400 Lefton Esplanade.
Read less