Read more about this program on the school's website
Program Description
Is your goal being to lead a multinational company or launch your own business idea? Or, are you planning to take over the family business one day?
For any of these aspirations, you need a solid business and management foundation. Gaining a sound understanding of finance, accounting, economics, marketing, and management will be indispensable for your career. Personal skills such as the ability to think analytically, to solve problems, to communicate effectively, and to lead and inspire others will make the difference between success and failure in an increasingly competitive global business arena. Our Business and Management programs will prepare you for the challenges ahead.
Thanks to our unique blend of academic excellence and hands-on practice, you will leave Webster with solid academic references and highly marketable business skills. Our professors and distinguished guest lecturers, seasoned corporate professionals, or internationally renowned academics, all share the same passion for teaching and inspiring future business leaders. They will personally mentor and encourage you to pursue your own projects and interests.
But it's not only a Webster education that will set you apart from the competition. You will always be part of the Webster network – whether through the student associations you join, the international friendships and contacts you build, or the student and the alumni services we offer.
Learning Outcomes
Students will use information, analytical tools, and problem-solving skills to make well-reasoned business decisions, considering both quantitative and qualitative factors such as ethical considerations.
Students will develop strategies addressing the legal, ethical, economic, and global environment in which the enterprise operates.
Students will have working knowledge in a set of analytical business tools related to math, statistics, accounting, economics, marketing, finance, and behavioral science.
Students can apply business core concepts, principles, and analytical skills across functional lines.
Students can access, develop, and use information to analyze business problems and propose feasible solutions.
Program Curriculum
The MBA requires completion of 30 credit hours of the core curriculum and 6 credit hours of electives. Students may choose to complete an emphasis with additional specialized coursework in a variety of fields online in addition to their MBA coursework.
Core Courses:
Core Curriculum
BUSN 1000 Business Spreadsheets
MATH 1430 College Algebra
WSBT 2000 Career Exploration
ACCT 2010 Financial Accounting
ACCT 2025 Managerial Accounting
BUSN 2750 Introduction to Statistics
MNGT 2100 Management Theory and Practice
ECON 2000 Survey of Economics
WSBT 2300 Personal Branding
FINC 3210 Principles of Finance
MNGT 3280 Introduction to Business Law
MNGT 3450 Organizational Behavior
BUSN 3500 Business and Global Issues
MNGT 2500 Marketing
BUSN 3850 Enterprise Systems**
WSBT 2700 Career Management Strategies
BUSN 4110 Operations Management
BUSN 4500 Ethical Issues in Business
MNGT 4900 Managerial Policies and Strategies
**For St. Louis campus students. International campus students can substitute this course with either:
CSIS 2500 Introduction to Data Science
CSIS 1500 Introduction to Business Technologies
Program Outcomes
Whether you plan a career in banking, finance, consulting, IT, telecommunications, manufacturing, or with a non-profit organization like the United Nations, this degree will open the door. Our students have gone on to successful careers in companies like Abn Amro, AkzoNobel, European Space Agency, Heineken, Shell, Philips, Samsung, TomTom, Crocs, Rabobank, Spencer Stuart, and more.
Webster enhances entrepreneurial talent to which the many successful business ventures of our graduates are a testimony.
Average sales and marketing manager salary in The Netherlands €51,610
Admission Requirements
At Webster University we look for high potential individuals with a global mindset, who are not only motivated to succeed academically but also to thrive in society. We are proud to welcome students from different countries and backgrounds with the belief that embracing such diversity can only contribute to their overall development and enhance their experiences both inside and outside of the classroom. The Board of Admissions reviews every application carefully to decide who will be offered a placement.
Undergraduate Applicants
Application Form: The process begins with the submission of your online application form. Applicants are required to upload a number of supplemental items to support their application. These are listed below.
Supplemental items: After receiving your application form you will be able to upload the following remaining documents into your application:
Copy of a recent CV or Resume
Letter of motivation (one page) stating why you want to pursue the program and how it ties into your current career or future professional goals
Two letters of recommendation
Official certified copy of transcripts showing the last 3 years of secondary and all post-secondary education
TOEFL 550/80 or IETLS 6.0 scores or Password English Test (6.0)
Financial documents
Why Webster Leiden?
Webster Leiden Campus was founded in 1983 and since then we have had over 2,000 students from over 50 countries graduate. We are the only institute for Higher Education offering American-accredited degrees in the Netherlands with five schools and colleges include Arts & Sciences, Business & Technology, Communications, Education and Fine Arts.
Our mission is bold and appropriate for these times: Webster University, a worldwide institution, ensuring high-quality learning experiences that transform students for global citizenship and individual excellence.
Top Reasons to Study at Webster Leiden Campus
If you are planning to study an American degree abroad here are our top reasons why you should choose Webster Leiden Campus as your study destination.
Study in the heart of Europe

Located in the heart of the Netherlands, our Leiden campus neighbors The Hague and Amsterdam, home to many organizations and businesses with a diverse and international workforce and clientele. Our strategic location and global reach attract a network of world-class faculty, often coming straight from the same international businesses and organizations, who provide our students with a unique learning experience where deep academic knowledge is combined with professional expertise.
American education in Europe

Webster Leiden is the only university that facilitates the ability to get an American education and accreditation in The Netherlands.
Flexible Degree Structure

Webster's flexible degree structure promotes academic depth and intellectual breadth, encouraging you to explore diverse interests. Approximately half of your courses will be focused on your major area of study. Your remaining courses can be allocated to a second major, emphasis, minor, or certificate.
© Webster Leiden Campus - Webster University USA
It's affordable

In comparison to other European destinations like the United Kingdom, the Netherlands is an affordable place to earn a degree. The cost of living is significantly lower in "university towns" like Leiden, especially in comparison to what you'll find in London or Paris. The NS, the country's national train company, also offers heavily discounted tickets for students via its OV-Chipkaart program. In addition to the many student discounts offered by restaurants, theaters, and other businesses, living without a car isn't just an option, it's practically a way of life. It's much easier to get around on a train or a bicycle.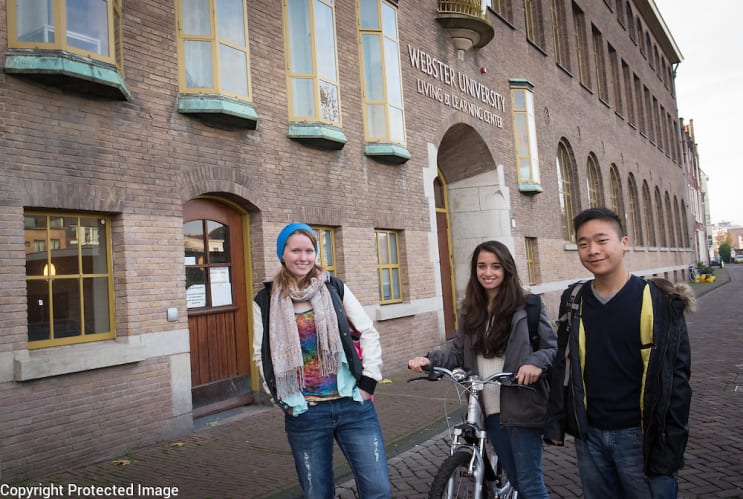 © Webster Leiden Campus - Webster University USA
Orientation year 'Zoekjaar' for graduates

Following graduation from Webster, a world of exciting opportunities will become available to you. The 'Orientation Year for Graduates Seeking Employment' is a residence permit aimed at retaining foreign talent for the Dutch labor market. You have up to three years after graduation to apply for this one-year residence permit.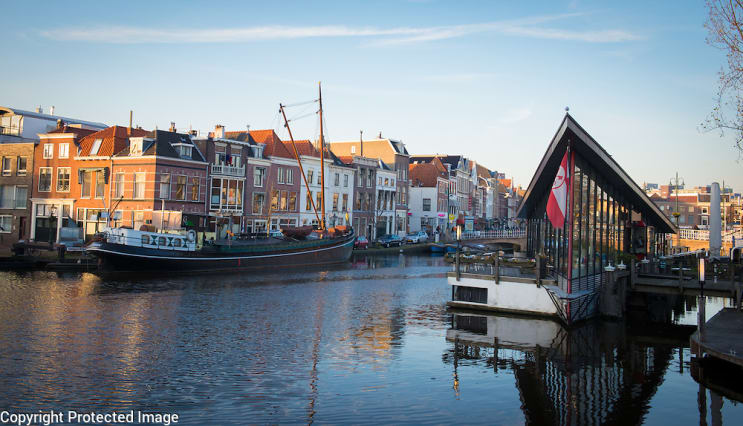 © Webster Leiden Campus - Webster University USA
Career Service

Webster University's Career Center aims to give students the opportunity to present the best of themselves when applying for internships or jobs. The Career Center's mission is to educate our students about the career development process and industry options, empowering them to make informed career decisions. Further, we aim to prepare our students for experiential learning (i.e. internships and community service), employment, and further education and to connect hiring organizations with our diverse student talent.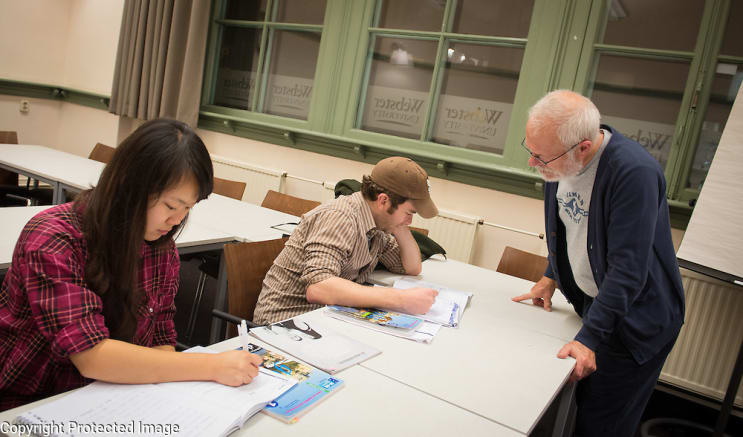 © Webster Leiden Campus - Webster University USA
Webster University's global recognition

Webster University continues to be ranked in the top tier of the Regional Universities-Midwest category of the 2020 U.S. News and World Report Best Colleges
Study Abroad programs ranked in the top 2 percent of the 1,500 colleges and universities surveyed in the "America's Best Colleges" 2019 edition of U.S. News & World Report
Forbes' "America's Top Colleges" 2018, and recognized among the best in the nation for study abroad programs
TheBestSchools.org recognized Webster for being among the best online master's program
Location
Webster University Leiden
Boommarkt 1, 2311 EA Leiden, Netherlands
Province: South Holland
Telephone: +31 71 516 8000
Email: WLinquiry@gus.global
Last updated Apr 2020
About the School
Founded at St. Louis, Missouri in 1915, Webster University is an accredited, non-profit American university with over 100 locations.
Founded at St. Louis, Missouri in 1915, Webster University is an accredited, non-profit American university with over 100 locations.
Read less