Program Description
With a B.Mus. Popular Music you will master the compositional and instrumental/vocal arrangement of music titles, as well as their realisation as a performing musician. You will know how to implement your creative ideas, all the way from first inspiration to performance or recording. The course's emphasis is on songwriting, instrument/vocals and ensemble.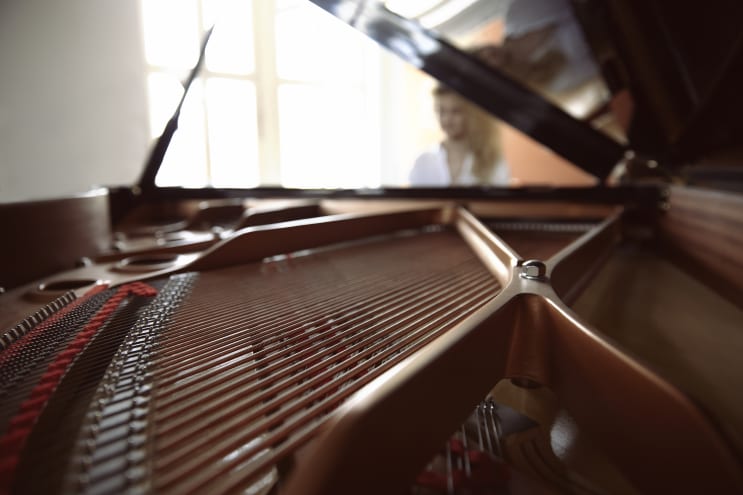 Content, Objective and Course Structure
The creative popular musician: songwriter, performer and band musician
The Bachelor course Popular Music at hdpk in Berlin prepares talented young musicians to professionally perform music at concerts and for productions, by teaching performing/songwriting skills together with an understanding of sound-engineering, and organizational and educational know-how.
The modular structure of the B.Mus. study course Popular Music in Berlin includes seven semesters, during which you will be expected to achieve a total of 210 credit points, and to attain the academic degree of Bachelor of Music (B.Mus.). The program includes a wide range of modules including composition, individual sessions in your major and minor subjects (vocals, guitar, piano/keyboards, bass, drums, wind and string instruments), as well as ensemble playing. The syllabus is completed by courses on sound engineering, such as recording and public address systems, by fundamental musicological, organisational, educational and legal knowledge, making students familiar with the musical value-added chain. Numerous concerts, projects and productions allow students to put their theoretical understanding of songwriting, instrumentals/vocals and band/solo performance to practice.
The course schedule gives an overview of individual units of instruction, which modules they are part of and when they are timetabled. During their 5th term, students complete an internship or a semester abroad. A primary aspect of studying at hdpk is to participate in the network of the six major study programs Popular Music, Music Production, Audio Design, Media Management, Creative Industries Management and Media Design: cross-disciplinary courses are intended to bring together students from different programmes, providing them with a head start into their careers, for which they will need to cooperate with clients and partners. These cross-disciplinary projects also serve to establish contacts among future professionals, and later on often serve as a first interdisciplinary professional – and personal – network.
Career Perspectives
Popular Music: excellence for tomorrow's music
We train Popular Musicians in a wide range of fields, encouraging them to establish recognisable artistic profiles. Individual style and sound training are necessary for survival on a fast-paced market.
Our graduates may choose from a variety of career options.Popular Musicians compose and interpret songs, either in accordance with their own creative ideas or as required by others. As a songwriter, musician and band member you will be part of performances, events and publications. The course's emphasis is on training performing artists: we will support you in developing the skills necessary for working as a live, band or studio musician, and for adapting to a variety of settings and audiences. You will be able to write songs for different occasions and media formats, and to use DAW-software and sound-studio equipment. This set of skills is complemented by organisational, educational and legal knowledge.
A B.Mus. in Popular Music will prepare you for a number of freelance careers:
author/composer, adapter/arranger/orchestrator, performer/musician
sound-engineer/sound technician for concerts, events, theatre, radio, TV, sound carriers
..you could also collaborate with:
songwriters/composers, lyricists, speakers, bands/music groups, orchestras
producers, sound studios, clients from industry and business
…or employment with:
production companies, ensembles, concert organisers, apprenticing companies
phono-industry, labels, publishers, distributors, TV and radio stations, PR and marketing agencies
Application
"Show us what you've got!" – How to apply for the Bachelor programme Popular Music at hdpk:
Our admission procedure is two-tiered: a first pre-selection is done based on the application documents and the artistic work samples. If you pass this pre-selection screening we will invite you to come to Berlin for our practical admission exam.
APPLICATION
Applicants to the SRH Hochschule der populären Künste (hdpk) must have either general entrance qualification for university or for advanced technical college and, as part of the enrolment procedure, will be asked to provide evidence of their musical-design talents. We will specifically be looking for:
a strong motivation to express yourself and to design
good command of your instrument/vocals
basic theoretical and practical knowledge of popular music
Students applying from abroad are requested to provide proof of adequate German language skills, both verbal and in writing (level B2 minimum).
The following documents will need to be submitted:
completed and signed Application form
letter of motivation (integrated into the application form) stating: Why are you interested in studying at the hdpk? What are your expectations? What are your professional perspectives?
personal data sheet, together with passport photo, place, date, signature
school leaving certificate: notarised copy, may be handed in later
in case you have previously studied at another university, please provide de-registration certificate (may also be handed in later)
samples of your work: three one-minute song fragments (MP3), presenting your own instrumental or vocal abilities, in addition to written descriptions of these submissions. At least one sample needs to have been composed or arranged by you.
Entrance Examination
Following your successful pre-selection screening you will be invited to the hdpk for a practical examination. This will allow us to assess your study-programme-specific knowledge, your creativity, your commitment to express yourself creatively and your motivation. During the exam you will be requested to perform two titles, chosen by you, one of which should be either composed or arranged/adapted by you.
Last updated Nov 2020
About the School

The hdpk is a leading private university for the creative industries, situated in one of Germany's creative hubs: in Berlin. The study programs cover both artistic and technological aspects as well as ... Read More
The hdpk is a leading private university for the creative industries, situated in one of Germany's creative hubs: in Berlin. The study programs cover both artistic and technological aspects as well as practical management issues and media theory. The curriculum focuses on the music and media industries (apart from film and television).
Read less