B.A. in Politics and Society
Program Description
COVID-19 Information & Resources
The Bachelor of Arts in Politics and Society is a 3-year, internationally accredited program offering a modern and interdisciplinary education in politics and how it interacts with society and culture. You will earn a globally recognized American and European B.A. degree.
The B.A. in Politics and Society is a study of politics from political science and other social science perspectives with special emphasis on democratic transformation in modern Europe. Students enjoy an interdisciplinary program lectured by an international faculty of specialists from Humanities and Social Sciences. Together they examine how political ideas are framed and manipulated in different social contexts.
In a global, interconnected world, societies are linked closer than ever. What does this mean for the future of national governments, and how has modern technology redefined societies to be governed? The B.A. in Politics and Society program is designed to give an overall understanding of how politics and society interact from perspectives of sociology, anthropology, religion, psychology, and economics.
Politics and Society students develop critical thinking, communication, and research skills essential for careers in government, politics, journalism, diplomacy, and business.
"I definitely like the small classrooms at AAU. Interacting more with your teacher helps you grasp the subject better than sitting with three-hundred-plus other students in a lecture hall. The AAU International Exchange Project to Sri Lanka was also one of the best things that I've done so far. It really helped to connect my degree to real-life experiences and give me better prospects for the future."
Michael-Said Kačarevič, B.A. Politics & Society, Czech Republic
Beyond the classroom, you can also join student clubs like Model UN and Film Club, discuss current political issues with professors and local experts at an event like 'Professors in the Pub' or stop by one of our movie nights or poetry readings in the Library featuring professors and internationally published authors.
AAU's Career Center also connects students with numerous professional internships in the Czech Republic and abroad every year.
Program Structure
International Relations: European Studies is a 3-year study program. To graduate, students must accumulate 90 US credits (180 ECTS credits) by completing 30 courses.
General Education Module
Composition I
Composition II
Computer Information Systems
Intro to Philosophy
Intro to Psychology
World History I
One course from the following:
Introduction to Sociology/Introduction to Economic Thought
One course from the following:
Comparative Religions/Introduction to Law/Political Philosophy I
Major Module
European History II
Introduction to Politics (Politics I)
Intro to Social Theory
Survey of Western Art
Intercultural Communication
Social Science Research Methods
Introduction to World Literature
On top of that students are also required to complete the Thesis Seminar, Internship, and Thesis module.
Electives
Choose 1 course from each group listed below:
Group A:
Group B:
Group C:
Group D:

Visual Culture
Eroticism, Power and Fate in the Cinema of Central Europe

Comparative Religions
Comparative Worldviews
Philosophy and Society

Psychology of Art and Culture
Psychology – Language and the Mind
Twentieth-Century Social Theory

Anthropology of Religion
Subcultures: Lifestyles, Literature, and Music
Sociology of Culture

Group E:
Group F:
Group G:

Story of Language
European Music History and Appreciation
European Literature I

European Literature II
Czech Culture in Film and Literature
Folklore and Mythology

British Literature
American Literature
Advanced Seminar in Shakespeare
Theatre and Politics
On top of that students can choose 5 open elective courses offered by the School of Humanities and Social Sciences or any other school at AAU.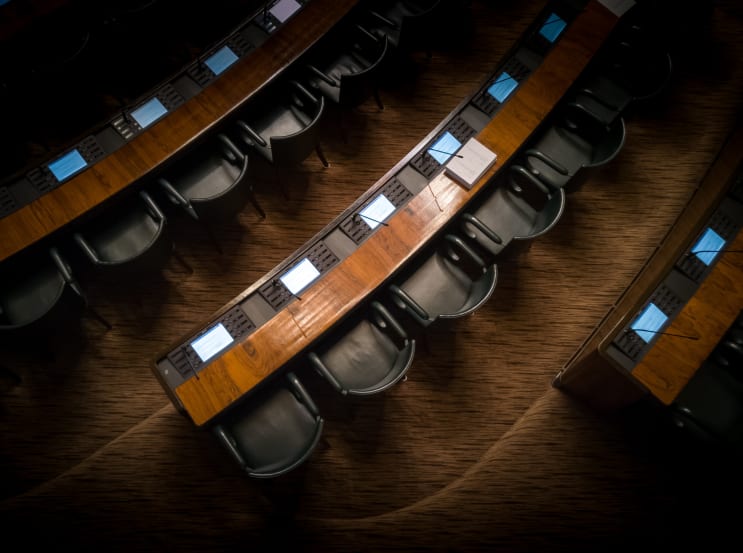 Learning Outcomes
Graduates of the B.A. in Politics and Society can expect to:
Demonstrate broad knowledge of ideas & issues across the fields of art, literature, film, philosophy, religion, history, politics & sociology, anthropology, and psychology; demonstrate a broad knowledge of the theories, methods, and concepts in these areas.
Use appropriate quantitative and qualitative research methods, concepts and theories.
Address and solve moderately complex theoretical and practical issues and problems in changing contexts.
Effectively communicate issues, problems, or dilemmas and their solutions.
Speak at least one language in addition to English.
Take effective and responsible action both individually and within a team.
Take into consideration diverse and changing socio-cultural contexts.
Career Prospects
AAU graduates thrive in multinational environments and are able to communicate professionally in English to international audiences. As a graduate of this degree program, you will be well equipped to continue your graduate studies or pursue a global career in areas such as:
Cultural management
Reporting
Diplomacy
Humanitarian government
Nonprofit organizations
Education
Social research and publishing
Various forms of print and web media
Admissions
Αnglo-American University offers a wide range of undergraduate programs across five different schools as well as in cooperation with international partners. You can enter AAU as a first year student or if you have credits that are transferable, you can apply as a transferring student. The process of application is straight forward and a dedicated admission counselor is always available to assist you and answer any questions you might have.
Decide which program suits you best
The first step is to decide on the program you would like to study. Currently, we offer 108 (sic!) undergraduate programs across six schools including the combined Global Degree Program we deliver in cooperation with Kent State University, USA.
Prepare and collect required documents
Once you decide on the program of your choice it is time to prepare the documents. You will be able to upload them directly via the AAU Application Portal once you start your application.
High School Diploma
High School Transcript
English Language Exam Results
CV/Resume
Personal Statement
Copy of Passport / ID
Passport Size Photo
*For Transferring Students
Please note that the transcript must be sent directly from your university in a sealed envelope.
Apply
In order to apply please register and submit an online application via the AAU Application Portal. There is a non-refundable CZK 2,000 application fee which can be submitted online through the portal. You will be also able to submit all required documents directly through the portal.
Prepare for an Interview
Once your application is reviewed by the admissions counselor, an interview with the Dean/Assistant Dean of the school you are applying to will be conducted. This is an opportunity for you to learn more about Anglo-American University, but also for the Dean's Office to learn more about you. The interview can be carried either online or in person.
Wait for Final Decision
The Admissions Office will notify you through e-mail on the outcome of your application one week from the date of your interview.
Last updated Sep 2020
About the School
Founded in Prague in 1990, Anglo-American University (AAU)*, is the oldest private institution of higher education in the Czech Republic. We pride ourselves on providing a personalized and distinctive ... Read More
Founded in Prague in 1990, Anglo-American University (AAU)*, is the oldest private institution of higher education in the Czech Republic. We pride ourselves on providing a personalized and distinctive university education in the English language. Utilizing the best from American and British academic traditions, AAU educates future leaders and global citizens in a multicultural setting of students and faculty from over 60 different countries.
Read less