Program Description
Music
PROGRAMS OF STUDY:
B.A. in Music
B.M. in Music Theory-Composition
B.M. in Music Education, Vocal Emphasis
B.M. in Music Education, Instrumental Emphasis
B.M. in Performance, Voice - Minor in Music
Why study Music at M.C.?
Located in the new Clayton Center for the Arts, the Maryville College Music Department offers a comprehensive, N.A.S.M.-accredited music curriculum within the acclaimed Maryville College liberal arts experience. The National Association of Schools of Music is an organization of schools, conservatories, colleges, and universities with approximately 650 accredited institutional members. It establishes national standards for undergraduate and graduate degrees and other credentials for music and music-related disciplines, and provides assistance to institutions and individuals engaged in artistic, scholarly, educational, and other music-related endeavors. Students at Maryville College will receive expert instruction in music theory, music history, and performance. Our five music majors' the Bachelor of Arts in Music, the Bachelor of Music in Music Education (Choral), the Bachelor of Music in Music Education (Instrumental), the Bachelor of Music in Vocal Performance, the Bachelor of Music in Theory and Composition' provide ample preparation and flexibility for the pursuit of careers involving music or graduate school.
Maryville College Works is a comprehensive career preparation program that is integrated into the College's four-year liberal arts curriculum. Key components include assessment, advising, networking and professional experiences.
ON-CAMPUS OPPORTUNITIES
Maryville College Concert Choir
Off-Kilter A capella Vocal Ensemble
Lads & Lassies Men's & Women's Choirs
Maryville College Community Choir
Maryville College Symphony Orchestra
Maryville College Chamber Orchestra
MC3Band Community Symphonic Band
Tartanband Wind Ensemble
Maryville College Jazz Ensemble
Meet a current student
Ethan Morrison '18
Hometown: Lenoir City, Tenn.
Music is a huge part of Ethan's life at Maryville College. In addition to studying music education, he is a member of the Concert Choir, Off Kilter, and the Concert Band. He believes those experiences will help him be a better teacher and church music leader. "Whether you are an instrumentalist or vocalist, the College has groups for you to be involved with. And if you don't know how to play an instrument or sing, you have opportunities to learn. I took voice lessons for the first time during my freshman year. The teachers here are outstanding, and the College is a wonderful environment to learn in."
Outcomes of Recent Grads
Featured Graduate
EMILY EMADIAN GUTHE '09
CURRENTLY: MUSIC THERAPIST AT THE CLEVELAND CLINIC
After graduating from Maryville College, Emily went on to earn master's degrees in choral conducting from the University of Tennessee and music therapy from the University of Iowa. Following her internship at the University of Iowa Hospital and Clinics, Emily received a job offer from the renowned Cleveland Clinic, where she has worked since August 2016. "Music therapy is my passion, and I am fortunate to be able to work in my field every day," she said. "Maryville College gave me the wonderful foundation upon which I was able to build all my skills. My time at Maryville taught me hard work and dedication and pushed me to explore areas that I would not have, otherwise."
LAURA ATKINSON STEIGERWALT '05
CURRENTLY: AMERICAN MEZZO-SOPRANO PERFORMING IN BOTH THE UNITED STATES AND EUROPE
After graduating from M.C., Laura continued her education at Yale University's Institute of Sacred Music, earning a master of music degree in vocal performance. In 2010, she was awarded a Fulbright grant to study in Germany and since then, has performed with various orchestras in the U.S. and Europe. "Maryville College provided a truly invaluable basis for my career as a professional musician. The intimate structure of the program allowed for close mentorship and guidance, in such a way that would not have been possible at a larger university," she said. "At Maryville, I felt like a valuable member of both the music program and the school at large; it instilled a confidence in me that has carried me through many aspects of my career that followed, and I continue to feel that support today."
Graduate School Placements
Belmont University
Duke University Divinity School
East Carolina University
East Tennessee State University
Liberty University
University of Iowa
University of Tennessee-Knoxville
Yale Institute for Sacred Music
Video Gallery
Learning Outcomes
Students successfully completing the program of study will have achieved the following:
Demonstrate knowledge and skills in music theory, ethnomusicology, and the history of American and Western fine arts music
Demonstrate basic proficiency in keyboard, aural skills, improvisation, and use of electronic technology in music
Demonstrate high-quality performance skills in at least one area of applied music, together with a knowledge of repertory
Demonstrate high-quality performance skills in ensembles, together with a knowledge of repertory
Demonstrate specialized knowledge and skills necessary for professional degrees in performance (piano and voice) and music education (vocal/general and instrumental)
Establish composite knowledge and skills necessary for the pursuit of graduate study and/or a musical career suited to the student's talents and desires
Auditions and Admission
All students intending to pursue a major or minor in music or participate in an ensemble must complete the Music Placement Hearings during Fall Orientation prior to beginning study. Each student will then be counseled into the appropriate courses. All music majors must demonstrate proficiency in basic keyboard skills. Those who lack this preparation upon entering must take Keyboard Fundamentals for 0 credits every term until all five areas of the proficiency requirement are passed. All music majors must pass the piano proficiency requirement before enrolling in Senior Project 351-352.
Admission to a particular curriculum as a music major is conferred by the music faculty after the completion of MUS 102: Music Theory II (3 hours) or, in the case of students with advanced standing, after one semester of study at Maryville College. Contact the Chair of the Division of Fine Arts for details.
French or German is recommended as the foreign language choice for singers and students planning graduate work in music.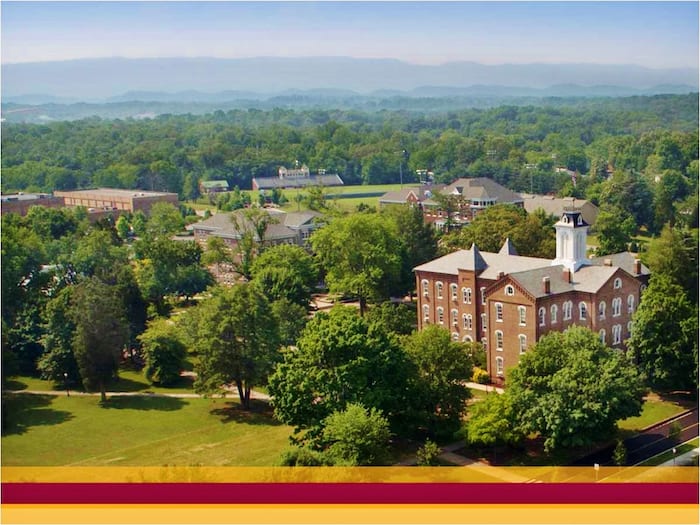 Last updated Feb 2018
About the School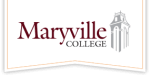 Maryville College is ideally situated in Maryville, Tenn., between the Great Smoky Mountains National Park and Knoxville, the state's third largest city. Known for offering its students a rigorous and ... Read More
Maryville College is ideally situated in Maryville, Tenn., between the Great Smoky Mountains National Park and Knoxville, the state's third largest city. Known for offering its students a rigorous and highly personal experience, Maryville College is a nationally ranked institution of higher learning that successfully joins the liberal arts and professional preparation in partnership with others. Founded in 1819, Maryville is the 12th oldest college in the South and maintains an affiliation with the Presbyterian Church (USA). Total enrollment for the fall 2016 semester is 1,198.
Read less