Read more about this program on the institution's website
Program Description
School of Sciences and Humanities
The academic staff at Nazarbayev University's School of Sciences and Humanities comprises scholars with doctoral degrees from leading universities around the world. We also have researchers involved in various studies, and our scientists in the natural sciences conduct researches in about 90 laboratories. Some of our faculty members even specialize in Eurasian studies. Admitted students of NU SSH can rest assured of tapping from our faculty's wealth of knowledge and experience, both inside and outside the classroom.
We keep our classes small so students can readily receive one-on-one attention from their instructors. Moreover, instructors can tailor classes to the need of each student for the best learning experience owing to our student-centered learning. Our professors can work with the weaknesses of every student and improve their strengths. Laboratory experience and research involvement are not spared from this approach: our students get practical laboratory experience and collaborate with their colleagues or their professors in researches.
Students are also provided with academic support. For instance, students have access to writing instructors and coaches that will help them become assertive writers through our Writing Center. Also, thanks to our long-existing Peer Advising Center, we provide our students with a team of peer advisors, most of whom are trained students, who assist other students with various academic decisions, such as course selections, general orientation for new students, or if a student needs help using university resources.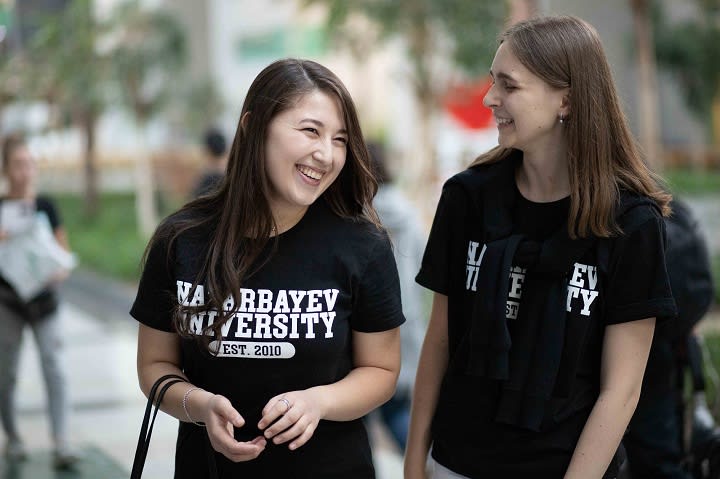 ©Nazarbayev University
About the program
The program offers a blend of required and elective courses that provide students with a broad knowledge of the different sub-fields of anthropology and the methods and theories used by each. Through the program, students are invited to develop research and critical thinking skills and to practice their research skills by applying them to local and global issues.
A program that focuses on the systematic study of what it means to be human. Students are exposed to a holistic approach that focuses on cultural behavior and institutions, biology, material culture, and language. The program is four-field, which means that students take classes in archaeology, linguistic anthropology, sociocultural anthropology, and biological anthropology. The department also offers courses focusing on medical anthropology, primatology, race and ethnicity, economic anthropology, hominids, prehistoric archaeology, anthropogenic modification of the environment, gender, sexuality, and many other topics.
Students will be introduced to the discipline's theoretical concepts, research methods, ethics, and practice. Critical thinking, lifelong learning, and the acquisition of transferable skills are emphasized.
General information
Campus: Nur-Sultan, Kazakhstan
Language: English
Delivery mode: Full time, on-campus
Duration: 4 years
Total ECTS credits: 240
Program outline
BA program runs 4 years (8 semesters) where you are required to complete 240 ECTS credits.
Anthropology Courses:
Three 100-level ANT courses
Qualitative Methods
Anthropological Theory
Three courses at the advanced or intermediate level in at least two separate subfields (Cultural, Biological, and Archaeological Anthropology)
Anthropology electives
Senior Capstone
Distribution requirements:
History Course
History of Kazakhstan
Philosophy/Religion
Rhetoric and Composition
Humanities Electives
Social Science Research Methods
Three Social Science electives
Natural Sciences and Math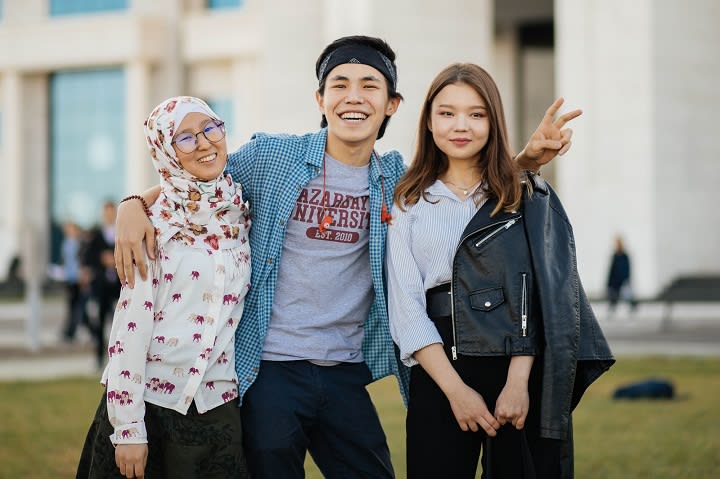 ©Nazarbayev University
Entrance requirements
English Language Requirements
IELTS – no less than 6.5 overall (with at least 6.0 in each sub-score)
TOEFL IBT - 79-93 (Reading – no less than 13, Listening – no less than 12, Speaking – no less than 18, Writing - no less than 21)
or
TOEFL PBT - 574-599
Academic Requirements
SAT Reasoning Test – no less than 1240. An essay is required, no minimum score
or
ACT – composite score no less than 27. Writing part is required, no minimum score
Work after graduation
Possible career destinations:
Anthropology
Corporate ethnography
Public health
Education
Medicine
Forensic pathology
Museum studies
Cultural resource management
Archaeology
Paleontology
Linguistics
Human resources
International affairs
Paleontology
Linguistics
Human resources
International affairs
Strategic partner
University of Wisconsin-Madison (USA)
Other strategic partners of Nazarbayev University
Duke University, Fuqua School of Business (USA)
The National University of Singapore, Lee Kuan Yew School of Public Policy (Singapore)
The University of Pennsylvania (USA)
The University of Cambridge (UK)
Colorado School of Mines (USA)
The University of Pittsburgh Medical Center (USA)
The Lawrence Berkeley National Laboratory (USA)
The Oak Ridge Associated Universities (USA)
Last updated Apr 2020
About the School
Located in Nur-Sultan City, Kazakhstan, in Central Asia, Nazarbayev University is a research university with growing international renown combining education and innovation on a state of the art 21st- ... Read More
Located in Nur-Sultan City, Kazakhstan, in Central Asia, Nazarbayev University is a research university with growing international renown combining education and innovation on a state of the art 21st-century campus. NU scholars conduct research in a variety of fields and bring the most ambitious projects to life. Research is supported by internal and external funds each year and carried out in modern laboratories. English as the language of instruction and research at Nazarbayev University, admission and progression systems are entirely merit-based.
Read less