Program Description
Pictures say more than words: the bachelor for passionate photographers
Photography is an international language with its own rules and ways of finding legitimacy. It can allegorize complex relationships, tell stories, and kindle emotions without using words. It influences the way we think and act and affects how we perceive the world. It's ubiquitous and impossible to push out of your mind. As you can imagine, understanding photography as a medium and how to use it consciously is not only indispensable in artistic practice, but also in advertising and editorial occupations.
The University of Applied Sciences Europe has a pioneering study program in this field. We were among the first German private universities to establish a photography program. During your studies, you'll familiarize yourself with and try out various photographic genres, such as portrait, fashion, art, and documentary.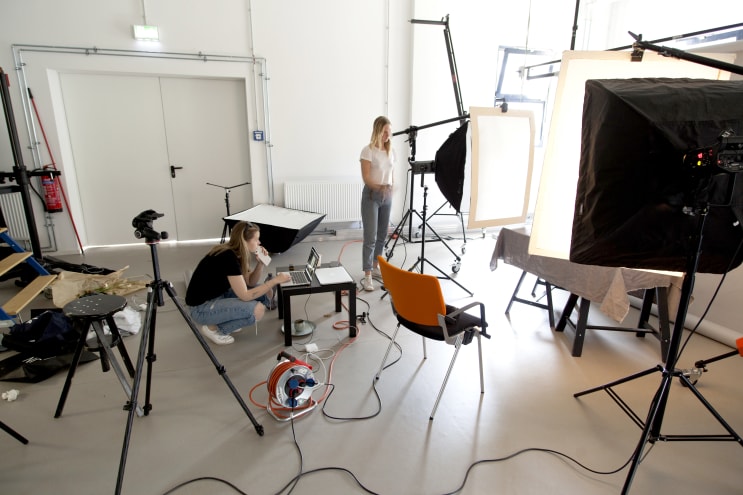 Our university focuses on your development. That's why we teach in small learning groups and in a friendly and personal atmosphere. We'll oversee your individual development process and help you define your talents and strengths while helping you develop your own visual signature. You will be taught by renowned photographers and study at a campus that is centrally located, equipped with the latest technology (photo studio, print & scan lab, darkroom, camera equipment, MacPools, etc.), and that is known for its international and English-speaking character.
At the University of Applied Sciences Europe, you even get the possibility to actively shape your studies and your career path. Depending on your personal career goals, you will select your own specializations and choose from a range of interdisciplinary subjects. The programs taught at our university also include practical projects with top partners from the creative industry and field trips and exhibitions (to places like Paris, New York, Vietnam, Iceland, etc.), which will prepare you perfectly for your dream job. As a photography graduate, you'll have learned how to translate ideas and emotions into complex images under professional conditions.
Facts:
Degree: Bachelor of Arts
Campus: Berlin & Hamburg
Language of instruction:

Berlin: English
Hamburg: German

Starting semester:

Winter semester: September
Summer semester: March

Number of semesters: 7 semesters (full-time)
Internship semester / Semester abroad: 5th semester
Credits: 210 ECTS
Highlights:

Focus on individual development in small learning groups and personal atmosphere. Creative freedom, professional equipment, and practical projects. Teaching by renowned lecturers from the creative industry.

Tuition fees:

For EU applicants: 7,980 € yearly
For Non-EU applicants: 10,380 € yearly
What makes it outstanding to study at the University of Applied Sciences Europe?
Our university is state-accredited, has received multiple awards, and is a worldwide leader among universities with an international approach. To be able to apply, you need to have a high school diploma.
At the University of Applied Sciences Europe, you'll study in small seminar groups, so you'll get individual support and personal contact with our professors. All of our lecturers are successful experts in their fields.
Besides the theory, your studies contain project weeks. Interdisciplinary courses enable you to determine the content of your studies. The University of Applied Sciences Europe campus offers state-of-the-art-equipment, including photo studios, darkrooms, Mac pools, and more.
Internships and/or a semester abroad are integrated into the program. Voluntary excursions give you the chance to see New York, Iceland, Vietnam, Paris, and other destinations and work on your skills there.
Studying at the University of Applied Sciences Europe in Germany
We put emphasis on internationality. That is why we were ranked among the top 25 performers in student mobility and international orientation worldwide (U-Multirank 2016). Our numerous international students come from all over the world to pursue a highly valued (state and ZEvA recognized) German degree that is entirely taught in English.
Germany, known as the country of innovators, is the perfect place to get your degree. Germany is a particularly safe and livable country with relatively low tuition fees and affordable living costs. Furthermore, Berlin is known as Europe's creative capital, a magnet for artists, and "place to be" for designers.
That's why we encourage international students to come here and study with us. You can apply with your national school degree now. We will then take a look at your application and guide you through the process.
The program - courses, internships, semester abroad
This program is divided into modules. In the foundational courses, we'll teach you compositional skills, such as lighting design, composition, and the complete analog and digital workflow, as well as how to film experimentally.
Parallel to this, you'll receive an overview of historical and contemporary developments in art, photography, design, and film in the theoretical courses. In project modules, you'll deepen your knowledge of individual photographic genres. Through our range of interdisciplinary seminars, workshops, and study trips, you'll have the opportunity to acquire skills from other study programs in design.
In the 5th semester, you'll choose between an internship in Germany or abroad, or studying as a guest at one of our partner universities or colleges. In the last semester before your bachelor's project, you'll devote yourself to finding and defining your individual profile.
Your career options with a degree in photography
Working with photos does not automatically mean you have to be an independent photographer. With a bachelor's degree in Photography, a whole world of career options is open to you, including image editor, art buyer, retoucher, or curator.
Of course, you can also work as a photographer within the advertising industry, for publications, corporate communications, and events, or as an artist. In most cases, you will work as a freelancer. Since the technical aspects of photography are becoming more and more accessible, being able to turn your ideas and feelings into visual concepts, to learn soft skills, self-marketing, and organizational talent, is required more today than ever before.
Students talk about their studies
"I am particularly proud that I have made progress from project to project. I think you're never quite satisfied with the end result., but I've noticed a qualitative difference over time. I think that the time of study is a time for experimentation, where you have a lot of freedom. I think that's especially great."

Sylvia Rybak
Tuition fees and funding
As a private university, we are funded not by the state, but by tuition fees. For this reason, studying at our university costs more than at a public university. But it's worth it: our graduates meet essential requirements for careers in photography and design, and this sets them apart from the graduates of many public universities.
All costs are included in the monthly tuition fee.
No additional costs will be incurred, such as a matriculation fee, exam fees, bachelor thesis fee, or similar, as long as the course is completed within the standard study period. The costs for the semester abroad are not included in these fees as there are substantial differences depending on country and university.
We are happy to provide you with information on funding your studies and on any available scholarships. If you have any further questions, our Student Admissions Office will provide you with detailed information.
Apply today to the University of Applied Sciences Europe
You can apply a year in advance for your desired starting semester.
How to apply:
Please complete our online application form in its entirety.
Upload a certified copy and a certified translation in German or English of your high school diploma or equivalent.
In case you have already studied in the area of design, please also submit a copy and a certified translation of your transcript.
Once we have gone through your application and work samples, we will invite you to an interview, which can take place at our campus, via telephone or video conference (e.g. Skype).
Important: In the application phase, you must have already decided on which of our programs you would like to study. However, please note that you may change programs at a later time if desired.
Last updated Sep 2020
About the School
Private and state-accredited: The University of Applied Sciences Europe (UE) educates tomorrow's designers and decision-makers in the areas of business, sports, media & event and art & design. ... Read More
Private and state-accredited: The University of Applied Sciences Europe (UE) educates tomorrow's designers and decision-makers in the areas of business, sports, media & event and art & design. The students become part of an innovative and international network, representing more than 100 nations at the UE campuses in Berlin, Hamburg and Iserlohn.
Read less