B.A. International Business Management – English Track
Home ›
BA ›
B.A. International Business Management – English Track
Program Description
Ongoing globalization has increased the demand for management education with an international perspective. The skills required go beyond the necessary specialist knowledge: the manager of tomorrow needs key qualifications such as international hands-on experience, intercultural competencies and soft skills like time management, foreign language skills, being organized and efficient and being proficient with state-of-the-art IT tools.
Furthermore, the challenges of global management call for individuals who are not only mobile, flexible and trustworthy, but also guided by ethical principles and social responsibility. In our International Business Management degree program, we prepare you to meet these requirements.
International Business Management Course content
The International Business Management bachelor program starts off providing a solid business education in the first three semesters, laying the groundwork for more advanced studies and practical experience. Next, you move on to core courses like marketing, finance, human resources and production management, also covering related areas such as commercial and labor law or economics.
Later in the program, you can specialize through electives, choosing from:
Advanced Finance
Advanced Marketing
Business Support Systems
Advanced Human Resource Management
Communication and Media Management
Political Science
Real-world relevance
Two three-month internships, one of them abroad, are integrated into the degree program. Here you can transfer theoretical knowledge, gain practical experience and build a valuable network of contacts. The internships also help guide your future academic and professional career. Internships may be completed in multinational corporations as well as small and medium-sized enterprises, in your home country and abroad.
In lectures and seminars, you will often have the opportunity to transfer theoretical knowledge through practical application. For example, in the Project Management module not only will you learn about project management methods and tools, you will also work on real projects with partners in practical sessions. In the Entrepreneurship module you will develop a business plan enabling you to start a business, and in the Business Simulation Game, you will manage a mid-sized company as part of a team.
International Focus
The program is accompanied by intensive language training in business English and a second elective language (German, French, Spanish or Chinese). During a semester abroad, you can improve your foreign language proficiency and strengthen your intercultural skills. We offer a wide choice of more than 85 partner universities worldwide - New York, San Diego and Sydney are currently the most popular destinations for our International Business Management students.
Soft skills and personal development
Modern leadership requires a well-rounded personality and mastery of essential soft skills. The International Business Management program will give you the opportunity to acquire skills in public speaking and giving presentations, leadership, effective teamwork and conflict management. Along with courses covering standard software, we also offer courses in SAP and SPSS.
We also recognize that social responsibility, good governance and sustainable practices are integral to the long-term profitability and health of a company, and we will give you the opportunity to address these issues in integrated seminars.
Curriculum
Please check our website for further information.
Graduation
Upon successful completion of the three-year program, you will graduate with a Bachelor of Arts (BA).
Career Opportunities for International Business Management Graduates
There are a number of opportunities for those seeking a career in the private sector after graduating from E.B.C. Hochschule. One option is to join a trainee program in a large company. Some graduates prefer to go straight into a specialist department, such as Marketing or Finance.
The following companies and sectors have proven to provide particularly attractive opportunities:
large multinational corporations
small and medium-sized enterprises with a strong international footprint
management consultancies and auditing firms
Some graduates also become entrepreneurs and start their own businesses after graduation, for example, one based on the business idea they developed in the Business Plan Development module. The Start-up Consulting center at EBC University supports students and graduates in such ventures.
Another option is to continue your academic education with a Master's program, either immediately after successful completion of the International Business Management program, or after a few years of professional experience. Further down the line, another possibility is to obtain a doctoral degree, especially if your goal is to have an academic career.
Last updated Oct 2020
About the School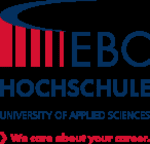 Become a management professional with an international perspective – a truly global citizen. EBC University of Applied Sciences is a German globally connected multi-campus business school with a stron ... Read More
Become a management professional with an international perspective – a truly global citizen. EBC University of Applied Sciences is a German globally connected multi-campus business school with a strong focus on practical application and implementation. The core of our institutional philosophy is to put the student in the centre of all our actions. We are highly invested in our students and alumni.
Read less