Program Description
College of Music and Theater
Department: Music and the Performing Arts,
Acting (Romanian and German language)
West University of Timisoara
Department of Drama in German (BA)
Duration and completion:
6 semesters; Bachelor of Arts (BA)
Study places for the German department:
10 study places per semester
Subjects of Bachelor Basic Studies:
Drama, improvisation, movement, dance, speech training, voice training, history of the costume, art of make-up, creative theater workshop, singing, cultural management, theater history, drama theory, theater aesthetics
Short description:
The Institute for Acting in German, founded in 1992, sets itself the goal of training qualified actors, above all for the German stages in Romania. The training focuses on the discovery and development of acting skills through improvisational exercises, experiments on scenic situations based on narrative texts, scene and role study with increasing difficulty character, workshop stagings with public appearances as well as theater practicals.
The lecturers are predominantly professional theater practitioners, actors and directors who ensure a direct and immediate contact between education and theater work. Close cooperation has existed for years with the German State Theater Timisoara, the German Cultural Center and the German Consulate. Lecturers from the German-speaking area regularly conduct projects and workshops at the institute.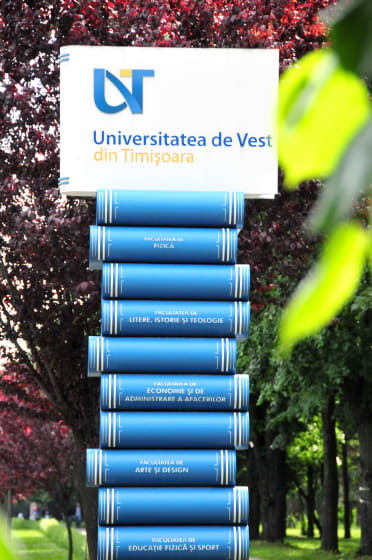 admission:
Entrance exam (July and if vacant seats remain September).
Linguistic proficiency:
German, at least language level B1.
Enrollment:
Winter semester, October.
Number of teachers:
2 professors, 3 lecturers and 5 university assistants.
Exchange and cooperation projects:
Exchange with faculties from Leipzig and Rostock; Participation in international theatertreffen of German speaking drama students in Bern, Essen, Graz, Hanover, Potsdam Rostock and Chemnitz;
Participation in the NONSTOP Festival Chemnitz
Erasmus Partner: Music and Art Private University of the City of Vienna, Art University Graz, "Anton Bruckner" Private University for Music, Acting and Dance Linz, Folkwang University of the Arts Essen, University of the Arts in the Social Ottersberg.
Potential fields of work:
The graduates have the opportunity to apply according to their education at the German State Theater Timisoara or at the German department of the theater in Sibiu or other theaters in the German-speaking area. In addition, there are other occupations in which they find employment: presenters at German television and radio, dramaturges or theater educators or heads of cultural institutions.
Additional training, such as a master's degree in acting or directing, opens up further job prospects through the acquisition of additional qualifications.
Address: Universitatea de Vest din Timişoara
Facultatea de Muzică şi Teatru
Departament: Muzică - Actorie
Artele spectacolului - Actorie (lb. română şi lb. germană)
Piaţa Libertăţii No. 1
RO-300077 Timişoara
Tel .: 40-256-592654
www. UVT .ro
www.fmt. UVT .ro
contact:
Univ. Prof. Dr. Eleonora Ringler-Pascu
E-Mail: eleonora.ringlerpascu@gmx.de; eleonora.ringlerpascu@e- UVT .ro
Information for applicants from abroad:
Office for International Relations
(in English)
E-mail: international @ e- UVT .ro
Phone: 40256592324
www. UVT .ro / international
Last updated Mar 2020
About the School
Universitatea de Vest din Timi?oara (UVT) / West University of Timi?oara (WUT) is the main higher education institution and research center in Western Romania.
Universitatea de Vest din Timi?oara (UVT) / West University of Timi?oara (WUT) is the main higher education institution and research center in Western Romania.
Read less